World Champions Heading to Gold Coast's Race of Stars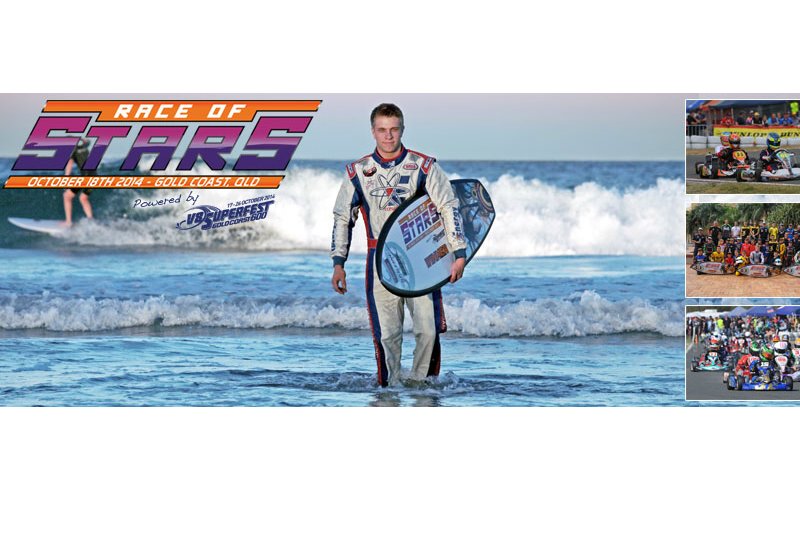 Two of the world's most successful kart racers of the modern era, Davide Forè and Jonathan Thonon, are confirmed starters for the 2014 Race of Stars on Saturday October 18.
The Race of Stars is powered by the V8 Superfest that surrounds the Castrol EDGE Gold Coast 600.  The V8 Superfest is community events program that is an initiative of the Queensland Government, Gold Coast City Council and V8 Supercars Australia.  The free event is open to spectators and last year enjoyed great attendances.
Between them, the pair has secured eight World Championships and are two of the most recognisable names in the sport.
Forè will compete at the event with the Sydney-based CRG Australia team while Thonon will line-up with the Gold Coast's IPKarting outfit in a Praga Kart.
Forè, who hails from the city of Brescia in Italy, will be making his first start on an Australian circuit in almost 20 years.  During his previous visit to Australia Forè finished third in the Formula A class at the CIK-FIA Oceania Championships at the Raleigh circuit near Coffs Harbour.
"Its been a long time since I have been to Australia and I have never been to the Gold Coast, I am really looking forward to getting over there and racing against Australia's best. The idea of getting a surfing lesson sounds great and I am hoping to get a bit of sun as well," said Forè.
Throughout his 32 years in the sport, Forè has competed against many of the best drivers the sport has ever produced in various parts of the world.  The Race of Stars event will see more than 150 of Australia's, and some of the World's, top drivers competing.  Forè is very aware of the high level of talent he will be competing against.
"Australia has produced some of the worlds best of the years and so I expect the competition to be tough. James Courtney was my team mate when he won both his World Championships so if his success is anything to go by these Australian drivers will be hard to beat," added Forè.
For Thonon, next month's appearance in the Race of Stars will be his first visit to Australia and the Belgium driver is excited about the prospect of coming 'Down Under'.
"I love the warm weather and Australia and the Gold Coast is world-famous for its beaches and atmosphere.  I really can't wait to come and meet the Australian Praga team and be involved in Race of Stars," said Thonon.
The Race of Stars event will see Thonon paired with his former Euro mechanic Josh Hart who now resides on the Gold Coast mentoring Australian and New Zealand-based Praga karts drivers.
For event Organisers, the inclusion of Forè and Thonon on the grid marks the next step in the event making its mark on the international karting scene.
"To have Davide and Jonathan, along with several other top line European drivers, here in Australia for the Race of Stars is significant for the sport of karting in this country," said Event Coordinator Lee Hanatschek.
"We are truly going to have a real international feel about the event with the top drivers in Australia being able to test themselves against the World's best.
"This will be the first time in almost 20 years that Australian motorsport has hosted so many top line karting drivers from Europe.  We encourage anyone who is interested in motorsport to come take a look at the free event, and it will be a great day out for all the family."
Forè is a driver that the likes of Jamie Whincup and Mark Winterbottom looked up to during their karting careers and while they're now battling it out for the V8 Supercars Championship, the Italian has gone on to win five World Karting Championships.  He was also James Courtney's team-mate when the V8 Supercars Champion was victorious at the World Karting Championship in 1997.
DAVIDE FORÈ CAREER SNAPSHOT
Age: 40
Lives: Brescia, Italy
Started Racing: Aged 8 (1982)
Career Achievements:
Five-times World Champion
Two-time World Cup Winner
Two-time European Champion
Last competed in Australia: 1995 (CIK-FIA Oceania Championships – Coffs Harbour, NSW)
JONATHAN THONON CAREER SNAPSHOT
Age: 27
Lives: Waterloo, Belgium
Started Racing: Aged 8 (1994)
Career Achievements:
Three-time World Champion
Two-time European Champion
Hobbies away from Karting: Enjoying life, taking time with friends and family
Q&A with Jonathan Thonon
What are the memories of your first ever race?
My first races were all about having fun.
If you had to select one highlight out of your great career, what victory/event would it be?
Each World or European title it's different as it's the culmination of so much hard work to achieve.   So to be World Champion or European champion it's such a strong emotion of achievement and support of your whole team and family.
What driver did you aspire to be like when you were younger?
When I was very, very young I idolised many F1 drivers!  Now it's the opposite for me and I look to many junior drivers that I work with and coach on their own journey.
Have you ever been to Australia before?
I have never visited Australia before and I am very happy to come for this short visit.  Too short but I will have to come back again.
Have you been to the Gold Coast previously?
I think I will really like the Gold Coast, it looks like a fantastic place for exciting times and action.  I will enjoy the sunshine before returning to Europe for the cold of winter.
What are you looking forward to most about coming to Australia?
The opportunity to have new experiences, meet great people and have fun with the Australian Praga karts family.
Do you have any Australian's you have specifically met / raced over the years?
I worked with Kiwi Josh Hart in Europe and there have been more Australian drivers coming to compete at SuperNats in Las Vegas over the past few years.  I am looking forward to making new friends.
Are you looking forward to meeting Australian wildlife (cuddle a Koala?) seeing beaches during your brief visit?
I really like visiting the beach and warm weather so this would be great.  I think meeting Australian wildlife like koalas could be a nice experience.
Have you ever tried surfing or jet-skiing in the past?
I have Jet skied before and yes, I really love it :)