Extra Firepower for New Zealand's Rotax Max Challenge Squad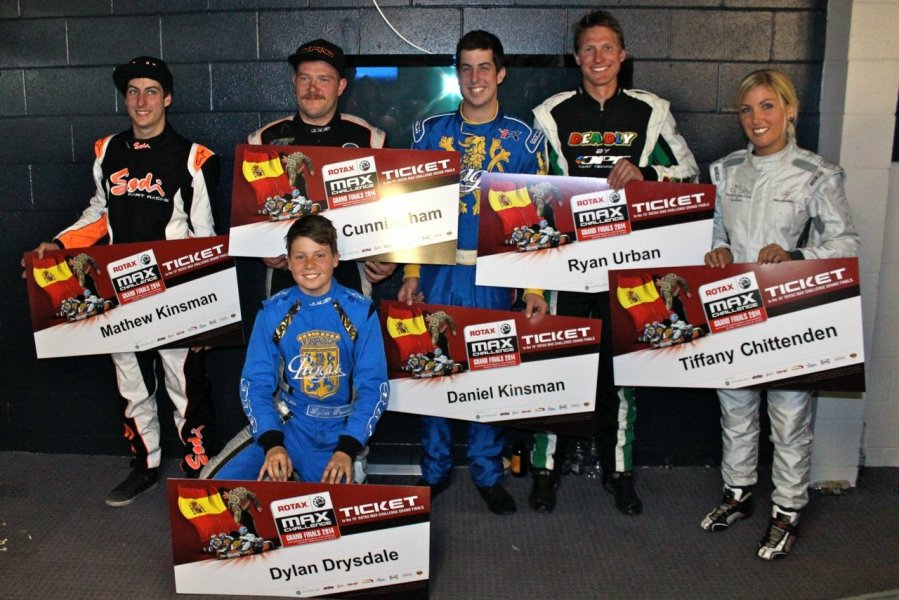 (Photo: Fast Company/Graham Hughes)
The Kinsman brothers, Mathew and Daniel, will spearhead one of the largest and arguably strongest New Zealand teams at this year's Rotax Max Challenge Grand Final in Spain after an all-action final New Zealand round in Auckland over the weekend.
Lashed by torrential rain showers which meant constantly changing track conditions there were several surprises at the meeting at KartSport Auckland's Strata Networks Raceway – Mathew Kinsman taking the battle in the 125cc Rotax Max Lights class to younger brother (and points leader) Daniel and coming out on top was one, series organiser Gavin Bright's announcement that New Zealand had secured two more entries at the annual Grand Final (for a total of six) was another.
Add in young Palmerston North driver Dylan Drysdale's popular win in the Arai Helmet Junior Max class and Ryan Bailey's come-from-behind victory in the 125cc Rotax Max Heavy/Masters Final and it was definitely no ordinary meeting.
The weather remained the big talking point, with no better illustration the 125cc Rotax Max Lights Pre-Final on Sunday.
All but two drivers – Josh Adlam and James Blair – started on slicks on a drying track only for the skies to open half-way through, with the result that Adlam won from Blair (the only drivers on wet tyres) after the pair lapped the next seven drivers and put two laps on the rest.
Daniel Connor got the ball rolling with the quickest lap in qualifying but the story through the heats was just how hard the Kinsman brothers were racing, with no quarter asked or given. Mathew was marginally quicker in qualifying from Daniel, Mason Armstrong and Jonathan Buxeda, but Connor won the first two heats from Daniel Kinsman and Armstrong.
It as Mathew Kinsman who finally got the better of his brother, however, when both were on slick tyres on a sopping track in the Pre-Final and Mathew who won the Final – and with it the class title for the year.
Though defending class title holder Marcus Armstrong had wrested back the lead in the Arai Helmets Junior Max class at the penultimate round in Hawke's Bay in August a late call-up to compete at the World KF3 Junior Championships in France meant the 14-year-old from Christchurch missed the final of the local series.
That was just the incentive Palmerston North driver Dylan Drysdale – second to Armstrong last year – needed, qualifying quickest at Auckland before going on to complete the only class clean-sweep, in doing so scoring enough points to eclipse Armstrong and earn a place on the New Zealand team to the Grand Final.
Fellow Palmerston North driver Kaleb Ngatoa ended up best of the rest, finishing second in both the Pre-Final and Final with Michael McCulloch from the Kapiti Coast third.
With the fourth seat on the Grand Final team already won – by runaway Masters class winner Ryan Urban –  interest in the Platinum Glass 125cc Rotax Max Heavy/Masters class was in who would step up and take his place.
In qualifying it was last year's class winner and New Zealand rep, Stuart Marshall from Auckland with young gun Samuel Carpenter doing well on class and series debut to claim second from karting returnee Ryan Bailey.
Marshall went on to win the first heat from Aarron Cunningham and Carpenter, but another former class winner and New Zealand rep, disabled sport standout Niki Urwin, won the second from now New Zealand-based former UK Challenge rep Tiffany Chittenden and class stalwart Teddy Bassick.
Bailey, however, had been up front until he threw a chain, and he stormed through the field to finish third in the Pre-Final behind Carpenter and Chittenden then won the Final in runaway fashion from Carpenter, Chittenden and Aarron Cunningham.
Those placings were enough to earn the Masters class pair (Chittenden and Cunningham) third and fourth placings respectively behind Ryan Urban and Hawke's Bay driver Zach Zaloum in the series points standings, and with it the two extra spots on the New Zealand team heading to the Grand Final at a new track in Valencia in Spain between November 25 and 29.
The New Zealand team will consist of Mathew Kinsman (Rotax Light), Daniel Kinsman (DD2), Dylan Drysdale (Junior Max) and Ryan Urban, Aarron Cunningham and Tiffany Chittenden (DD2 Masters).
Logitech 125cc Rotax Max Light
Final
Mathew Kinsman; 2. Daniel Connor; 3. Nick Carpenter; 4. Mason Armstrong; 5. Josh Adlam; 6. Jonathan Buxeda
Points after Rnd 6 of 6
Mathew Kinsman 447; 2. Daniel Kinsman 438; 3. Daniel Connor 414; 4. Andy  Schofield 399; 5. Mason Armstrong 386; 6. Jonathan Buxeda 354.
Arai Helmets 125cc Rotax Junior Max
Final
Dylan Drysdale; 2. Kaleb Ngatoa; 3. Michael McCulloch; 4. Taylor Harte; 5. Ethan Anderson; 6. Dylan Smith
Points after Rnd 6 of 6
Dylan Drysdale 437 points; 2. Marcus Armstrong 421; 3. Taylor Harte    408; 4. Michael McCulloch 406; 5. Caleb Huston 404; 6. Trey Nairn 402
Platinum Glass 125cc Rotax Max Heavy/Masters*
Final
Ryan Bailey; 2. Samuel Carpenter; 3. Tiffany Chittenden; 4. Aarron Cunningham; 5. Niki Urwin; 6. Brendon Hart           
Points after Rnd 6 of 6
Ryan Urban* 451  points; 2. Zach Zaloum 421; 3. Tiffany Chittenden* 416; 4. Aarron Cunningham* 408; 5. Ryan Bailey 399; 6. Matthew Grant * 387