EKN TV: Rock Island Grand Prix On-Board w/Tony Jump and David Cole
Picture-and-picture of Yamaha SuperCan Heavy main event with EKN audio from Labor Day street race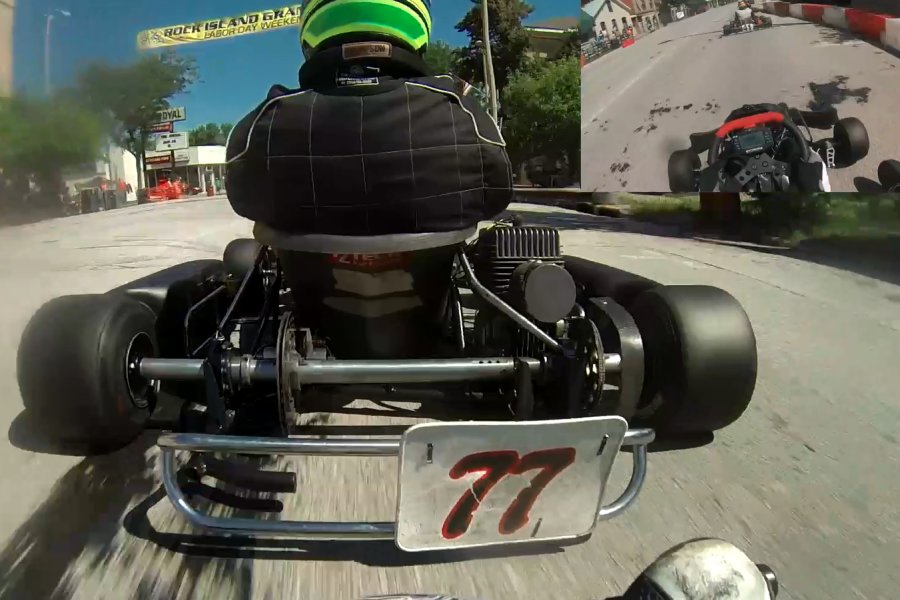 This past Labor Day weekend was the 20th annual Rock Island Grand Prix. Nearly 100 karters converged to the Quad Cities area, turning the city streets of Rock Island, Illinois into a two-day race. The excitement continues from the time racers arrive Friday afternoon until the closing hours of Sunday.
Each and every year, the Yamaha SuperCan category provides some of the most trilling action during the Sunday's main events. The Heavy division has been running since the 2006 edition of the Rock Island Grand Prix. From nearby Davenport, Iowa, Michael Dittmer scored five of those wins, including the win from 2013. The only other previous winner of the class was Tony Jump. Skipping the event a year ago, the 2012 winner was back aboard his KartSport North America/Arrow entry. Jump and Dittmer made contact on the final lap of the Medium race earlier in the day, allowing Tim Goettsch to slip through for his third win in class, with Tony Neilson in second. All four were back at in again in the Heavy race, mixing it up for the victory until the checkered flag.
Also in the SuperCan Heavy race was EKN Managing Editor David Cole. Making his third straight trip to compete in the LO206 category, Cole was recruited by the Jump family to race in the Yamaha division. Assistant race director Rick Fulks originally set up the deal with the Rick Jump to run an older Margay kart they had, finishing up the ride Friday night in the rain. After the first practice session, Fulks elected to focus his attention on his duties around the track, rather than behind the wheel. Fulks offered the seat to Cole for the final practice session, and the Jump's agreed to continue on to qualifying and the main event.
Jump qualified third and Cole was seventh, in his first race weekend since the 2013 edition of the RIGP. Below is the on-board footage, displaying a picture-in-picture to view both drivers in sync, with the audio from EKN's Rob Howden, direct from the EKN Live broadcast presented by Rolison Performance Group.