Rok Cup USA Contests Round Four at Ocala Gran Prix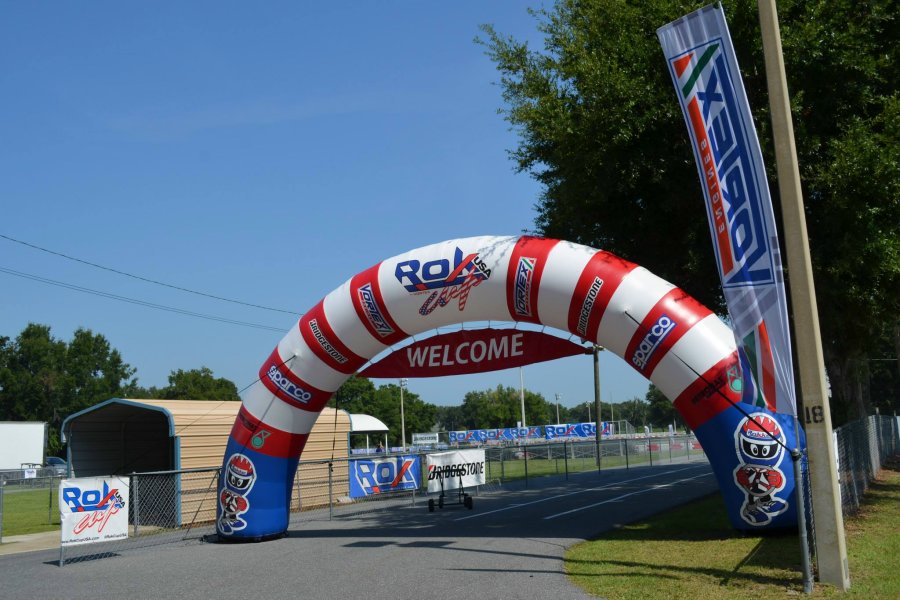 (Photo: RokCupUSA.com)
The fourth round of the ROK CUP USA program at the Ocala Gran Prix was another huge success. Once again, the number of drivers at the race increased as the event gains more credibility and notoriety.
With the heat index sometimes reaching 116 degrees, ROK CUP USA made sure drivers had plenty of water on the scale area after each of the official races. After racing was over on Saturday, the drivers were treated to a HUGE waterslide, dunk tank, obstacle course, and a very unique and exciting paint ball challenge. The game was played on the grassy OGP lot where teams of up to five competitors were given everything they needed to compete against their fellow drivers. While all the activities were going on, a sit down lunch was being offered with excellent food and drinks.
The forecast was for rain to arrive everyday around noon.  But, with lots of luck from the man upstairs, all the racing was finished before the afternoon showers came through the area around 5pm.  When the heats were over and the pre-final had been run, it was time for the finals. In what has now become ROK CUP fashion, all of the drivers were accompanied to the start/finish line by umbrella ROK CUP models. It was a great time for some pictures and memories for each of the drivers on the grid.  The whole weekend, the racing was extremely close.  The difference between fastest lap times from the winners to the last drivers were all very close.  In some cases, the average was less than 0.50%.  This goes to prove how easy to run and tune the ROK engines are.
For example. David Malukas received a rental engine from Vortex and finished in third position.  His fastest lap time was just over one tenth slower than race winner Mathias Ramirez and just a little quicker than second place finisher Ryan Norberg. As the races came to an end, the drivers were treated to some very nice flowers and trophies.
ROK CUP USA would like to thank all the participants, families, and Ocala Gran Prix for supplying a great track with an exceptional crew. The series hopes to see everyone and many more at Orlando Kart Center on September 13-14 for the final race of the series on the reverse layout. There, double points will be given to all classes and seven lucky drivers will get an all-expense paid trip to the ROK CUP International Final set for October 22-25 at the South Garda Karting circuit in Lonato, Italy.
Don't miss it!  For more information please visit our webpage at www.rokcupusa.com, email usa@rokcup.com, call (407) 930 1660 or visit them on Facebook.
Rok Junior
1. Mathias Ramirez
2. Ryan Norberg
3. David Malukas
Micro Rok
1. Gabriella Rameriz
2. Chase Heffner
3. Ugo Ugochukwu
Mini Rok
1. Lachlan DeFrancesco
2. Derek Carmenate
3. David Morales
Rok GP Senior
1. Kyle Kirkwood
2. Oliver Askew
3. Jonathan Kotyk
Rok GP Masters
1. Ariel Castro
2. Hugo Solozano
3. Migueal Gransaul
Rok Shifter Senior
1. Cole Mathewson
2. Richard Heistand
3. Andrew Ceballos
Rok Shifter Masters
1. Kurt Mathewson
2. Chris Bany
3. Gonzalo Aponto