SSM Super One Rotax/Honda – Round 5 Report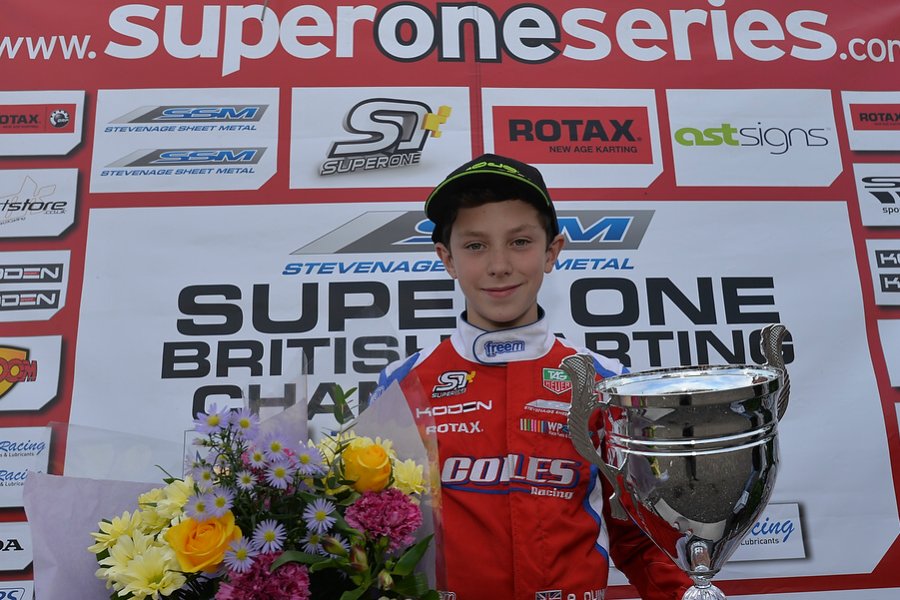 It's getting very tense amongst the drivers and teams at the top of the points standings with only one round after this. Every point possible is needed to count in these ABkC National Championships and a couple of appeals were heard against penalties, often for alleged blocking during the finals.  Luckily the weather was good and dry, albeit rather cold for August.  Standing starts continue to be the norm in Super One but this time the Rotax karts were left stopped on the grid for a couple of minutes to let any clutches cool down.
Mini Max
The GP plated Samuel Pooley had a great run from topping timed qualifying to sharing heat wins with Dean MacDonald and taking pole for the first final.  MacDonald had clambered up from ninth in TQ. And it was GP who led them off only for him to be shuffled back and forwards to fourth as Jordan Cane led, then briefly MacDonald before it settled into Alex Quinn and Pooley drawing clear.  This was aided by MacDonald defending third from half distance which earned him a five place penalty and elevated Luke Wooder and Axel Charpentier. With a minute to go Pooley made his successful bid for the win at Café Corner, Quinn trying very hard in vain to retrieve the place.  Jordan Collard was another to receive a five place penalty, taking him to tenth.  For the second final Quinn was swift to pass Pooley as a few places behind MacDonald and Cane rubbed sidepods in the chicane splitting the pack.  However Wooder in fifth was quickly reeled in by MacDonald as he stormed into the lead group.  Another bit of rubbing had Charpentier and MacDonald delayed, leaving Quinn out ahead but again MacDonald's pace brought him back to second after a trade with Pooley and rapidly eating into Quinn's lead but not finding an opening. "I led most of it then I was thinking of the championship but with two laps to go I had to defend.  It's been a good weekend," observed Quinn.  There was some disquiet from MacDonald's Strawberry camp about the defence but in fairness Quinn had not received any warning flags whereas MacDonald had received at least one.
Final 1 (22 laps) 1 Samuel Pooley GP (Tonykart) 16m 29.650s; 2 Alex Quinn 12 (Tonykart) +0.04s; 3 Luke Wooder 0 (Alonso); 4 Axel Charpentier 88 (Tonykart); 5 Sean Butcher 57 (Tonykart); 6 Rory Hudson (RL Racing Department).
Final 2 (22 laps) 1 Quinn 16m 29.260s; 2 Dean Macdonald 11 (Tonykart) +0.11s; 3 Thomas Turner 24 (Tonykart); 4 Pooley; 5 Charpentier; 6 Wooder.
Honda Cadet
There were enough entries for a repechage and two timed qualifying sessions, the first somewhat faster with Jenson Butterfield quickest over Mark Kimber and Tom Canning. Kimber won both his heats, Canning the other.  Kimber led all of the first final until the last lap when Canning sneaked past and held on for the win.  The winner had leapfrogged Butterfield mid race to help push Kimber clear.  Behind them Dragan Pinsent had taken Butterfield at the last hairpin but positions were reversed on the last lap, and further back Keaton Samra had an incident with Zak Rogers and Oliver Bearman. As Canning led Butterfield away in the second final Myles Apps was involved in a three kart incident at the first hairpin bringing out the quarter flags whilst he was checked out, but Apps managed to get back into his kart albeit a lap down. Kiern Jewiss vaulted into second after the restart with two swift moves on Kimber and Butterfield, the latter falling back.  Jewiss was then hung out to dry, falling to fifth as Kimber and Canning forged ahead.  A huge battle was taking place for third place, Jewiss, Butterfield and Thomas Pegram all involved with Alex Lloyd in the mix. Then in the chicane Pinsent clattered over the kerbs, maybe pushed, and took off Butterfield on his return to the track.  Butterfield had a one lap penalty, Pegram and Zak Rogers had five place penalties.  Kimber was in the driving seat and resisted all attempts by Canning to pass, saying: "I had to defend on the last lap, we both used our heads until then."  Pegram was third until his penalty which put up Keaton Samra, Lloyd and Jewiss.
Final 1 (19 laps) 1 Tom Canning 7 (BRK) 16m 12.460s; 2 Mark Kimber GP (BRK) +0.030s; 3 Jenson Butterfield (BRK); 4 Dragan Pinsent 98 (Project One); 5 Kiern Jewiss (Tonykart); 6 Alex Lloyd 48 (Zip).
Final 2 (18 laps) 1 Kimber 16m 22.530s; 2 Canning +0.090s; 3 Keaton Samra 10 (Zip); 4 Lloyd; 5 Jewiss; 6 Ben Kasperczak 35 (CRG).
Junior Max
In the biggest class Sandy Mitchell was just quicker than a tying Dave Wooder and William Tregurtha and whilst Wooder won both his heats Harrison Thomas came up to win the other.  Delays in sorting the penalties in the repechage delayed the next races, and after two of the top four were given penalties it was found those elevated had already taken their slicks out of parc ferme.  Conon McPolin and Paul Stewart would not start (they could have used their wets) but will still get points for being on the grid, the repechage winner being Finlay Hutchison over Adam Durant.  Missing altogether was Hugo Bentley Ellis who has apparently decided to give up on karting.  Wooder was almost immediately shuffled back from the lead of the first final in favour of Tom Gamble, who then succumbed to Lucas Vaus.  Wooder stormed back to the lead and this time he held on until the chequer, defending hard for the last two or three laps and receiving two warnings. It made it difficult for Gamble to try for a win, and when he did Jack MacCarthy slipped into second.  Tregurtha closed on the lead trio at the end and Thomas came out on top of his fight with Vaus.  Wooder was docked five places but won an appeal to be reinstated at the front of the second final.  He initially looked to be having the pace to pull clear of the second place battle but once Fulk got to the front of that he towed them all up.  Vaus was the big loser in that battle, falling to tenth. Fulk took Wooder at the first hairpin, then McCarthy sprung into the lead only to be hung out as Gamble took the lead in a three abreast manoeuvre round the hairpin.  Wooder also lost out, falling to fifth.  He snatched third from Josh Skelton at the last corner.  Gamble defended the last two laps over Fulk for his first Super One win, saying: "I didn't make the best of starts but got back through to the lead and just tried to keep Zak behind."
Final 1 (22 laps) 1 Dave Wooder 0 (Alonso) 15m 57.470s; 2 Jack McCarthy 81 (Tonykart) +0.15s; 3 Tom Gamble 23 (Tonykart); 4 William Tregurtha 71 (Tonykart); 5 Harrison Thomas 26 (Tonykart); 6 Lucas Vaus 15 (Tonykart).
Final 2 (22 laps) 1 Gamble 15m 54.850s; 2 Zak Fulk +0.07s; 3 Wooder; 4 Josh Skelton 43 (Tonykart); 5 Sam McKenzie 55 (Kosmic); 6 Tregurtha
Senior Max
Jack Bartholomew set the quickest timed run over Sam Marsh in the first group, and Pierce Lehane over Joseph Reilly in the other slower session.  There were two wins for Marsh in the heats, and one for Bartholomew. As Bartholomew shot away leaving the others far behind, Jack Saffery was off and out at the first hairpin. Josh Colling, Lehane and Nathan Aston were all in the mix for second until Sam Marsh, Josh Price and Joe Reilly came to the fore.  Lehane and Aston started a long slide down the order as Marsh and Price closed down on Bartholomew, forcing him to defend strongly.  For that he received a five place penalty, unfortunate since he had led so well and so that elevated Marsh.  Once the others had caught up Reilly took advantage to leap into third, which became second, over Price, Collings and Adam Glear. Sam Ward was excluded from the meeting for not obeying an instruction of an official.  As Price started to edge away in the second final Reilly had made a terrible start and fell to thirteenth. Once Glear had cleared Collings he hauled in and passed Price only for Marsh to storm through.  With Price riding shotgun, Marsh held on for the win, saying: "It wasn't really that hard as I saw Joe Reilly on Josh so I knew I would be alright."  In fact Reilly just pipped Price on the last lap and came within a whisker of the win, with Glear, Gary Donnelly and Collings ahead of Bartholomew who never really recovered from his forced sixth place start.
Final 1 (23 laps) 1 Sam Marsh 19 (Alonso) 16m 19.460s; 2 Joseph Reilly 23 (Tonykart) +0.12s; 3 Josh Price 27 (Tonykart); 4 Josh Collings 10 (CRG); 5 Adam Glear 37 (Kosmic); 6 Jack Bartholomew GP (Tonykart).
Final 2 (23 laps) 1 Marsh 16m 13.850s; 2 Reilly +0.09s; 3 Price; 4 Glear; 5 Gary Donnelly 29 (Tonykart); 6 Collings