SSM Super One Championship – Round 5 Report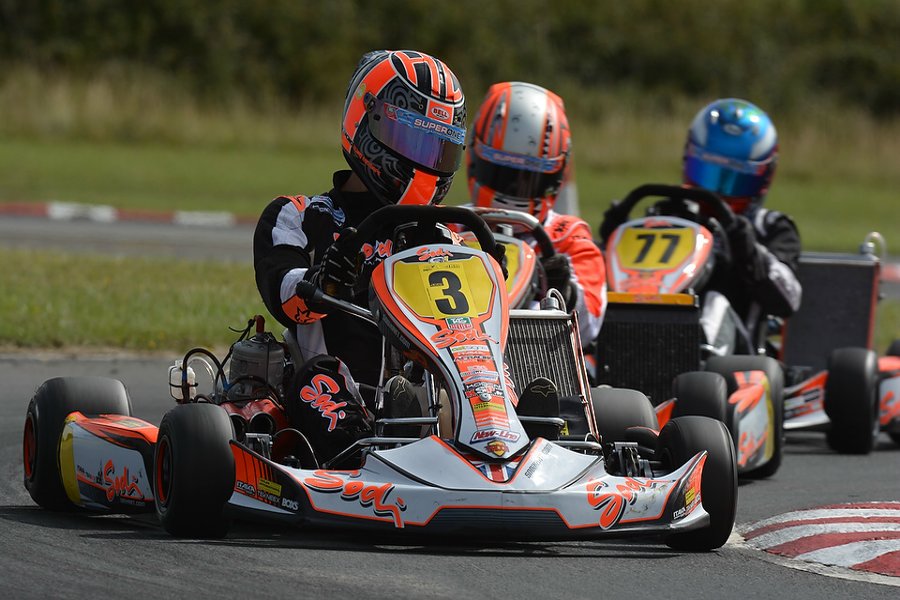 Henry Easthope (Photo: Chris Walker - kartpix.net)
Super One returned to the classic Cotswold venue of Little Rissington for the first time since 2003 and enjoyed a superb weekend of racing at the flat but beautiful airbase that was once the home of the world famous Red Arrows display team.  This was the final round for KZ1, the penultimate round for the other classes.
MSA Cadet British Championship
The results of the second final will remain provisional until the start of the final round at PF International following the conclusion of Teddy Wilson's appeal against his exclusion to the Super One Stewards.
A day before the controversy began, O Plate champion Jonny Edgar claimed pole position for the heats, outpacing Wilson, Zachary Robertson, Tom Wood and Brandon Martland in qualifying whilst Keiran Jewiss was languishing well down the order. Wilson won heat one by two tenths of a second from Edgar but Edgar struck back in heat two, edging out Robertson by a wheel-length with Wilson some way back in third.
Wilson and Edgar broke away from the rest in Sunday's first final with Edgar pushing his teammate all the way. Wood tried to break away from a furious multi kart scrap for third but couldn't quite catch the leaders and as the race reached its conclusion Wilson was able to pull out a small gap on Edgar to take the victory.
Wilson led away again in the second final as Robertson snatched second from Edgar. Finlay Bunce was one of the karts in a tangle at the start. As Edgar dropped back into the pack Robertson stormed up from seventh on the grid and he and Wilson powered away at the front. Wilson continued to lead until the start of the final lap when Robertson dived to the inside going into turn one. Wilson fought back at Top Bend but as the pair headed on to the back straight side by side there was contact. Robertson spun while Wilson sailed through the air but managed to stay pointing in the right direction to take the chequered flag in first but was given a one lap penalty. However he is appealing the decision. Should Wilson's appeal be unsuccessful Wood will be classified as the winner from Alex McDade and Owen Byatt.  Jewiss was out of the top ten in both finals with a score he will hope to drop for the final standings, falling from first to third in the provisional standings.
MSA Cadet, final 1 (20 laps) 1 Teddy Wilson (Synergy) 16m 24.000s; 2 Jonny Edgar (Synergy) +1.520s; 3 Tom Wood (Zip); 4 Alex McDade (Zip); 5 Owen Byatt (Synergy); 6 Owen Marlow (Zip).
MSA Cadet, final 2 (20 laps) PROVISIONAL 1 Wood 16m 25.380s; 2 McDade +0.010s; 3 Byatt; 4 Edgar; 5 Fin Kenneally (Zip); 6 Dexter Patterson (Zip).
Junior TKM ABkC National Championship
Fresh from his TKM Festival victory Dino Lee swept to pole position by two hundredths of a second over points leader Alex Forward and after a great five kart scrap Lee also took the win in Saturday's opening heat.
But there were major problems just behind Lee as Kyle Hornby, the driver in control of the championship standings was excluded from the entire meeting when it was discovered he had a modified piston after he finished a close second to Lee. Hornby's disqualification handed Matthew Graham and Matthew Round-Garrido second and third with Ethan Pitt a  strong fourth and Forward only sixth.
Graham took the honours in a similarly close second heat with Round-Garrido and Forward both within half a second of the winner when the flag fell.
Sunday's first final got better and better the longer the race went on as Graham and Round-Garrido traded the lead numerous times.  This all let a number of other drivers closer and closer to the lead duo until, with a handful of laps remaining, nearly a dozen karts looked to be in contention.
Graham eventually got muscled back into the thick of the pack as Round-Garrido held off a late challenge from Lee to take the win with Pitt, Forward and an inspired Susanne Gutzold rounding out the top five.
Pitt pulled off one of the best passing moves of the entire season to take his first Super One victory in the second final, calmly sweeping around the outside of the last corner to beat the points leader to the line by two hundredths of a second. Behind the overjoyed Pitt there were several issues in deciding the third place finisher. Lee initially took the spot but was excluded for overtaking under yellow flags which then promoted Round-Garrido. However Round-Garrido was also penalised five places which then elevated Joseph Reeves-Smith to a  delighted third.  This all means any one of five drivers could take the title at PF International on 13/14th September.
Junior TKM, final 1 (24 laps) 1 Matthew Round-Garrido (Jade) 15m 57.100s; 2 Dino Lee (Tonykart) +0.06s; 3 Ethan Pitt (Jade); 4 Alex Forward (Tonykart); 5 Susanne Gutzold (Tonykart); 6 Anderson Chilcott (Jade).
Junior TKM, final 2 (22 laps) 1 Pitt 15m 55.500s; 2 Forward +0.02s; 3 Joseph Reeves-Smith (Jade); 4 Gutzold; 5 Matthew Graham (Jade); 6 Chilcott.
Formula KGP Super One Championship
Only a slender victory in Saturday's opening heat race for Mark Litchfield prevented a total weekend clean sweep for Oliver Hodgson although Litchfield did take another step towards securing his second title in succession with a consistent weekend.
Hodgson's dominance began in timed qualifying and although Litchfield took the chequered flag first in heat one Hodgson was only inches behind. Litchfield's only remaining title rival Bobby Game clawed his way into second spot at Litchfield's expense in Saturday's last heat with Hodgson more than one second up the road.
Hodsgon had a new threat in Sunday's first final in the form of Matt Davies, who pushed Hodsgon every step of the way as Litchfield and Game scrapped over third. Sadly Davies failed the post race weight check and was excluded, handing second to Litchfield.
Hodgson and Litchfield broke away from the rest in the second final but Litchfield couldn't find a way past his teammate, who led every lap to complete the weekend double. Although the defending champion could close up on the slow corners, no passing opportunities were offered. More than five seconds behind the two leaders Davies staged a fantastic fight back from the back of the grid to pass Game for third.
Formula KGP, final 1 (24 laps) 1 Oliver Hodgson (Kosmic) 16m 17.220s; 2 Mark Litchfield (Kosmic) +2.04s; 3 Bobby Game (Alonso); 4 Dan Stocks (Tonykart); 5 Daniel Baybutt (Jade); 6 Jack New (Tonykart).
Formula KGP, final 2 (24 laps) 1 Hodgson 16m 16.760s; 2 Litchfield +0.27s; 3 Matt Davies (Tonykart); 4 Game; 5 Stocks; 6 Jamie Flynn (Alonso)
TKM Extreme ABkC National Championship
Matthew Allnutt enjoyed a breakout weekend at Little Rissington but it was James Ogden who left the circuit on Sunday evening feeling happiest of all as he extended his championship advantage.
Allnutt went fastest of all in qualifying with Ogden and Tom Owen next fastest and those three finished heat one in the same order with Paul Monks and Scott Jeffs completing the top five.
Heat two was extremely close once again as Allnutt battled with Ogden but in the final laps it was Owen who was Allnutt's closest rival with Monks and Joe Forsdyke third and fourth as Ogden faded to sixth.
Final one on Sunday saw Allnutt take his maiden win although he was pushed all the way by Ogden and an inspired Jeffs but as the action got even more frenetic it was Owen to snatched third and Forsdyke fourth with Jeffs a still highly creditable fifth.
Controversy surrounded the last lap of final two as Owen and Allnutt collided in the Dog-leg half a lap from home whilst battling in the midst of a furious gaggle. Owen had already recovered from an earlier clash as was Jeffs to fall to the back. Ogden led into the final corner but Forsdyke tried an audacious outside pass that resulted in Monks nipping through to snatch second behind the victorious Ogden. Simon Vercoe took fourth with Matt England fifth.
TKM Extreme, final 1 (22 laps) 1 Matthew Allnutt (Tonykart) 15m 50.140s; 2 James Ogden (Tonykart) +1.14s; 3 Tom Owen (Jade); 4 Joe Forsdyke (Tal-Ko); 5 Scott Jeffs (Jade); 6 Paul Monks (Tonykat).
TKM Extreme, final 2 (22 laps) 1 Ogden 15m 57.330s; 2 Monks +0.08s; 3 Forsdyke; 4 Simon Vercoe (Tal Ko); 5 Matt England (Tal-Ko); 6 John Hogan (Tonykart).
KZ1 MSA British Kart Championship
Henry Easthope was crowned the 2014 MSA British Senior Short Circuit Karting Champion as the KZ1 class concluded their season.
Easthope had all but secured the title following the most recent round of the championship at Larkhall but had to race under the new Super One regulations: "To qualify for a top three position in the championship a driver must have competed fully in all rounds, unless written permission is given for absence by the series co-ordinator which would only be given in exceptional extenuating circumstances."
Sam Webster and Scott Allen shared the two victories with Webster doing a sterling job of holding Allen off in final one with Denis Gorman completing the podium. Although Allen was within a kart's length all through he just didn't have the pace to pass.
However Webster's dreams of taking third place in the final standings turned sour when his chain broke on the rolling lap as he tried a dummy start, leaving pole position empty and Webster's day over. This gave Easthope's teammate Jamie Garvie an invitation to snatch the lead from the second row of the grid with Allen a close second. Soon after Allen had taken the lead, the mechanical attrition wasn't over as Garvie's kart faltered on lap four when his engine came loose. Garvie spent two laps fixing the problem before continuing, by which time Allen, Gorman and Easthope were comfortably ahead.
The drama continued as with second place virtually in the bag Gorman coasted to a halt when his fuel pump fell off, leaving Allen clear to take his fifth win of the year and handing Easthope second place on a silver platter.  John Pike completed the podium with Will van Es fourth. Webster's retirement meant he finished the season just seven points behind van Es in fourth place overall in the championship.  "It was a very hard race as the pack were on my bumper for the first 13 minutes, then I started to edge away after Denis stopped and held up Henry slightly," said a happy Allen, who has clinched the vice-champion spot.
KZ1, final 1 (27 laps) 1 Sam Webster (ART) 15m 59.500s; 2 Scott Allen (Jade) +0.53s; 3 Denis Gorman (Maranello); 4 Jamie Garvie (Sodi) 5 Henry Easthope (Sodi); 6 John Pike (TB Kart).
KZ1, final 2 (27 laps) 1 Allen 16m 02.810s; 2 Easthope +1.44s; 3 Pike; 4 Will van Es (Tonykart); 5 Jonny Buchanan (Energy); 6 Ryan Sharp (Tonykart)