Waterloo Regional Kart Club Race 10 Results
New York visitors add flavor to annual Corn Roast event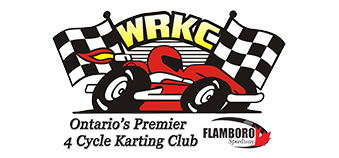 On Saturday August 16, the Waterloo Regional Kart Club played host to some visitors from New York State who made the trek north with their trailers and Karts. The go karts looked the same but you knew they were not exactly the same when they started the engines. The WRKC is Canada's largest club that races Honda engines exclusively. The visitors were running Yamaha 2 stroke engines or a Briggs and Stratton motor. As such, they ran in their own class and the WRKC members all had a great time watching some new friends race.
The visitors picked a good day to come and race as it was the club's annual Corn Roast. Everyone enjoyed some great local corn and the opportunity to talk about the days racing action.
The race day sponsor was Creative Edge Signs & Graphics. They are a Kitchener Ontario Graphics and Design company that has been in business for over 20 years. Steve Lyons, co- founder of Creative Edge Signs & Graphics, started in vehicle graphics as a teenager lettering race cars at the local racetrack. Back then, the tools of the trade were brushes, and a steady hand. Today using all the of the latest technology they will create eye catching Vehicle Wraps, Vehicle Lettering, Signs, Banners, and Decals. Under the Jungle Cat Designs brand they offer custom race helmet painting. From start to finish, creative design, production and application-Creative Edge handles it all. For many years they have been a supporter, sponsor and graphics supplier to the WKRC.The race results by class are as follows:
Cadet – 1st Cole Quinton, 2nd Christian Alger, 3rd Joey Woolsey, 4th Ethan Donkers, 5th. Jonny Robillard
Novice – 1st Josh Bisschop, 2nd, Tyson Wassink 3rd Liam Rhodes, 4th Kyle DaSilva, 5th Keidon Fletcher
Jr. Lite – 1st Aaron Turnbull, 2nd Peter Ditner , 3rd Ciarra Collison, 4th Jaden Baillargeon, 5th Madison Colling
Jr. Heavy – 1st Kaitlin Neely, 2nd Austin Bisschop, 3rd Andrew Whelan, 4th John Ditner, 5th Kendra Cassidy
Sr Medium – 1st Steven Murdock, 2nd Darren Dryden , 3rd TJ Marshall, 4th Tyler Paquette, 5th Jared Gill
Masters – 1st John Dryden, 2nd Brian Wilkinson , 3rd Ed Crozier, 4th Bob Bailey, 5th Gerry Reis !
New York Kart Club – 1st Bill Salisbury, 2nd Will Salisbury , 3rd Payton Stroka, 4th Don Stroka, 5th Rachel Reis
The WRKC race next at Flamboro Speedway on Saturday, August 23. The club will be running a qualifying race day format. Practice starts at 8:00 am. All kart racers that have a valid license from another club are welcome, as our spectators.
For more information please visit our club website at website www.wrkc.on.ca.