Holden, Southern Capture Three Wins at WKA New Castle Ironman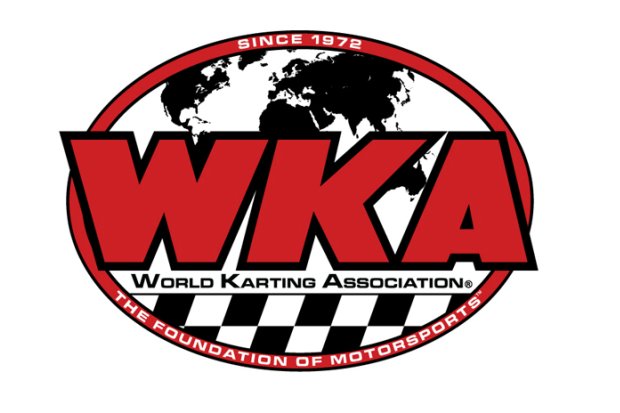 Indiana's Zach Holden and Ohio's John Paul Southern Jr. led the way this past weekend at the Top Kart USA Nationals, round four of the 2014 WKA Mazda / Bridgestone Manufacturers Cup Series at New Castle Motorsports Park's Iron Man Course.
Holden, who entered the weekend as one of the few drivers with a lot of experience on the Iron Man Course, put his knowledge of the track to good use with three wins in four starts in the 12- to 15-year-old junior categories.
The Greenfield, Indiana, native swept the Woltjer Racing Engines / Zero Error Racing Yamaha Junior finals, finishing ahead of rivals David Malukas Saturday and Brandon Lemke Sunday.
Holden wheeled his Top Kart to a big Saturday Yamaha Junior win over Malukas, Lemke, Joey Eppink and Emerson Reed. Nineteen karts started the final.
On Sunday, Holden concluded his Yamaha Junior sweep with the victory over Lemke, Reed, Jacob McWhirter and Marina Walters.
Holden took one out of two in TSRacing.com / Arai Helmet Parilla Junior. Lemke scored Saturday's Parilla Junior win over Holden Tazio Torregiani, Malukas and Alexander Kardashian.
Holden bested Lemke for the Sunday victory and the $500 Arai Helmet / Butler Built bonus as the overall weekend winner. Lemke was second, Torregiani third, Julia Boos fourth and Abby McLaughlin fifth.
In other junior racing, Torregiani dominated the Komet Junior finals. The Connecticut racer drove his Haase to wins both days in Komet Junior with Kardashian second, McWhirter third and Devin Wojick fourth.
SOUTHERN WINS THREE OF SIX IN SPORTSMAN
John Paul Southern Jr. was smiling again after a Manufacturers Cup national. The Checkered Motorsports PCR racer kept his impressive 2014 season moving forward with three wins in six starts in the Junior Sportsman categories.
Southern won both Kartwerks / Praga Chassis / Grand Products Cadet Sportsman main events. The PCR racer captured both Cadet wins over Tony Kart racer Jason Welage. Giovanni Bromante was third on Saturday while Sam Mayer rounded out the top three in Sunday's Cadet go.
The MRP Birel / RacingRVs.com Yamaha Sportsman categories provided a couple of the largest fields of the weekend with over 15 starters each day. Southern and Dylan Tavella split the hotly contested Yamaha Sportsman finals.
Tavella scored the won aboard his Tony Kart in Saturday's final, driving to victory over Southern Mayer, Pauly Massimino and Maks Kowalski.
Southern avenged his Saturday defeat to earn the hat trick Sunday afternoon, pocketing the Yamaha Sportsman 2 final over Tavella, Mayer, Massimino and Kowalski.
Mayer was a double winner in the Sportsman ranks. The Wisconsin Merlin racer added a couple more triumphs to his 2014 Man Cup campaign, winning both Komet Sportsman races. Mayer won both days over Southern and Bromante.
SNELL SWEEPS KID KART; MARS, FERRIS SPLIT ROOKIE
Nick Snell drove to a couple big victories in the CRP Racing Kid Kart main events. Snell picked up Saturday's Kid Kart win over Jacob Putnam with Elliot J. Cox third, Ben Maier fourth and Sebastian Wheldon fifth.
On Sunday, Snell returned to cap off his big weekend with another Kid Kart win. Snell drove to victory over Cox, Putnam, Wheldon and Maier.
Luca Mars and Connor Ferris were the class of the New Jersey Sprint Series / Comet Kart Sales Yamaha Rookie Sportsman main events. Mars continued his string of Man Cup wins with the Yamaha Rookie win Saturday, crossing the stripe ahead of Owen Mahle. Ferris was third, Lucas Smalec fourth and Caleb Bacon fifth.
Ferris returned Sunday to best Mars in another exciting Rookie main. Ferris and Mars finished ahead of Gunnar Bischoff, Bacon and Smalec rounding out the top five.
STROSS, BOOS EACH WIN TWICE IN SENIOR TAG COMPETITION
Florida's Dustin Stross and Pa.' Mark Boos both won two races in the senior TaG categories. Boos raced his Top Kart to victory in Saturday's Franklinkart.com Parilla Senior 1 final. The Pennsylvanian earned the win over Cal Stewart with Stross third, Austin McCusker fourth and Andrew Bujdoso fifth.
Sunday's HYTORC of Texas Parilla Senior 2 main saw Stross wheel his Tony Kart to the win over Stewart and Bujdoso. Boos scored the Streeter Super Stands Pole Award but had to settle for fourth in the final. Chandler Horton rounded out the top five.
Stross and Boos split the Grand Products TaG Senior finals. Stross won Saturday's main over Roger Ralston while Boos captured Sunday's final over Ralston.
David Galownia swept DRT Racing / Margay TaG Masters. Galownia won over Kim and Scot Carapellatti both days.
Haase driver Austin McCusker and Top Kart pilot Dakota Pesek split Zero Error Racing-sponsored Senior Piston Port. McCusker won Saturday over Pesek, Patrick Olsen, Kody Evans and Chase Jones. Sunday's Senior Piston Port main saw Pesek capture the win over McCusker, Olsen, Derek Hughes and Jones.
Click HERE for MyLaps results from the Top Kart USA Nationals.
Click HERE for top 10 results from the weekend.
VAN-K WHEELS TO PROVIDE GOLD CUP RACERS WITH COMPLIMENTARY BBQ COOKOUT AT MRP
A special BBQ dinner will be offered Saturday night at this weekend's Van-K Wheels / MGM Chassis WKA Gold Cup Nationals at Michiana Raceway Park near South Bend, Indiana.
Event sponsor Van-K Wheels owner Brian Bass will provide the food and cooking and ready to serve the first 60 to 80 people interested in attending. Brian has a small cooker that will cook enough Saturday to feed the first 60 to 80 people. The cookout will be first come, first serve and dinner will be served to Gold Cup families, racers and officials until food runs out.
This is a complimentary meal meant to thank the Gold Cup racers for attending this weekend's Van-K Wheels / MGM Chassis Nationals at MRP.
All thanks goes to Van-K Wheels' Brian Bass for making the dinner possible.