SSM Super One Rotax Series – Round 4 Report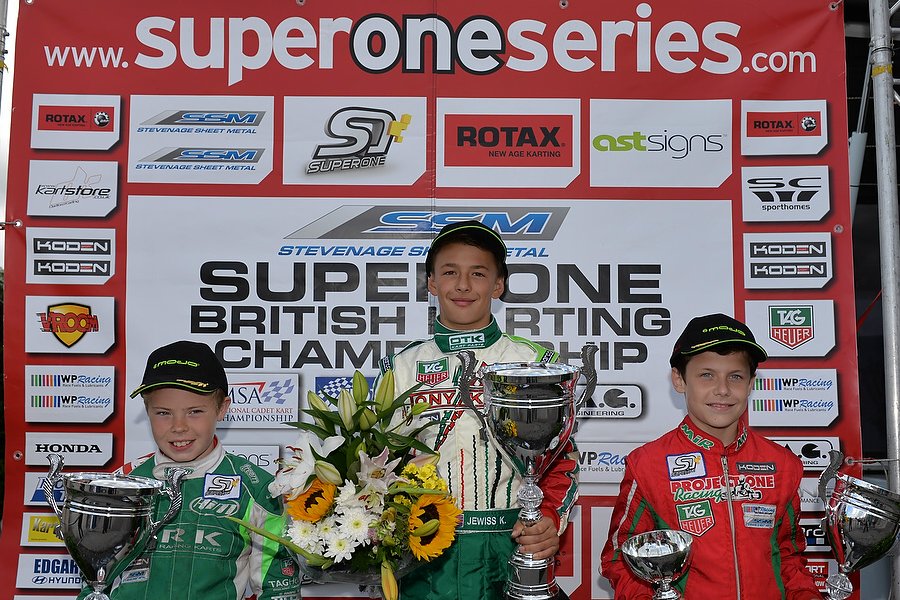 After a month's break the SSM Super One Series visited north Wales for the picturesque circuit of Glan y Gors. Following a dry day on Saturday for the heats, Sunday was punctuated by showers courtesy of the remnants of Hurricane Bertha.  Dean MacDonald took the second MiniMax final after the first winner Alex Quinn fell back and took a penalty.  Tom Canning took the first of the Honda Cadet wins as Kiern Jewiss went off, he stormed back to win the second.  In Junior and Senior Max Dave Wooder and Jack Bartholomew enjoyed double victories.
Mini Max
Jonathan Hoggard was quickest in timed qualifying and although Alex Quinn won both the heat, Hoggard lined up alongside for the first final.  Dean MacDonald sprung into the lead of that, battling with Adam Smalley and Quinn, losing out to the latter by a whisker on the last lap. MacDonald took command of the second final, Quinn falling back to 12th after a penalty for an incident. That left Jonathan Hoggard as runner-up following a battle with Samuel Pooley, the latter pipped by Axel Charpentier.
Final 2 (22 laps) 1 Dean MacDonald (Tonykart) 16m26.7s; 2 Jonathan Hoggard (Tonykart) +0.??s; 3 Axel Charpentier (Tonykart); 4 Samuel Pooley (Tonykart); 5 Thomas Turner (Alonso); 6 William Pettitt (Tonykart).
Championship Standings: MacDonald 606; Quinn 591; Hoggard 552; Adam Smalley 520
Honda Cadet
Kiern Jewiss once again showed his never give up attitude after being spun to the back in the first final, yet winning the second.  Although Dragan Pinsent topped timed qualifying his heats were not completely to plan with Tom Canning winning his two, and Jenson Butterfield the other.  So the first final grid line up was Canning, Butterfield, Keaton Samra, Jewiss and Pinsent.  The latter leapfrogged to second behind Canning whilst Jewiss recovered to only 18th.  But Jewiss was on a charge, reaching 8th on the first lap of the second final and soon mixing it with the leading group.  Jenson Butterfield lost the lead running wide and falling to 22nd leaving Jewiss to scrap hard with Pinsent, then Myles Apps and Tom Canning when Pinsent fell back.  Jewiss had a break at the end as Canning defended against Zak Rogers, Nicholas Reeves and Harry Thompson.
Final 2 (19 laps) 1 Kiern Jewiss (Tonykart) 16m 13.29s; 2 Tom Canning (BRK) +01m42s; 3 Zak Rogers (Project One); 4 Nicholas Reeve (Project One); 5 Harry Thompson (Zip); 6 Thomas Pegram (BRK).
Championship Standings: Jewiss532; Thompson 529; Apps 522; Canning 509
Junior Max
William Tregurtha, tenth in the points, was having a great run through the heats for the first final pole, although Jack McCarthy had been fastest in the time trials. Unfortunately after Dave Wooder had grabbed the first final lead, Tregurtha had an off dropping him way back, to finish 11th.  Wooder pulled 3.7s on Stuart Middleton, with Tom Gamble a further 9s in arrears for third. Wooder had to battle a lot harder in the second final, having to overcome initial leader Sandy Mitchell then Jonathan Paylor and briefly Josh Skelton. Coming from the repechage last chance race Hugo Ellis reached 3rd but had to settle for 6th behind Paylor, Zak Fulk and Jack McCarthy after Tom Gamble established himself as nearest challenger to Wooder.
Final 2 (19 laps) 1 Dave Wooder (Alonso) 16m 42.84s; 2 Tom Gamble (Tonykart) +01.75s; 3 Jonathan Paylor (Tonykart); 4 Zak Fulk (Tonykart); 5 Jack McCarthy (Tonykart); 6 Hugo Ellis (Tonykart).
Championship Standings: Mitchell 591; Gamble 524; Skelton 516; Fulk 512
Senior Max
Another on a winning streak just now is Jack Bartholomew, although not doing so well in the heats, lining up fourth on the first final grid behind Josh Price with Luke Knott and Josh Collings on the front row.  Price had been fastest in timed qualifying and won both his heats, with Luke Knott taking the other.  Bartholomew vaulted to the front, past Collings and Knott, with Joseph Reilly and Price fourth and fifth. In the second final, Bartholomew gradually eased away from Collings as other contenders such as Price and Knott fell by the wayside.  Scott Mackrell stormed up to third to beat Reilly and Adam Glear.
Final 2 (20 laps) 1 Jack Bartholomew (Tonykart) 16m04.37s; 2 Josh Collings (CRG) +2.66s; 3 Scott Mackrell (Kosmic); 4 Joseph Reilly (Tonykart); 5 Adam Glear (Kosmic); 6 Sam Marsh (Tonykart).
Championship Standings: Bartholomew 589; Reilly 549; Stewart 504; Glear 503