First-Ever WKA National on New Castle's Ironman Course This Weekend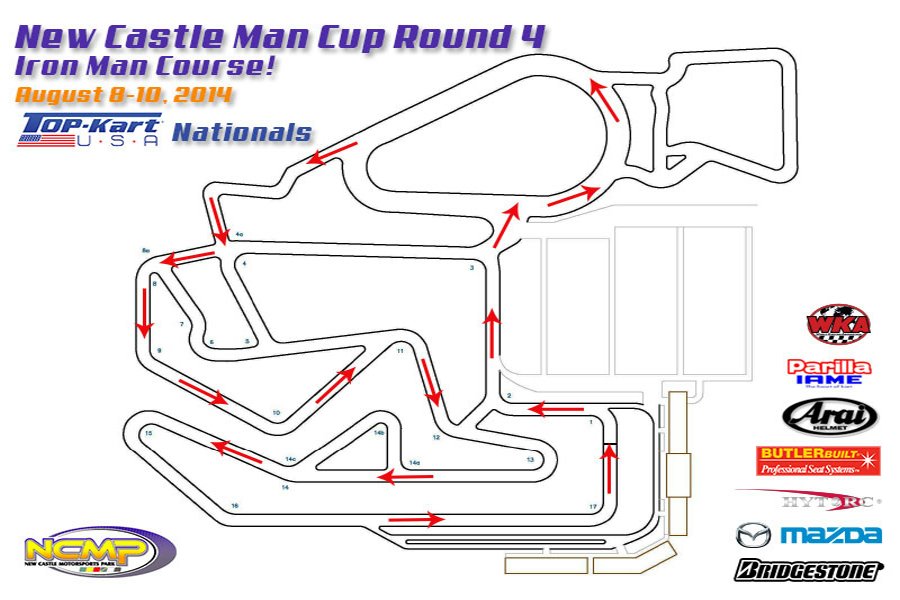 The fourth round of the 2014 WKA Mazda / Bridgestone Manufacturers Cup Series is set for this weekend at New Castle Motorsports Park in New Castle, Indiana, a venue very familiar to Man Cup racers over the last decade.
While the venue is a consistent one for WKA's national 2-cycle sprint series, the course layout is not.
For the first time ever WKA's Man Cup Series will run the longest configuration at New Castle, and one of the longest sprint track courses in the country. That configuration is New Castle's "Iron Man Course," a layout that the track's KRA club series is familiar with but has never been run at a Man Cup national.
The long one-mile-plus Iron Man layout utilizes New Castle's quarter-mile oval, a track WKA's Speedway Pavement Series has raced in years' past.
The Man Cup Series will return to New Castle's traditional National course when the season closes October 3-5, but not before some competitive racing goes off this weekend.
Parilla Senior and Parilla Junior will highlight this weekend's Top Kart USA Nationals. As has been the case at all Man Cup shows this year, Parilla Junior racers will not only be vying for feature wins, but for the weekend's IAME Cup championship, as well.
The overall weekend winner for Parilla Junior and Senior will win the crystal IAME Cup trophy and a $500 bonus check for Parilla Junior and a cool $1,000 bonus for Parilla Senior.
The Arai Helmet / Butler Built $500 Parilla Junior bonus has seen three different drivers – Austin Garrison, David Malukas and Brandon Lemke – score the cash at Daytona, Kershaw and MRP, respectively.
In the Parilla Senior category, Mark Boos scored the $1,000 HYTORC of Texas bonus at Daytona, but since no one has been able to top Florida's Dustin Stross, who claimed the $1,000 payday at Kershaw and MRP.
Yamaha Supercan has returned to the Man Cup circuit for this weekend. The Supercan class will run as a local option Saturday and Sunday and will award trophies to the top-five finishers. Yamaha Supercan hasn't run in WKA on a national level since the 2012 Man Cup Series.
New Castle club racers have good incentive to race the Man Cup show this weekend. A reminder to all KRA members, Bridgestone is offering KRA members a one-for-one offer on entries at this weekend's event.
Example – If a KRA member enters two classes at the WKA race, Bridgestone will pay for two entries at any KRA series club race at NCMP. This offer applies to both the August and October WKA events as well as the Great Lakes Sprint Series race August 29-31. The KRA entries can be used during the 2014 or 2015 season.
In addition, Bridgestone will pay $100.00 per class to any KRA member that wins a Manufacturers Cup race at either NCMP WKA race. WKA also has added a local option Yamaha Senior Can class for both Manufacturers Cup rounds at NCMP.
Gates are open Thursday for parking with pre-tech and registration open from 3 to 6 p.m.
Friday practice will be extended from 8:30 a.m. until 6 p.m., giving racers a full five or six rounds of practice into the early evening at NCMP. Practice session will be seven minutes each.
Practice starts at 8 a.m. Saturday and Sunday with one complete round at seven-minute sessions. Pre-finals will run at six laps with main events slated for 12 laps, except Kid Karts, which will run a 10-lap final.
Click HERE for the official Top Kart USA Nationals event timeline.
MAN CUP PRACTICE EXTENDED THIS FRIDAY AT NEW CASTLE
WKA and New Castle Motorsports Park have extended this Friday's official practice for this weekend's Top Kart USA Nationals on the Iron Man Course at NCMP.
Practice will begin at 8:30 a.m. and run until 6 p.m. Competitiors will be given a full five rounds of practice at seven-minute sessions with potential for a sixth round.
Kid Karts will run five-minute sessions.