Two of the World's Best Confirmed for Race of Stars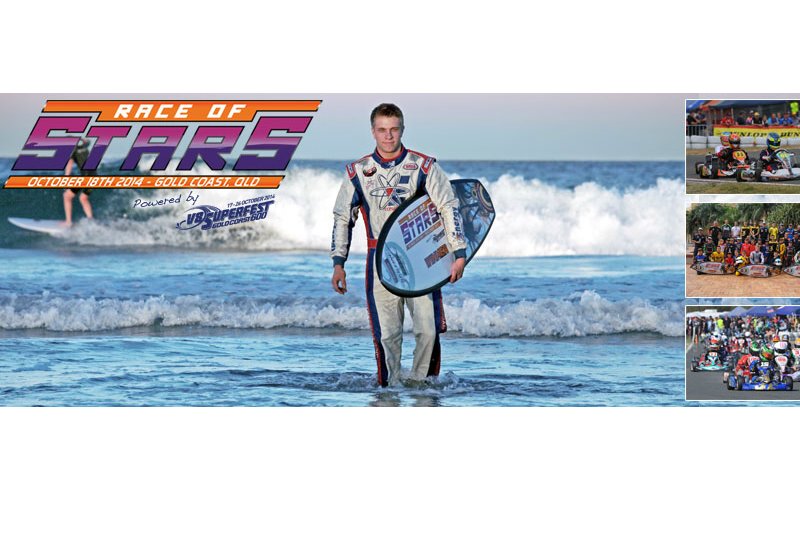 Two of the World's best kart racers have been confirmed as a part of the line-up for the 2014 Race of Stars powered by the V8 Superfest on the Gold Coast this October.
Former CIK-FIA European KZ2 Champion Simas Juodvirsis and 2013 Rotax Max Challenge Grand Final Winner Juan Manuel Correa will line up at the second annual event to be held at the Xtreme Karting Complex on Saturday October 18.
To be held for the second year as a part of the V8 Superfest, the Race of Stars is an invitational karting event that will see more than 170 drivers converge on the Gold Coast to compete at speeds in excess of 140 km/h.
Having succeeded at the CIK-FIA European Championships and the SKUSA SuperNationals in Las Vegas during 2012, last year Juodvirsis won the DD2 class at the Rotax Max Challenge Grand Final in New Orleans.
He will line up in the KZ2 class with the Energy Corse Australia team at the Race of Stars in his first visit from his native Lithuania to Australia.
"I am really excited about the opportunity to race in Australia. I have known Adam Graham (Australian Energy importer) for a few years now and we have always talked about me coming to Australia to race, now that we have finally managed to put to all together I can't wait to get out there," said Juodvirsis.
"We have had some great races in Europe this year and hopefully I can bring some of that form to Australia. I am also really looking forward to spending some time exploring the Gold Coast, you never know I might even get the chance to learn to surf."
Correa, who's an Ecuador native that has spent much of his life living in Miami, USA, secured the biggest win of his flourishing career last November at the Rotax Max Challenge Grand Finals in New Orleans.  The victory provided him with a springboard to compete in Europe, the spiritual home of karting, on a full-time basis throughout 2014.
In April, Correa was announced as a part of the Lotus F1 Junior Team.
Like Juodvirsis, the Race of Stars event on the Gold Coast will be the first time 14 year-old Correa has competed in Australia.
SIMAS JUODVIRSIS
Age: 22
Nationality: Lithuanian
Started Racing: 9 years old
Kart: Energy Corse
Hobbies away from karting: Basketball
Career Achievements
2014 3rd European Championship – KZ2
2013 1st Rotax Max Challenge Grand Finals DD2
2012 1st SKUSA SuperNationals – S1
2012 1st European Championship – KZ2
2012 1st WSK Euro Series – KZ2
2011 1st Rotax Max Euro Challenge – DD2
2011 1st Rotax Max Wintercup – Rotax Max DD2
2008 2nd Latvian Championship – KZ2
2006 1st Lithuanian Championship KF3
2005 1st Lithuanian Championship KF3
2002 3rd Lithuanian Championship – Mini
What are the memories of your first ever race? My father took me to go kart event when I was 9 years old, it was not professional event with rentals. I won this race. After this I started racing in the middle of the season with a professional go kart and won my first Lithuanian champion title.
Who is the toughest competitor you have raced against, and why? I think the main competitor in race is me because you have to do more than you can imagine you could do.
What driver did you aspire to be like when you were younger? Of course Michael Schumacher
Who has been the biggest influence on your career? The biggest influence on my career was to race with Energy Corse factory team – it was different and higher level of karting than what I was competing with, it is professional with high goals and hard working people.
Have you been to the Gold Coast previously? No. I have not been in Australia at all.
What are you looking for to most about coming to Australia? I'm really looking forward to meeting the Energy Australia team. My goal is to win on an Australian track – continent I have never raced before – I did that in the USA with Energy Canada team, I did that in Europe, and of course I'd really like to meet kangaroos.
JUAN MANUEL CORREA
Age: 14
Born: Quito, Ecuador
Hometown: Miami, Florida
Started Racing: 7 years old
Career Achievements
2013 Rotax Max Grand Final Winner – Junior Rotax
2013 US Grand Nationals Champion
Favourite karting driver: Alessandro Mannetti
Favourite professional driver: Kimi Raikkonen.
How did you get started in karting? I went to watch a race for the first time, and I liked it a lot, and tried a kart. Then, I started practicing, and eventually started racing.
What has been the high point in your racing career? Winning Rotax Grand Nationals and the Rotax Grand Finals to become the first American to do so. Being given the opportunity to race in Europe with the Energy Corse team.
What are your goals in racing? My goal is to race in a professional category such as IndyCar or Formula 1
What do you do when not at the track? When I'm not racing, I do homework, exercise, and play airsoft.
What are your goals outside of karting? My goals are to be fit, be a good student and love my family.