MAXSpeed Group Welcomes Garett Potter as Director of Race Promotion
Industry veteran joins MAXSpeed Group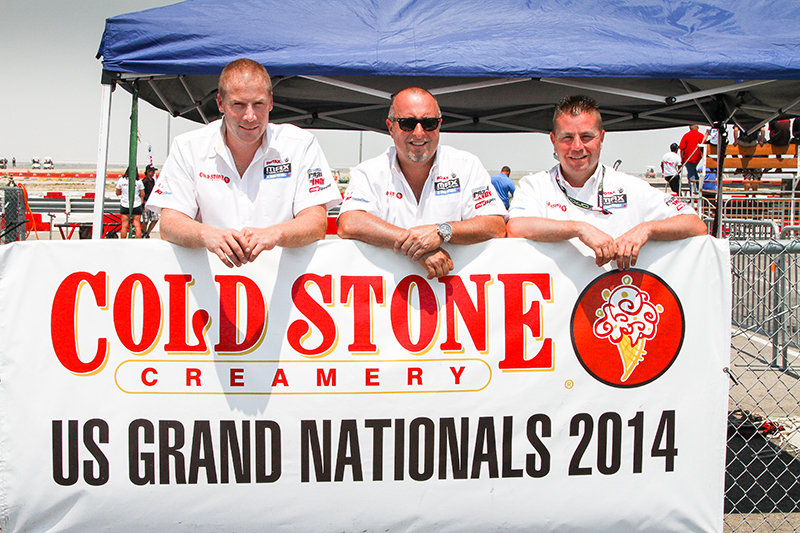 Garett Potter (right) joins Josh Smith (left) and Richard Boisclair (center) of the MAXSpeed Group as Director of Race Promotion
(Photo: Ken Johnson/Studio52.us)
Immediately following the announcement of the MAXSpeed Group's purchase of Formula Kart Productions and the Florida Winter Tour, Garett Potter was confirmed as the newest employee of the Florida based company and has begun his tenure with the staff immediately. Working with a strong group of people, Potter's title will be Director of Event Promotion and he will begin work on assembling details for the 2015 Florida Winter Tour, as well as other events, powered by MAXSpeed Group.
"I am happy to have Garett on board and a member of our team," expressed MAXSpeed Group President Richard Boisclair. "We worked together in 2013 organizing the Rotax MAX Challenge Grand Finals at NOLA Motorsports Park and since then, we have been pursing his services. We have continued our working relationship for 18 months and we are always on the same page and working towards the same common goal. His work ethic rivals others in the MAXSpeed hierarchy and I know he will be a great fit for the program."
"My goal is clear," explained Potter. "Provide a 'WOW' experience for our dealers and their customers at every event, a fun environment for our team and the most loved business in our community. With the base that Richard has built at MAXSpeed my job should be easy. I can't wait to get started!"
Assuming the position as Director of Race Promotion, Potter will work very closely with Josh Smith and the MAXSpeed Group marketing team to put together future events including the upcoming Rotax Pan American Challenge, Florida Winter Tour and the 2015 Rotax MAX Challenge Grand Nationals and Summer Shootout. Relieving some of the duties on Smith's shoulders, Josh will have the opportunity to focus more on his role as the United States Rotax Max Challenge (USRMC) Director.
Boisclair added, "Not only does Garett understand facilities, events and how the racers feel, he is also one of the nicest people in the sport and an extremely hard worker. Welcome to the team Garett!"
Garett Potter can be reached via e-mail to Garett@GoRotax.com