11 Year Old Rookies, 12 Year Old Veterans
The Bros. d'Orlando show us the difference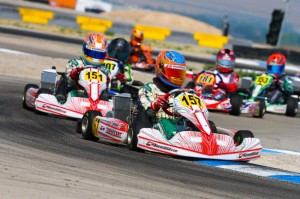 For those not versed in the world of competitive kart racing, where the age-range of drivers goes from barely out of single digits to as "old" as 16, it's probably difficult to think in terms of rookies and veterans. But that is in fact the case, and the Bros. d'Orlando – Michael, 12 and Nicholas, 11, both of whom have shown race- and title-winning talent over the past couple years – gave us stark examples of it at the Cold Stone Creamery Rotax Grand Nationals at Miller Motorsports Park in Tooele, Utah.
Michael the veteran was defending his 2013 Mini Max championship; for Nicholas, it was his first Mini Max Grand National.
In the heat races, despite the boys suffering from lack of power (tuning the engines to Miller's altitude, close to a mile, is tricky) and were thus getting eaten up on the straights, they were both brilliant, Nick especially. In his three heats, Nick finished second, fourth and first, then won the pre-final. Michael was almost as good, snagging a win, a fifth and a third in the heats and coming home fourth in the pre-final.
But it was in the Final that experience in prestigious, big-time events told the tale…
Eighteen-lap final. Nick was on the front row, Michael next row behind. The threat of rain sat ominously over the track. Nicholas led at the start, Dylan Tavella inches behind. Eight laps in, the rain came. Though not heavy, slick racing tires on even just a damp track are treacherous. Suddenly, Nicholas pulled into the pits.
"I guess I got confused, "Nick admitted. "There was sun, then rain, then I was passed… I thought the team manager signaled me to come in for wets [rain tires], but I misunderstood the signal…This will sting for a long time. I will NEVER do that again!" Rookie mistake. Nick wound up 30th.
That put Tavella out front alone until the group behind caught up –  including Michael. On lap 14, he caught and passed Tavella. The defending Mini Max champion for all the world looked to be a back-to-back winner. But on the final lap, Tavella made a daring move in the bus stop section, catching d'Orlando by surprise and taking the lead. Michael had a chance to regain the lead in the next corner, but chose not to. Michael said, "At that moment, it just seemed too risky. I decided second was better than wrecking." Veteran's wiseness. He finished .035 of second behind winner Tavella.
Up next up for the Brothers d'Orlandos is the SKUSA! Pro Tour Championship Summer Nationals, 1-3 August at Modesto, California.
Michael, Nicholas and d'Orlando Racing Corp., Inc. (DRC) would like to give special thanks to Lane Office (laneoffice.com), Integrity Consulting Group (icgpm.net) and Oakland Valley Race Park (ovrp.net) for their support. Also, thanks to Team Koene USA's Mike Maurini and Martijn Koene as well as DRC's Adam Johnson for their continued hard work and support.
For more information on Michael or Nicholas d'Orlando, please visit dorlandoracing.com. Be sure to follow Michael and Nicholas on Facebook (Michael d'Orlando Racing or Nicholas d'Orlando Racing) and Twitter (@dorlandoracing) to stay up to date on news, information, photos and results.