Anthony Willis Looking to Carry His Momentum into the SKUSA Modesto Grand Prix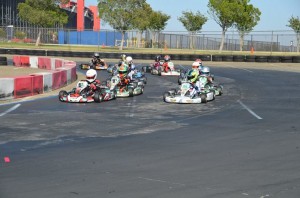 Anthony Willis, the 10 year old Tag Cadet Pilot hailing from Phoenix, AZ is looking to carry his positive momentum into the inaugural SKUSA Modesto Grand Prix.  Fresh off of  his second  victory out of three races at the talent-packed Los Angeles Karting Championship (LAKC), the young phenom is looking to show his speed on what may be the most promoted race ever to be run in North America outside of the SuperNationals.
Willis  showed incredible speed at LAKC over the last week.  He  has been working with Master Tuner Phil Carlson, formerly of Pitts Performance,  to be fast on his own, outside of the draft.   When asked about this year's performance, his father Stewart Willis said, " We have been struggling in our qualifying efforts.  This really showed  in Dallas where we qualified in the 20s  [out of 44].  We have been working on creating racing space, and it showed last weekend with a qualifying position of 3rd at LAKC in a very talent-rich field. While Anthony can usually make things happen during the race, we cannot hope to win at the big races unless we start near the front."   Anthony has shown that he can navigate quickly through large fields.  Recently at the SKUSA ProKart Challenge race at Simraceway in Sonoma, CA Anthony was able to maneuver from a main event  starting position of 22nd,  due to a heat race crash, all the way up to second place and a final result of 4th place.
The LAKC July race was the closest to the front Willis has qualified all year.  In the first heat, Anthony moved forward from third to second place.  The main event was a two man show.  Jagger Jones and Anthony quickly checked out to a 4 second advantage over the nearest competitor.  They agreed to fight it out in the last two laps, and that is exactly what happened.   The lead position changed 4 times in the last half of the final lap with Anthony coming out on top.
The young pilot is looking to show the racing community that he is better than the current SKUSA! Pro Tour points standings would show, with an 8th place finish and a DNF  in Dallas at the SKUSA! Spring Nationals that was mainly a product of  poor qualifying session outcomes and the carnage that can happen in the middle of these deep packs of karts.  When asked about his hopes for Modesto Anthony said, " I have never felt more ready than I do now.  Working with Seth [Nash] of Nash Motorsportz and the legendary Phil Carlson has really helped me understand how to explain what I feel the kart is doing on track.   I now know that Phil will get my DR Kart  Hero chassis perfect when I can tell them what it is doing, which has been difficult for me until recently.  At LAKC it was clear that my DR Kart was working better than the others on the track.  It really made my engine look great in the infield."
Anthony would like to thank Don Guilbeault of DRT Racing for the amazing DR Kart Chassis technical support, Phil Carlson for the great power and tuning, and Seth Nash for driver development work.   Also, without help from Sponsors  Justin Carlson of Asset Preservation Tax & Retirement and New Era Marketing,  this season would not be possible.
For more information about Anthony Willis or partnership inquiries,  he can be reached through Extreme Motorsports Marketing, LLC on his facebook page at: https://www.facebook.com/AnthonyWillisRacing or by email at Stewartawillis@hotmail.com