GoRotax.com Driver of the Month Presented by eKartingNews.com – June 2014 – Kaylen Frederick
Maryland driver climbing quickly up the standings in the Mini Max division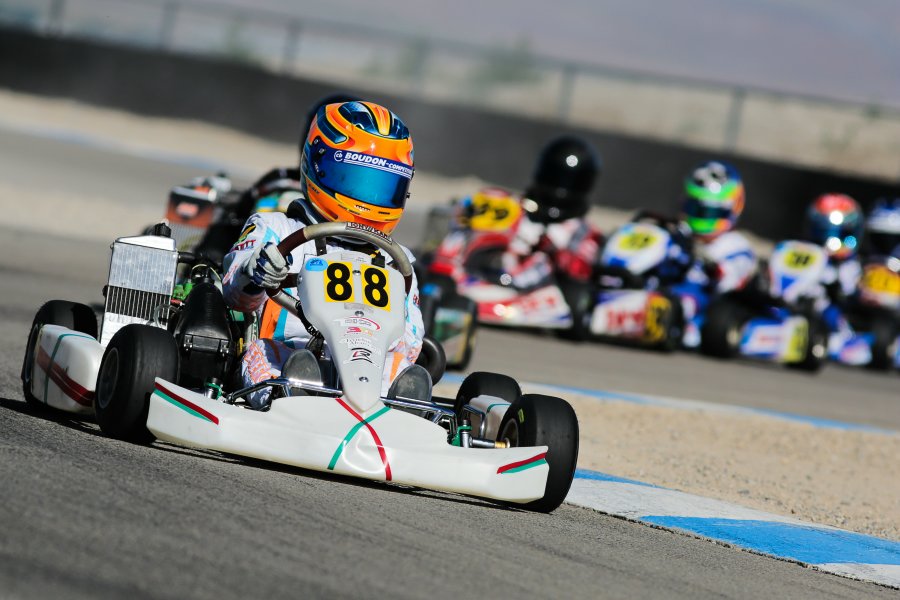 Kaylen Frederick leading the Mini Max field at the Rotax Summer Shootout (Photo: Ken Johnson - Studio52.us)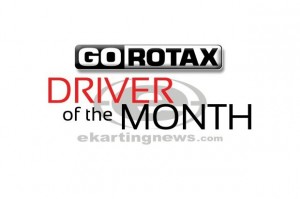 Thanks to the partnership between MAXSpeed Group and eKartingNews.com, a monthly program has been devised to promote outstanding drivers in the Rotax Max Challenge. The new program – GoRotax.com Driver of the Month presented by eKartingNews.com – is based off a similar program the leading karting website offers each month, focused on the United States 'Rotaxians'. Each month, the staff at MAXSpeed and EKN will determine one driver to profile who promotes Rotax and karting in general in a positive fashion, along with standing out on-track. Each driver's accomplishments will be highlighted, in addition to getting to know the Driver of the Month.
When you think of Maryland, you think nation's capital and Baltimore. No major form of motorsports facilities exist in the state, and aside from the no defunct IndyCar street race, only professional baseball and football are the only sports-related events seen on the national stage. Karting in the state is not has widely seen like in others, with a few circuits to race at, primarily focused around 4-cycle racing. So when the name of Kaylen Frederick from Potomac, Maryland – the logical question is – where did he come from.
Like so many that have reached the sport of competitive karting, it all began with indoor karting. At the All Sports Grand Prix facility outside the Washington D.C. area, Frederick began learning about piloting a kart. He transitioned that to sport karting at Summit Point Raceway, and eventually found his way at the Pittsburgh International Race Complex in a race kart, along with his sister Kyra.
From there, they learned about the United States Rotax Max Challenge and Kaylen is becoming a regular contender in the Mini Max division. At last year's Pan American Challenge at NOLA Motorsports Park, Frederick qualified on the pole position. This winter, he gained more experience competing at the Florida Winter Tour, and traveled to the Texas ProKart Challenge event at Oklahoma Motorsports Complex to take on the competitive Mini Max group. Frederick came away from the June event with a victory on Saturday and runner-up on Sunday, never finishing outside the top-two in all eight on-track sessions.
At the end of the month, he along with many other Rotaxians traveled to the Miller Motorsports Park in Tooele, Utah participate in the 'warm-up' event for this week's Cold Stone US Grand Nationals. Qualifying fourth for Saturday's round of action, he put himself in contention early. A great battle in the Prefinal ending with Frederick went from third to first in the final circuit to score the win and pole position for the main event. 'K-Rex' battled with the two top finishers – Enzo Fittipaldi and Dylan Tavella – throughout the 14-lap event. Kaylen crossed the line second, just inches away from the victory. The following day saw Frederick back in 10th after qualifying. He went to work in the eight lap race, securing the lead on the final lap for the win. After leading the first six laps, he was shuffled back to the third position in the order, securing his second podium of the weekend.
After finishing 10th in 2013, Frederick is primed to contend for a podium finish at this year's US Grand Nationals.
GoRotax.com Driver of the Month presented by eKartingNews.com
June 2014 – Kaylen Frederick
Bio
Date of Birth: June 4, 2002
Born: Georgetown, Washington D.C.
Hometown: Potomac, Maryland
Parents: Douglas Frederick & Ann Cederna
Siblings: Kyra Frederick
Height/Weight: 5' 0" / 94lbs.
Education: Entering 7th Grade/German School in Washington DC (all classes are in German)
Job: Kart Driver
Racing Resume
Chassis: Tony Kart
Rotax Engine Service Center: Hudlett Racing Group & Legree Motorsports
Sponsors: Pilot ONE Racing, LLC – Race Director & Coach: Boudon Racing Spirit/Christian Boudon – Race equipment and race support: Hudlett Racing Group/Jeff Hudlett
United States Rotax Max Challenge Home Series: Burger King Rotax Max Challenge
Years Karting: 4
How did you get started in karting? I first drove a kart when I was 7 years old. After a training course and certificate, I drove in a Cadet Rental League kart at All Sports Grand Prix (indoors) and then Summit Point, West Virginia (outdoors). I won my first series in the spring of 2010. In October of that year, my sister and I drove our first race karts at BeaveRun. I'll always remember that day. Five months later I drove in my first WKA race in my own Birel race kart at Summit Point.
What has been the high point in your racing career? Every day I sit in my kart to drive is a high point. Training last week on an ICC shifter kart with a TM Engine was a big high point.
What are your goals in racing? I want to race F1
In a few words, how would you describe your driving style? Calm
2013 Accomplishments: Rotax Max Challenge Pan American Championships Pole Sitter/Mini Max
Likes
Favorite Track: GoPro Motorplex
Favorite form of professional motorsports: Formula 1 & Open Wheel Racing
Favorite karting driver: Davide Foré
Favorite professional drivers: Fernando Alonso/Ferrari & Lewis Hamilton/Mercedes
Favorite website: YouTube
Favorite movie: Fast & Furious 5
Favorite actor/actress: Johnny Depp
Favorite music/group: Skrillex/Johnny Moore
Favorite vacation/activity spot: The race track
Favorite food: Pasta Alfredo Con Gamberi (penné with shrimp)
Real Deal
What do you do when not at the track? I train every day for fitness, ski on a race team in the winter & windsurf in the summer.
What are your goals outside of karting? Race an F1 car and keep my grades at school high.
What type of street car would you like to drive? Superlite SLC
What are your pet peeves or things that irritate you? Finishing a race knowing I didn't do my best.
What is your favorite aspect about racing in the Rotax Max Challenge program? The Rotax Max Challenge has many strong drivers and great competition. This makes the Rotax Max Challenges very special.