CIK-FIA KZ and KZ2 Championship at Halfway Stage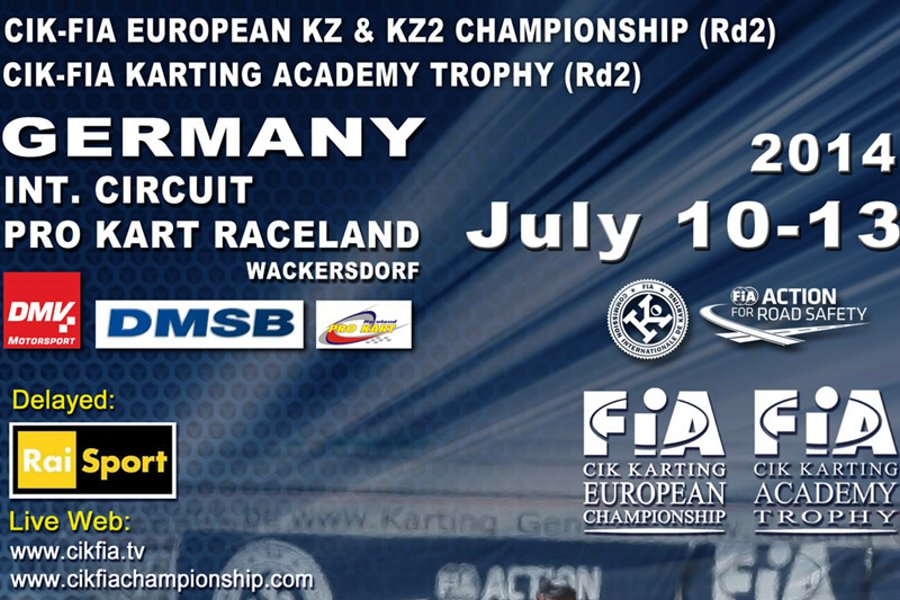 The European Championship for the KZ categories reaches its climax. After the season opener in Genk, the drivers of the shifter categories are going to challenge each others on the Pro Kart Raceland circuit of Wackersdorf (D) in the event which marks the halfway stage of the season. Also the Academy Trophy has its second round in schedule on the 1,222 metres of the German track. There are 169 entrants ready to take part in the competition; the public will also be able to enjoy the Historic Karts side event. As usual, the schedule of the weekend is going to be tight: free practice on Thursday,  then qualifying on Friday and heats on Saturday. The end of the race on Sunday 13th, with the Finals of all the categories. Thanks to WSK production, the final phase of the round will be available on the Internet on www.cikfia.tv and www.cikfiachampionship.com, from the drivers' parade to the end of the Finals. The delayed broadcast of the Finals will be aired by RAI Sport 2 on 9th July. The special report of the whole weekend on Friday 11th.
Ardigò, Dalè and Van Kalmthout in the lead
The provisional standings of the Championships are absolutely uncertain. In KZ the Italian Marco Ardigò  (Tony Kart-Vortex-Bridgestone) will have to fend off the attacks of the Belgian Rick Dreezen (Zanardi-Parilla-Bridgestone) and of the English Jordon Lennox-Lamb (CRG-Maxter-Bridgestone): their gap in the standing is narrow. Good chances also for drivers such as the Dutch Bas Lammers (FK-Parilla-Bridgestone), the French Arnaud Kozlinski (Intrepid-TM-Bridgestone) the Belgian Jonathan Thonon (Praga-Parilla-Bridgestone): they are all eager to seize the opportunity to climb up the standing. Andrea Dalè (CRG-Maxter-Bridgestone) is the leader in KZ2 and he aims at scoring a result as good as the one achieved in the first round in Belgium, where he dominated the race. He will have to keep at bay his most dangerous rival, the Danish Andreas Hansen (Tony Kart-Vortex-Bridgestone), while the Italian Fabian Federer (CRG-Maxter-Bridgestone) will need to be a bit luckier if he wants to close the gap. The same can be said for the Swedish Douglas Lundberg (Alpha-Parilla-Bridgestone)) and the Lituanian Simas Juodvirsis (Energy-Maxter-Bridgestone). The Swedish Joel Johansson (Righetti-Parilla-Bridgestone) is eager to redeem himself as well as the Czech Jan Midrla (Birel-TM-Bridgestone). The Academy Trophy is led by the Dutch Van Kalmthout, who will have to fend off the attacks of the Japanese Kakunoshin Ota and of the fast Turkish Berkay Besler (all on Parolin-FIM-Bridgestone).