Energy Kart Canada Has Speed and Success During ECKC Competition
Talented squad of drivers run at the pointy end of the field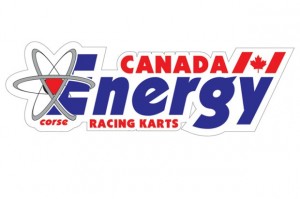 Traveling to one of Canada's legendary karting circuits, Goodwood Kartways, Energy Kart Canada would look to stand atop the podium in rounds three and four of the Eastern Canadian Karting Championships (ECKC). Entering a handful of drivers is some of the toughest Rotax fields north of the border, Energy Kart Canada would walk away from the weekend with solid results and momentum to head into the second half of the season.
"I am very proud of all the Energy Kart drivers and the entire Energy Kart Canada team for their results reached on the weekend," expressed Darren White. "Everyone under the Energy Kart Canada banner is working hard to improve week in and week out and all the preparation, time and effort both at the track and the race shop is beginning to pay off."
Energy Kart newcomer Marco Signoretti would enter the talent-laden Rotax Senior field and fair well in his third regional event with the squad. After showing top-three speed in timed practice, Signoretti would place his Energy Kart P5 in Saturday's official qualifying session and start his prefinal from inside row two. With ever changing track conditions, Signoretti was up for the challenge to drive to the front but an incident in turn six would drop him to ninth early. Battling his way back, the Energy Kart driver would claim a sixth place result and start the day's final from outside row three.
Maintaining his starting position at the drop of the green flag, Signoretti quickly began his march forward. Setting personal best laps, lap after lap, the Energy Canada Engines powered driver drove his way to a podium result. Making the move and slotting himself into the second position, Signoretti would score Energy Kart Canada's first ever national level podium under new management in only their third event.
Back to the track on Sunday, Signoretti would be joined by Arika White in the Rotax Senior class who was absent from the race on Saturday. White would get up to speed quickly and qualify in the 12th position while Signoretti would once again be near the front of the field in third. In the prefinal, Signoretti would fall to fifth while White moved into the top-ten only to be run over by a fellow competitor putting her to the tail of the field and eventually classified in 22nd.
Looking to better his position by one from the day before, Signoretti drove forward yet again, and moved into the second position. After a fierce battle with a fellow driver, the Energy Kart Canada pilot would settle for the third step on the podium. White would improve from her 22nd place starting spot to finish 18th.
Two Energy Kart Canada drivers would enter the Rotax Junior field as Austin Riley and Joe Soranno would look to do battle. Saturday would see the duo qualify 11th and 19th respectively. The prefinal would see Riley encounter on track contact dropping him to 24th while Sorranno improved from 19th to tenth and would begin his main event in row five.
A roller coaster of a main event would see both drivers improve early in the race. Soranno would run in the eighth position while Riley moved forward to 16th. As fate would have it, a fellow competitor would spin on the exit of turn five forcing Soranno to take evasive action as he fell back to 15th where he would eventually finish the race. Riley would cross the stripe in 19th.
During Sunday's qualifying session, Soranno could not get his Rotax powerplant started and would be forced to start the prefinal from the tail of the field while Riley would qualify eighth. In the prefinal, both drivers would improve as Riley drove forward one position to seventh while Soranno would end his heat 13th. In the main event, Riley would drive a string of consistent laps and move into fifth but fell one position before the checkered flag would fly. Soranno looked poised to claim a top-ten result before late race contact in corner seven would send him back to 18th.
Dale Curran Jr. would be a new Energy Kart Canada competitor and he would enter the Rotax Micro Max ranks. Impressing in his debut, Curran claimed the sixth position in Saturday's qualifying and third on Sunday. Saturday would be a day to forget for the youngster as he lost one position in the prefinal before being involved in a first corner incident in the day's main event. On Sunday, Curran would come home fifth and claim his first top-five result with his new team in his very first event.
In the Rotax DD2 class Dante Lerra would have solid finishes as he crossed the stripe sixth in both main events.
For more information about the Energy Kart Canada, the race team, the Energy chassis line as well as product sales including Alpinestars, Holeshot Drive Systems and Tillett Racing Seats and arrive and drive and engine programs, please visit their website www.EnergyKartCanada.com or contact them by phone at 905.377.5845.
For information on press releases or other media services offered by Race Tech Development, please contact Mike Maurini via e-mail at Info@RaceTechDevelopment.com or 317.270.8723. Race Tech Development can also be found on Twitter at @RaceTechDvlp as well as Facebook at their Race Tech Development Fan Page.