Behind the Wrench: The Transition from Driver to Tuner
Stress elevates and time is limited compared moving from behind the wheel to behind the wrench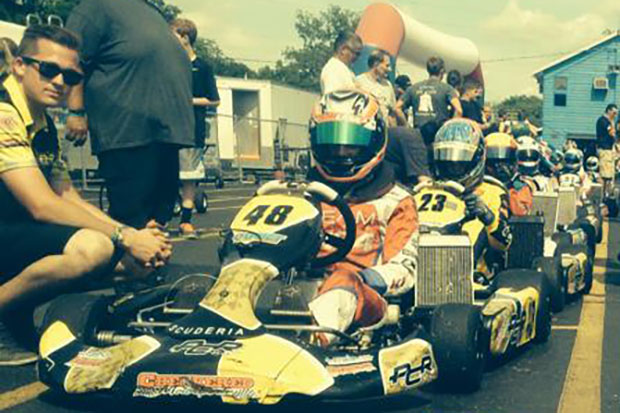 Kyle Smith with his driver Ryan Norberg
The following is a new column from driver now tuner Kyle Smith. A driver for a number of years, the 19 year old is currently a student at Penn State University. Now on summer break, Smith is getting in as much karting as possible working as a tuner for Checkered Motorsports while competing in select events. This is his viewpoint into making the transition over from driver to mechanic.
After many successful years racing on the national karting circuit, I recently made the decision to shift more of my focus away from racing and towards my education. The shift has taken its toll on my personal racing schedule and thus seat time has been reduced.
Moving from behind the wheel to behind the wrenches is a step many current and former karters have taken and will continue to take. Young aspiring drivers with lots of raw talent require experience and coaching to be able to compete at the top levels of karting nowadays. This assistance comes in form of tuner or mechanic, a job that I have been getting my feet wet in until the recent United States Pro Kart Series at the Michiana Raceway Park in which I had the opportunity to work with Ryan Norberg of Orlando, Florida.
The experience was very humbling, teaching me just how important a driver's hand man is when competing at the national level. Not only how important, but how nerve-racking it is.  Knowing that one bolt left loose could be the difference between victory and a DNF is a constant weight on a mechanics shoulders. As I watched Ryan drive the 11-turn North Liberty circuit, moment after moment I asked myself "Which hub is going to fall off on this lap?" or "Which sidepod bolt is going to work itself loose this time by?" Every time Norberg saw the checkered flag I was able to sigh in relief.  The pressure is high for a karting mechanic, even higher than on the driver in my opinion. Drivers take that for granted, because as we all know, racing drivers are the kings of excuse making. "I would have won had my sprocket stayed on!" is an easy way to justify a poor finish for any driver.
The pressure not only lies on every bolt and nut being tight session after session but also on speed on the track. Suggesting a setup change is always a risk. While many philosophies exist that softening the axle does this and this change will do that, every driver is different and seeks different feel to his or her go-kart. No matter how sure one is that changing the hubs or the track width will decrease lap time, it always remains a calculated risk until the change is tested on the kart track. Every lap as the tires increase in temperature and pressure is worrying. "Will more negative caster really be faster?" It isn't until the lap time shows up on race monitor that you really know. Making a change in the wrong direction is one of the most discouraging things ever. On the other hand every time the lap time sheds tenths is incredibly rewarding, whether its carburetion, setup or driving changes.
Not only is the pressure just as high tuning a kart, but also the exhaustion levels. There is rarely a moment to sit and the only time there is a break from turning wrenches, fixing bent parts or cleaning mud is when the kart is actually on track. Whether it's the constant high temperatures, the hours of tireless work on our knees on trap rock, or lifting and pushing karts to and from the grid constantly, the fatigue levels can be just as high for mechanics as it is for drivers.
My first impression after this weekend has been of all these luxuries we drivers take for granted. They gave me a real challenge this past weekend with Ryan, especially after a disappointing Saturday. Having said that, we worked hard through the night and Ryan drove flawlessly to put the #48 Woltjer Engines powered Checkered Motorsports PCR up front on Sunday, coming home with a second place result.  Perseverance is key, especially through the unlucky days, and having chemistry with a driver like I have with Ryan makes all the work worth it. I feed off his energy because his desire to win and dedication to his craft helps me want to work 110% for him off the track. That's teamwork, and that's what it takes to win at the national level. Hopefully we can clean up and minimize our mistakes, and stand on the top step of the podium next time around.
Till next time,
Kyle Smith
Please follow and like us: