Team News: Checkered Motorsports/PCR USA – USPKS South Bend Report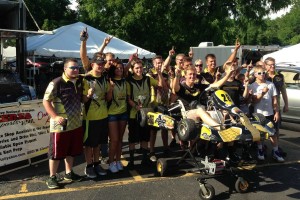 Checkered Motorsports/PCR USA was a force to be reckoned with yet again at round two of the United States Pro Kart Series held at Michiana Raceway Park in North Liberty, Indiana.  The team's ten drivers took home the win in Leopard Pro, along with seven podiums across all classes.
John Paul Southern Jr. brought home even more hardware aboard his PCR sportsman chassis. After tough runs in both the Mini Rok and Yamaha 100 Cadet heats, John Paul would line up 12th and 14th. With a well-prepared kart and stellar race craft, Southern Jr. would land himself on both the Mini Rok and Yamaha podiums in 4th and 2nd respectively. On Sunday John Paul would do the same in Yamaha 100 Cadet, racing from a 17th place starting position to the last step of the podium in 5th. In Mini Rok, Southern Jr. would not have the same luck, retiring after just five laps. Ian Hornish made his national level debut at MRP this past weekend. The young driver impressed many in just his first outing in the USKPS, finishing 17th and 18th in Yamaha 100 Cadet.
Ryan Norberg led the way in the Junior category. After being involved in a opening lap incident and battling to a 14th place finish on Saturday, Norberg bounced back on Sunday to qualify on the front row and finish 2nd, just 0.164 seconds behind the winner. Nolan Ruocco unfortunately missed all of Friday practice due to taking an exam. However, the young New Yorker showed an incredible ability to adapt and joined Norberg on the podium on Sunday, placing 4th. All eyes were on Sasha Brun-Wibaux at Michiana Raceway Park. The TruTV star was involved in an incident early in Saturday's final and with a bent spindle brought home the kart to an 18th place finish. On Sunday, Sasha wasn't so lucky. Running as high as 7th, an incident would force Sasha to retire. In Yamaha Junior, Nick Luedeke scored a pair of 7th place finishes for the weekend.  Evan Fritts returned to the seat in his Yamaha powered kart as well. The young driver, in just his second year racing, adapted well to the North Liberty circuit, finishing 14th both days.  Savannah Fitzgerald scored a  pair of top ten finishes.  The Zerror Error driver has been making great strides in the 2014 season.  All Junior drivers utilized the PCR Super Strillo chassis to superb results.
Francois Brun-Wibaux took to the track in Parilla 125 Challenge.  Francois took home hardware both days, finishing 3rd and 2nd while recording the fastest lap in both the Saturday and Sunday feature events.
Checkered Motorsports presence in Leopard Pro was well known all weekend long.  Bouncing back from a incident-filled Saturday, AJ Myers set the standard come Sunday in Leopard Pro. The Woltjer Engines powered Mxk8 chassis was a match made in heaven for Myers as he qualified on pole and won the final by over 3.7 seconds. Teammate Andrew Bujdoso showed similar pace but was unlucky on the 11-turn North Liberty circuit the entire weekend. On Saturday Bujdoso qualified 6th, but due to an on track incident, he was forced to retire. On Sunday, the 16 year old qualified 10th and ran as high as 7th in the final before another on track incident would end his chances for a podium finish.
"The team showed perseverance after a disappointing Saturday. Our crew gave our drivers 110% on and off the track," explained team owner Csaba Bujdoso. "I cannot thank our drivers enough for piloting their PCR chassis to superb results.  With this weekend's success we look forward to the Checkered Motorsports Grand Nationals this upcoming weekend."
Checkered Motorsports, the official importer of PCR karts, will be contesting in the WKA Manufacturers Cup Series, GearUp F-Series, USPKS Series, Alleghany Karting Series, and the SKUSA Supernationals.  Tech support, transportation, and arrive and drive opportunities are available.
For opportunities and information on the PCR chassis contact Csaba at:
checkeredmotorsports@yahoo.com