Rok Cup USA Round Three Another Success for Series
Rokkers enjoy event at historic 103rd Street Sports Complex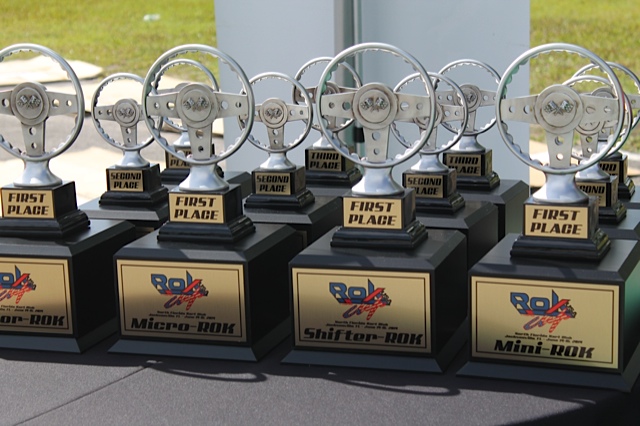 ROK CUP USA hosted Race #3 of the 2014 series at 103rd Street Sports Complex in Jacksonville, FL this past weekend.  The half-mile track, built in the 1960's, is famous for its banked "bowl" sweeping corner, testing driver's skill, strength, and courage as they hold it flat-out and enter on to one of the fastest straights in the South East.  ROK CUP USA organizers added to the technicality of the already physical track by adding a chicane at the end of the straight.
While rain clouds loomed on Saturday, there was some light rain in the morning.  However, few racers ever even moved to rain tires.  The event maintained dry conditions with Qualifying sessions and the first two Heat races on Saturday.
In ROK CUP-style, Andre Martins, ROK CUP USA Director of Operations, coordinated a Saturday-afternoon line-up of post-race activities and fun.  Kicking off first with a running race for all attendees — drivers, tuners, family, and friends.  But this was not your average running race!  Runners were challenged to not only race each other, but to race Batman, himself!  Batman, as super-heroes do, sprinted effortlessly around the track, as runners attempted to match his time by 60-seconds or less.  Any runner who was able to accomplish this feat was promised a free set of Bridgestone YLR tires!
While attendees couldn't beat Batman, they could beat the heat with water slides, an inflatable water obstacle course, and a dunk-tank!  Kids enjoyed the water activities, and adults relaxed and socialized with catered food and televised World Cup games.
It was back to racing business on Sunday, with a third Heat race, Pre-Final, and Final.  The track and parity of ROK engines, offered some really exciting and close racing throughout the day.  Final races were introduced in a fashion some noted as "F1-like".  Drivers were announced and accompanied on to the track by the ROK CUP USA Umbrella Squad.  While only three drivers in each class would ultimately be honored on the podium, all the ROK racers were treated as champions.
ROK CUP USA Race #3 Podium Finishers:
Micro ROK
Chase Heffner
Ugo Ugochukwu
Lucas Rodriguez
Mini ROK
Devin Boutot
Gianluca Petecof
Alessandro Famularo
ROK Junior
Luis Jose Forteza III
Mathias Ramirez
Ryan Norberg
ROK Senior
Dustin Stross
Thomas Issa
Franco Carabetta
ROK Masters
Ariel Castro
Francois Brun-Wibaux
Migueal Gansaul
ROK Senior Shifter
AJ Myers
Michael DeQuesada
Bryan Hassell
ROK Master Shifter
Gonzalo Aponto
Kurt Mathewson
Christian Bartz