Road Race Grand Nationals Attracts Over 400 Entries to Mid-Ohio
Hatcher, Rice and Tedder take home three Eagles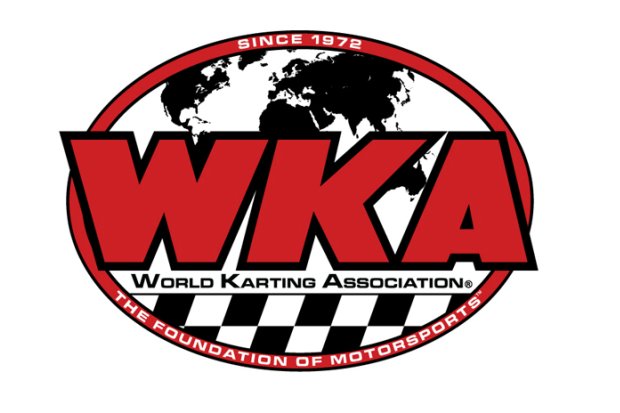 The 2014 WKA Road Race Grand Nationals went off this past weekend, June 13-15, at the famed Mid-Ohio Sports Car Course where over 150 drivers and 420 entrants partook in the fourth round of the 2014 WKA VEGA / TS Racing Road Racing Series driven by Mazda.
Enduro-style road racers from the Midwest and around the country filled the pits for three days at the Lexington, Ohio, venue. The event continued to prove that Mid-Ohio is one of the greatest attractions for enduro-style karters. The entry count nearly matched the Daytona Road Race Championships in December and most classes started competitive fields.
Racers continue to "come out of the woodwork" for the annual Mid-Ohio WKA / Dart Kart Club event with many sporadic, non-regular karters joining the national series followers for a fun and enjoyable weekend of kart racing.
Weather cooperated throughout the weekend with only some rain delaying practice Friday afternoon. All 13 class groups ran between pleasant Saturday and Sunday afternoons.
One driver, national regular Don Chrzan of the Sleeper Racing Team, was injured late Sunday in the fifth and second-to-last race of the day. The 100cc Controlled racer was involved in an incident and hit the wall and while alert, was airlifted from the facility. After a brief stay in the hospital Chrzan, of Franklin, Wis., returned home and was back working as of midweek.
Here's a rundown of the action and race winners this past weekend at the Mid-Ohio Grand Nationals.
Saturday Race 1
Rick Fulks bested his brother, Randy Fulks, in 100cc Controlled to open the weekend. Florida's Lance Yunck was third with Todd Hayden and Brandon Nichols rounding out the top five. Rick Fulks has had a good month of road racing as the Illinois pilot won races at the Grattan Nationals in May.
Multi-time WKA Triple Crown champion Courtney Atkinson returned to the series for the first time since Daytona and dominated the Yamaha Sportsman Lite race. Atkinson, of Wisconsin, won over Zach Clark, Tim Linthicum, Lindsay Walkup-Fox and Matt Hicks.
Kent Vaccaro was the first entrant in Junior Enduro Lite in 2014. The New Yorker completed 20 laps on his way to the win.
Thirty karts started race one.
Saturday Race 2
The first 30-minute sprint-enduro went off in the day's second race.
Veteran Robert Wimmer captured the Streeter Super Stands Stock Leopard triumph with a close victory over Bob Cole and Stephen Bassham. The top-three finishers were separated by less than one second. Benjamin Kasa and Jeff Troup finished fourth and fifth.
New York's Charlie Tustison won Yamaha Sprint Final 1 by about 12 seconds over his brother, Allen Tustison. Adam Brasher finished third.
Chris Kuley and Amy Hollowell were junior class victors. Kuley won Animal Junior Sprint Lite over Will Delaney while Hollowell won the 2-cycle Junior Sprint Lite over Kyle Cuthbertson.
Paul Rice wheeled his MGM chassis to the Clone 385 victory over James Cartledge and Mark Gallagher.
Ohio's Jeff Langford was the fastest kart on the track and won the Open Sprint local option.
Saturday Race 3
Longtime Stock Honda racer and national champ Noah Stark tried his hand at laydown racing and never missed a beat. Stark won Formula 125 by a 26-second gap over Brian Wilhelm. Jeremy Baldi was third, Michael Lattos fourth and Johnny West fifth.
Indiana's Craig Keller won B Stock. Scott Goodman crossed the stripe right behind Stark to take second in B Stock. Jim Farr Jr. ran third with Tom O'Reilly fourth and Robby Harper III fifth.
Adam Myers raced his CKI chassis to the KALL Racing Formula 100 victory. The Western New York racer crossed the stripe about 10 seconds ahead of Don Chrzan. Brent Brannon was third.
Oklahoma's Ryan Hatcher bested a strong 15-kart Yamaha Medium field. Hatcher raced his Hatcher Enduro kart to a 17-second win over Zach Clark. Ohio's Wayne Rumsey was third, Dave Hechler fourth and Michael McLaughlin fifth.
Forty enduro karts took the green flag in race three.
Saturday Race 4
Brian Fisher wheeled his DR Kart to the Micro Precision Stock Honda 1 win. Fisher won by an eight-second margin over Mark Nagy. Kershaw Stock Honda winner Chris Hines was third, Louisiana's Steven Rougeou fourth and Georgia's Steve Flatt fifth. Seventeen karts started the Stock Honda main.
Taylor Fenske won TaG Heavy over Adrian Dale. Thomas Dupont finished in the third position.
Jonathan Tedder continued his hot streak in Animal Limited Modified. Tedder raced to the win over North Carolina's Joe Kuley and Ohio's Jack Reall.
Saturday Race 5
Randy Fulks bested the father-son Baldus team for the Sleeper Racing Team 100cc Controlled Spec Final 1 triumph. Randy won by three seconds over Bernie Baldus. Bernie's son, Pierce Baldus, was third. Johnny Scavuzzo and Steve Scavuzzo rounded out the top five in a competitive 14-kart class.
Illinois' Scott Grenier edged Ryan Hatcher for the Yamaha Sportsman Heavy victory. Grenier raced his Richie Warren Chassis to the win by a kart-length over Hatcher. Zach Clark was third with Brian Ellis fourth and William Anderson fifth.
Massachusetts' Fran Mazzucotelli won Dart Kart Club 100cc Pipe Heavy over Dart Kart Club president Gene Davis. Bill Trumbley was third.
Saturday Race 6
The top-four finishers in Saturday's sixth contest belonged to the DKC 250 Twin local option class. Veteran road racer Andy Kiker of New Jersey scored the 250 Twin win while setting blistering fast lap times in the 1:26 bracket. Chris Hurdzan, Johnny West and Jerry Echols finished second through fourth.
J Michael Long won Unlimited Final 1 by a 16-second gap over Arkansas' Brian Wilhelm. Ron Brinker, John Dillon and Greg Stamm completed the top five.
Brian Fisher raced to his second triumph of the day, this time in CIK 125 Shifter Final 1. Fisher dominated the class, winning by over 50 seconds over Donald Santini. Chad Donner and Joe Barth finished third and fourth.
William Stiffler won WKA 125 Shifter.
Saturday Race 7
The final race of the day saw Zach Clark avenge his earlier defeat to Courtney Atkinson in Yamaha Sportsman Lite to win the WKA Sprint contest. Clark bested Atkinson by a half-second gap to take his first victory of the day. Grattan WKA Sprint victor Adam Trumbley was third, Jay Chapman fourth and Jeff Langford fifth.
Massachusetts' Michael Camarra continued his hot streak in TaG. Camarra won TaG Final 1 over Brandon Basela and Tim Ferraro.
Pennsylvania's Zach Linsell drove his MGM to another dominated win in Animal Sprint 335. Linsell won by a wide gap over Georgia's Blake Beattie. Benjamin Thomason was third, Sam Sheckells fourth and David Clevenger fifth.
Ohio's Andy Leighninger won Yamaha Sportsman Sprint over Mass.'s Michael Holman. AJ Ellis and Alex Frazer ran third and fourth.
Jonathan Tedder captured his second win of the day, this time in Animal Sprint 385. Tedder won by a small one-second margin over Matthew Wimmer. Paul Rice was third.
Sunday Race 1
Mark Nagy kicked off Sunday with a close win in Stock Honda 2 over Chris Hines. Nagy's win came a day after finishing second to Brian Fisher in Saturday's Stock Honda race. Steven Rougeou was a close third. The top three finished about 18 seconds ahead of fourth and fifth-place finishers John Sullivan and David Harding.
Glen Critchett raced a DR Kart to the win in TaG Heavy. Critchett bested Saturday TaG winner Michael Camarra by 14 seconds for the win. James Slade, Tim Ferraro and Mike Burrill finished third through fifth.
Zach Linsell won his second race of the weekend. Linsell won the Michigan Kart Supply / MGM Chassis Pro Gas Animal main.
Sunday Race 2
Rick Fulks raced his CKI chassis to a second close win over his brother in this group. Rick bested Randy Fulks by 0.341 seconds to win 100cc Controlled Spec Final 2. Bernie Baldus and Gary Mikusch were third and fourth.
Don Chrzan finished just behind the Fulks brothers to win Formula 100 Final 2. Chrzan pulled away from Virginia's Travis Miller and Adam Myers for the victory. Brent Brannon and Paul Wyzga were fourth and fifth.
Ryan Hatcher scored his second win of the weekend. Hatcher won by a big 31-second margin over Zach Clark. Tim Linthicum was third, Brian Ellis fourth and Lindsay Walkup-Fox fifth.
Patti Hechler won 100cc Pipe Medium over Fran Mazzucotelli. Gene Davis finished third.
Sunday Race 3
Courtney Atkinson avenged her Saturday runner-up finish in WKA Sprint to best Saturday winner Zach Clark in the weekend capper. Atkinson crossed the stripe less than a second ahead of Clark for her second win of the weekend Jim Sorrentino was third, Adam Trumbley fourth and Ted Carbonaro fifth.
Michael Camarra won TaG Final 2 to earn his second win of the weekend. Camarra bested Brandon Basela and James Slade for the victory.
After a runner-up finish Saturday, Michael Holman returned to capture the Yamaha Sportsman Sprint Final 2 victory Sunday afternoon. Holman won by five seconds over Saturday winner Andy Leighninger. Alex Frazer was third and Louie Magiera fourth.
David Clevenger earned his first WKA national win of the season with his triumph in MGM / Moon Power Animal Sprint 360. Clevenger won by a big gap over Matthew Wimmer. Ben Thomason was third, Blake Beattie fourth and Sam Sheckells fifth. Zach Linsell blew the engine in the race and was a DNF.
Paul Rice won his second race of the weekend, this time in Animal Sprint 410. The MGM Chassis owner won over Steve Wheatley and Bruce Peck.
Sunday Race 4
Noah Stark raced his 125cc laydown to his second win of the event. After winning Saturday's Formula 125, Stark again bested Brian Wilhelm to triumph in Unlimited Final 2. Wilhelm was second for his third runner-up finish of the weekend. Scott Goodman was third, Jeremy Baldi fourth and Jim Far Jr. fifth.
Mark won Stock Honda earlier in the day and came back to net win No. 2 on the day in CIK 125 Shifter Final 2. Nagy won by a wide margin over Donald Santini and Bill Pyles.
Bryan Blair won WKA 125 Shifter Final 2 over Dan Chalk.
Chris Hudzan triumphed in the DKC 250 Twin local option.
Sunday Race 5
Adam Myers, Todd Hayden and Don Chrzan finished first through third in 100cc Controlled Final 2. The race ended with Chrzan getting into the wall and having to be airlifted from the track. As noted earlier, Chrzan is OK and back to work this week near his Wisconsin home.
Ryan Hatcher scored the hat trick with the victory in Dart Kart Club Yamaha Heavy. The Oklahoma racer bested CKI racer Zach Clark, who earned his unprecedented sixth top-five result of the weekend, but only one win (Saturday in WKA Sprint). Scott Grenier was third after winning Yamaha Sportsman Heavy on Saturday. Wayne Rumsey and Michael McLaughlin finished fourth and fifth.
Sunday Race 6
The Grand Nationals' final race saw Rhode Island veteran Dawn Magiera best her husband, Louie Magiera in Yamaha Sprint Final 2. The pair finished nose to tail at the checkered. Allen Tustison and Adam McCarrick were third and fourth.
Robert Wimmer made it two-for-two in Stock Leopard. Wimmer won over Benjamin Kasa and Jeff Troup.
Jonathan Tedder joined Hatcher as a three-race winner at Mid-Ohio. Tedder dominated Animal Limited Modified 360 to close out his triple-win weekend.
Chris Kuley and Amy Hollowell again drove to victories in junior racing. Kuley won Animal Junior Sprint Heavy over Will Delaney while Hollowell won Junior Sprint Heavy over Kyle Cuthbertson.
Paul Rice earned his third win of the weekend and a sweep of Clone 385. Rice bested John Gallagher for the score.
Andy Leighninger won the DKC Team local option, while Jeff Langford won the Open Sprint local option.
Click HERE to view unofficial results from Saturday's Mid-Ohio racing.
Click HERE to view unofficial results from Sunday's Mid-Ohio racing.
Thanks to everyone who attended for a great weekend of racing at Mid-Ohio and the continued support of the Road Racing Series. A special thanks to Dart Kart Club officials and volunteers for a smooth running weekend and another well-promoted WKA National Road Race.
Next up for the VEGA / TS Racing Road Racing Series is the annual late July stop at VIRginia International Raceway for the Woodbridge Kart Club-hosted VIR Nationals July 25-27.