EKN One-on-One: MAXSpeed Group's Richard Boisclair
United States Rotax distribution company entering fourth year, continuing to focus on growth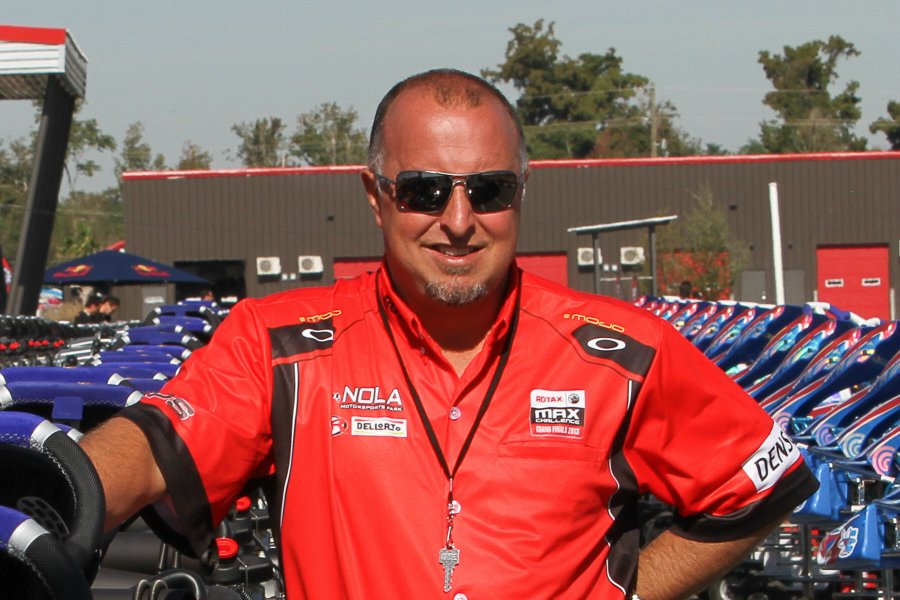 Rotax racing in the United States entered a new era at the end of 2010 when the new MAXSpeed Group took over the reigns of the United States distribution of Rotax products and administration of the US Rotax Max Challenge. Now entering the fourth year, Rotax continues growth throughout the United States and has experienced some historic moments in the sport of karting.
Last year, the United States and the MAXSpeed Group hosted the first Rotax Grand Finals event held on American soil. The event in November at the NOLA Motorsports Park made history, as the largest Rotax Grand Finals event ever. Success was earned by the Team USA squad, as three drivers stood on the podium in three different categories, helping to earn its first Nations Cup award. The event also marked the first American champion with Juan Manuel Correa earning the Junior Max title with a last lap, last corner pass.

MAXSpeed is now focused on 2014 and beyond with 21 USRMC programs, and this year's Rotax Max Challenge United States Grand Nationals at the Miller Motorsports Park on July 17-20. Nine tickets (national champion and runner-up in Junior, Senior, DD2 and DD2 Masters earning the spot, along with the Masters Max champion) will be awarded at the Tooele, Utah facility. This marks a return for MAXSpeed after hosting their first US Grand Nationals there back in 2011, followed by Michiana Raceway Park in 2012 and the GoPro Motorplex last year. Many of the US Rotax Grand Nationals drivers will be taking part in the Rotax Summer Shootout, set for June 27-29 at MMP.
Team USA currently has seven drivers already locked for tickets to the 2014 Rotax Grand Finals following the two international Rotax Max Challenge programs – the Florida Winter Tour and Rotax Challenge of the Americas. Five of the seven are returning members from last year's team, promoting a successful opening months for American Rotaxians.
EKN had a chance to talk with MAXSpeed President Richard Boisclair to talk about the upcoming events, along with a review of last year's Rotax Grand Finals.
eKartingNews.com: The 2014 edition of the Rotax Max Challenge United States Grand Nationals is welcoming a presenting sponsor in Cold Stone Creamery. It is certainly great to see a non-motorsports company getting involved and behind the sport with support at one of the country's top karting events of the year.
Richard Boisclair: Like you said, a company that is not in karting gives our national championship event a very professional name with the addition of Cold Stone Creamery. I'm very lucky as Cold Stone Creamery and their associates approached me, knowing what we want to do for the sport and with the event. It took literally five minutes to make the deal happen. It was such a win-win situation and to have them give to the karting community.
EKN: The latest announcement regarding the University of Miami Global Academy brings another big name to the Rotax community, and provides a great program to help younger drivers excel at both racing and their academic studies.
RB: Their new relationship with us is another great partnership for MAXSpeed and the USRMC members. They have been studying karting for some time and came to us. For the first time, an educational institution is partnering up with a karting organization at this level. They will be at Miller Motorsports Park for the Cold Stone US Grand Nationals providing a seminar and giving out information to the parents and young drivers that are home-schooled or are looking at doing a home-school program. I love the fact that we are connecting with education for our members.
EKN: The Cold Stone US Grand Nationals will see nine drivers added to Team USA for the 2014 Rotax Grand Finals following the action at Miller Motorsports Park. Each and every year, it seems the level of competition increases as more drivers try to earn a national crown and those Grand Finals tickets.
RB: There are so many different things that have helped grow the level of competition. Of course we are a distribution center first. We put together a strong network with our dealers and service centers and brought $2 million dollars worth of inventory that is ready to go out into the market. I dare anyone to call here and ask for a part that we will not have in stock. That's our main goal, distributors of Rotax, Mojo and XPS. That gives security for all our dealers and service centers to go out and do the business with us.
That being said, I think we have put together an incredible team of officials, and that is one of our strengths as promoters. We put the best officials out there to service the customers, in this case, the racers, just like we do with our dealer network. That allows us to stay away from the on-track activities and focus on the business side of things. We have an annual sales meeting at the Grand Nationals and this year, we will be adding on a new training program for new dealers or those who want to have a refresher course with our officials. On top of that, we will be providing a great welcome party on Friday following our first official race day sessions. We want everyone to have a great experience on and off the track.
EKN: The site of last year's US Rotax Grand Nationals – the GoPro Motorplex – will be the site of the Pan American Challenge on October 15-19 in Mooresville, North Carolina. Last year's site was a month prior to the 2013 Rotax Grand Finals at the NOLA Motorsports Park. Do you still anticipate a good number of international drivers to travel for what could be the final tickets handed out to the 2014 Rotax Grand Finals?
RB: That's a good question because we have been getting phone calls from Australia, Russia, Croatia, Serbia, France, England, Italy and other places asking if they will be able to race. People enjoyed what we put together as a show for the Pan American and the Rotax Grand Finals, and I think they want to come back to us. Previous additions of the Pan Am were not promoted by MAXSpeed, however, last year was the first and we will continue to do so. We are pushing hard with the international media and are hoping to see a large number of drivers that are eager to race again in the United States. Like you said, the GoPro Motorplex is one of the nicest facilities we have in the country, and I think the word is getting around the globe that it will be a great race.
EKN: Have you recovered yet after the Rotax Grand Finals? I know it was a challenging event to put together and you and your staff did a fantastic job. From the outside looking in, the event seemed to be among the best we have personally attended. The racing was fantastic, the paddock was large enough to welcome the record-breaking number of drivers, and the facility is first class.
RB: To be honest, you are one of the first people to ask that question. In people's mind, when they leave an event like that, it's over and they move on to something else. For us, we prepared for roughly a year and a half for the event. We had to work around a number of curveballs thrown at us throughout the planning process and up to just a few days leading up to the event. Thankfully, none of the racers or participants experience any downfall to the craziness that was behind the scenes.
Sunday morning after the Rotax Grand Finals, I had breakfast in downtown New Orleans with my wife and a few others. I felt the accomplishment that we put together a great show, but to be honest with you, I think we were just starting to get our energy back. It took so much time and energy from everyone, including USRMC Administrator Josh Smith. We were talking in this past March at an event about still being burnt mentally and physically from the Rotax Grand Finals. The energy is back however as we are working our asses off for the Cold Stone US Grand Nationals, which I feel will be by far the best we ever put together.
EKN: Is there anything new that we can expect from this year's event at Miller, as it is the first location for MAXSpeed's first Grand Nationals in 2011.
RB: Every year we do an event, we debrief after taking notes on what went right, and what went wrong. We look back at that document to make sure we don't make the same mistake twice. One of the notes from last year is that we felt 'last minute' too much. We agreed that it was because we had to put the Pan Am and the Rotax Grand Finals together as well. Josh essentially worked by himself to put the Grand Nationals on. By this week however, everything will be book, reserved, sent to the printer, and done. We have never been this pro-active in putting on an event. We have hired more people to make sure that we get certain tasks completed. What we are adding this year is the training. The racers may not feel or see that, but our service centers receive some training to do a better job is a definite plus in our mind. The party will be bigger than it every was, and that will effect the whole spirit of the Grand Nationals, including some of the prizes that we will be handing out.
If you compare from back then to now (laughing). Back then, we were so understaffed for the event. We still survived and the event came off great, but the experience we have now and after hosting the Rotax Grand Finals, we know how to put together a first-class event. I'm looking forward to this more than any other we have hosted before.
EKN: This year's RMCGF are set for Valencia, Spain at the Kartodromo Internacional Lucas Guerrero – set for November 25-29, 2014. What are some of the things you have heard about the facility?
RB: I actually talked to a few guys that were there from Rotax during their testing period for the Rotax Grand Finals. They said it's a great race track, it will put on an incredible show. That's about all the information I have. The departure of Robert Gumpenberger from Rotax gave Helmut Voglsam a lot more pressure and task to accomplish. Valencia was not Plan A but became the site because Plan A was not able to happen. So, they had to turn around and start over. I think they are happy with what is going on and what is planned for the event. It will be easier for the chassis manufacturers and Rotax itself, with the event so close to Austria, Italy, and France.
I've never been to the area. For us, it's great to be able to take some time off after the event to enjoy ourselves. This year, myself and Josh are going to be more as a supportive figure for Team USA rather than an organizational role like we were in 2013. We are going to enjoy this year's Grand Finals and be part of all the activities. Hopefully we will have some time to enjoy the area and maybe travel up to Barcelona and catch a real football game.
EKN: As you look around the United States, Rotax racing is everywhere there is a kart track. From coast to coast, north to south, many of the top karting facilities in the country offer the full Rotax Max Challenge system. Is there an area in the country that you are focused on in 2014 to help grow, and is there an area in which you'd like to expand the Rotax brand?
RB: You are right in the middle of the most active time for MAXSpeed's short career. We are looking at different opportunities, already moving forward on a few and some important information forthcoming, leading up to this year's Cold Stone US Grand Nationals. We have always planted seeds to grow, and to invest in the long term. Slowly but surely, we will get where we want to be. The goal is of course to have the best racing program in North America. Rotax has proven that their growth in Europe is phenomenal. I can tell you that the karting industry has changed so much in the past six to 12 months. It's becoming clear what the strong programs are, and we are very happy to say that our numbers continue to grow. Even with all the engines that stayed in the United States after last year's Grand Finals, our sales continue to grow with tires, parts, and other products. It's great news for our program and we are going to be investing a lot more in the market to sustain that growth.
EKN: Thank you very much Richard for your time and we look forward to see you and everyone with MAXSpeed and the United States Rotax Max Challenge in Utah.
RB: Thank you.