Morning Coffee: Friday – June 13
Finding Hidden Gems on the Road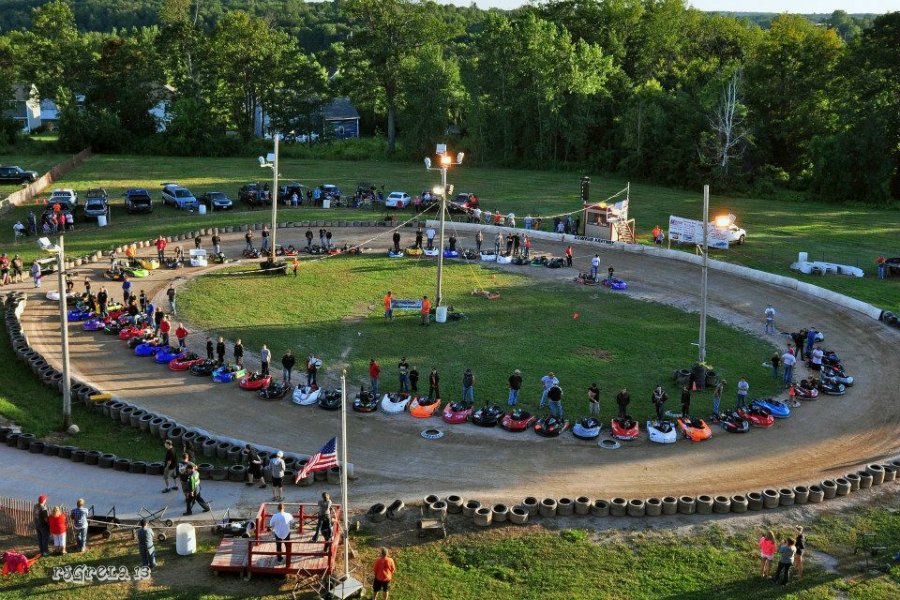 After spending a majority of my weekends on the road over the past couple months, it was incredible to finally breath a little at the end of May, staying home for a few days to focus on getting caught up on the business side of EKN.  I knew that I had a little gap in my schedule through to the end of June, so in addition to some much-needed desk time, I also used the open calendar to schedule a racing road trip, one where I could be a fan, just a spectator, enjoying an event without having to be part of it.  The target was Oswego Speedway in New York, a fast 5/8-mile banked asphalt oval on the shores of Lake Ontario, for an International Super Modified Association event for winged supers.  I'm a short track racing junkie, and while I don't get many chances to get out to events these days, I make certain that when I do, they're good ones.  In my opinion, supermodifieds at Oswego are about as good as it gets when it comes to pavement oval racing, and I get pretty jacked to see these 140 mph rockets.
As we rolled east on I-90 in the motorhome heading to the track on Friday afternoon, I was riding shotgun and surfing on my laptop when I found out that the track's karting facility was also going to be in action that night, so I was going to get a little karting in as well.  Oswego Kartway is located just outside the backstraight of the big track, which made it a perfect addition to the trip.  After getting the RV set up in the campground of the track, I immediately bolted over to check out the Kartway, and man, I was thrilled with what I found.  This column is really about two different things that I encountered, one being the benefits of directly linking a karting program to a stock car track, and the second having to do with the pure excitement of grassroots karting.  Oswego Kartway is a gem, powered by passionate racers who love the sport, both behind the wheel and behind the scenes.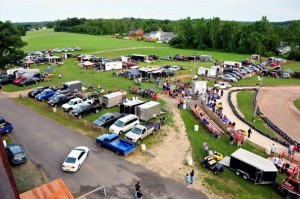 The Oswego Kartway facility is a tight slippery little clay oval that provides a 'bullring' for great racing.  I've run some big dirt tracks and some small dirt tracks in my time, and they're all fun.  The big track at Daytona's Municipal Stadium was long and fast, but I've also hammered around Lightning Valley Raceway in Kentucky, which is just a fifth of a mile. I thought that was pretty small, but Oswego is tiny, round and virtually void of any straightaways, it's got a little banking, and it produced some awesome racing.  Truly, I simply enjoyed the show itself, which was cool.  It was worth the price of admission.
This place is just a 1/12-mile in length, and the staff has built something really special.  Over the past eight years, they've grown from just the 'rustic' track itself to a pretty incredible facility that boasts a timing and scoring building, full lighting, a scale building with in-ground scales, a poured concrete grid area and a five-position electronic scoring pylon that hooked directly to the MyLaps system.  I know that we focus primarily on sprint karting here on EKN, but karting is karting, and these guys have done wonders building an incredible program on the grounds of one of America's most incredible short tracks – 'The Steel Palace' that is Oswego Speedway.  They ran 11 classes on the night and had over 110 karts in the pit area.  On a 12th of the mile track, 14 karts is a full field, let me tell you.
And this is where the connection comes in between a short track and a karting program.  My home club in Canada runs within the walls of a local 1/3-mile banked oval, as does the group of the Atlantic Motorsport Karters Association in Halifax, Nova Scotia, which runs at Scotia Speedworld.  There are many programs like this around the United States.  The connection provides a direct link that fuels growth and participation in both directions.  Young karters get to dive into the sport as racers themselves, as they're also fans of the competition on the big track every night.  One day, they may graduate to the full-size car program, which is such a big part of karting.  Our sport grooms the next generation of professional and amateur race car drivers.  But karting also offers the chance for competitors who can't afford to get into a full-size race car, or don't have the crew of volunteers wanting to spending every evening in the garage prepping for the next Saturday night.  Oswego Kartway provides a venue for enthusiasts to get out of the grandstands and behind the wheel themselves.  Everywhere I looked that night, people were wearing the souvenir shirts of Oswego supermodified racers.  They were karters on Friday night and fans on Saturday night.   On the weekend before I was there, 20 or so karters were displayed on the big track to promote the karting program, which is a great way to expose the sport.  My kudos to everyone involved at Oswego.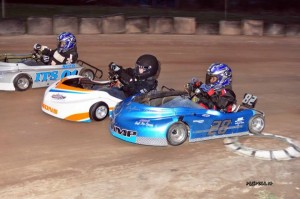 After enjoying the karting on the Friday evening, the full connection was made evident on Saturday night during the main show at Oswego, as an ex-karter put on an incredible display of racecraft for the win in the Small Block Supers (SBS) class.  Former karter Anthony Losourdo, 15, fought with his high school buddy Camden Proud, 16, for the win.  Anthony's father Jim is the founder of the kart track and still runs the program alongside Oswego PR Director and karting enthusiast Dan Kapuscinski.  Anthony might only be 15 years of age, but he raced like a seasoned veteran on this night, showing the racecraft that he learned at the Kartway.  It was really awesome to watch.
So while this was supposed to be just a relaxed 'fan trip' for me, it obviously became a whole lot more.  I find a great deal of excitement in seeing a growing program like the one at Oswego Kartway.  They're working hard to improve their program, grow their participant base and provide a fun, safe and enjoyment family experience.  And that's what the foundation of karting is all about.  If you're ever in the neighborhood, check them out.  The supermodifieds are certainly badass, the coolest pavement short track race cars in the country, but the kartway out back is giving them a run for their money.