Schofield Steps Up to Join Kinsman Brothers' Battle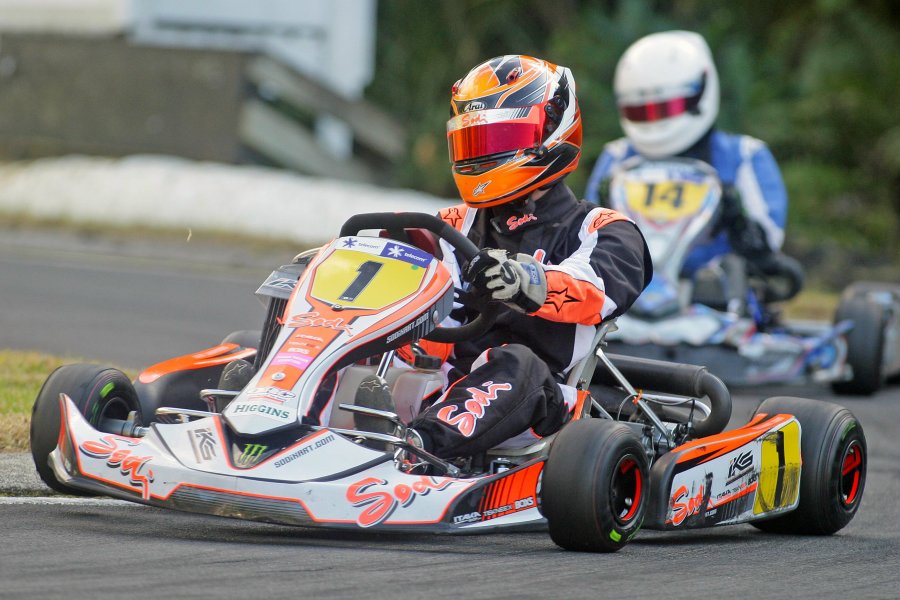 Mathew Kinsman (Photo: Fast Company/Graham Hughes)
Cambridge karter Andy Schofield stepped up to join the Kinsman brothers in their battle for Logitech 125cc Rotax Max Light class supremacy at the fourth round of this year's Rotax Max Challenge at Te Puke over the weekend.
With the older of the two Auckland brothers, Mathew, again winning the round, but younger sibling Daniel still in front – just – in the series points standings it's only natural to focus on how they performed.
However, in mixed conditions (dry on Saturday, wet Sunday) the heat wins were shared by Palmertson North ace Fraser Hart and Schofield, and Schofield also won the Pre-Final.
The Kinsmans came back to finish second (Daniel) and third (Mathew) in the Pre-Final then finally turned the tables on Schofield (Mathew first, Daniel second) in the Final but Schofield and Hart had at least proved the brothers are not invincible.
Globetrotting young international, Marcus Armstrong from Christchurch, was back to his dominant best, meanwhile, in the Arai Junior Max class, despite a scare in the first heat when he broke a chain and failed to finish.
He bounced back to win the second heat, however, from quickest class qualifier Taylor Harte and Jacob Cranston, then the Pre-Final (which he started from P7 on the grid thanks to his first heat dnf) and Final from Rnd 3 class winner Dylan Drysdale, impressive young Rotorua driver Caleb Huston, and local hotshot Harte.
Heading into the round Harte had a three-point lead over Armstrong, but Armstrong now leads Harte by six points with Trey Nairn and Dylan Drysdale third and fourth respectively and separated by just one point.
Finally, for an example of how to make a class your own, you only had to look at reigning New Zealand Rotax Heavy class Sprint champion Ryan Urban's record in the Platinum Glass 125cc Rotax Max Heavy/Masters class.
The Aucklander set a sub class lap record time to qualify quickest and won all four races to keep his four rounds/four category wins record intact.
Aarron Cunningham did well to split Urban and former class NZ Sprint champion Zach Zaloum in qualifying but Hawke's Bay driver Zaloum had the edge in the heat races and Final, only losing second place behind Urban once, in the Pre-Final when Ryan Bailey managed to drive a wedge between the pair.
Christchurch-based Brit Tiffany Chittenden arrived at Te Puke second in  the class points standings but had a tough weekend in the mixed dry-the-wet conditions, Zaloum and Cunningham shuffling her back to fourth with one of the other top Masters class runners, Matthew Grant from Auckland fifth, and Ryan Bailey now just seven points back in sixth.
The weekend's round of the 2014 Rotax Max New Zealand Challenge supported by Schwarzkopf Professional was the fourth of six with a break now to avoid the worst of the winter weather until mid August when KartSport Hawke's Bay hosts the penultimate round in Hastings over the August 16-17 weekend.
2014 New Zealand Rotax Max Challenge supported by Schwarzkopf Professional Rnd 4 Fagan's Valley Raceway Te Puke Sat-Sun June 07-08 2014
Logitech 125cc Rotax Max Light
Final
1. Mathew Kinsman 20:56.060; 2. Daniel Kinsman +11.486; 3. Andy Schofield +13.811; 4.Daniel Connor +14.667; 5. Mitchell Beach +15.041; 6. Mason Armstrong +30.794
Points after Rnd 4 of 6
1. Daniel Kinsman 350 points; 2. Mathew Kinsman 346; 3. Andy Schofield 326; 4. Daniel Connor 319; 5. Reid Harker 286; 6. Andrew Hoare 282.
Arai Rotax Junior
1. Marcus Armstrong 1:07.57; 2. Dylan Drysdale +19.019; 3. Caleb Huston +22.454; 4. Taylor Harte +22.938; 5. Trey Nairn +25.071; 6. Ethan Anderson +27.872
Points after Rnd 4 of 6
1. Marcus Armstrong 334 points; 2. Taylor Harte 328; 3. Trey Nairn 323; 4. Dylan Drysdale 322; 5. Caleb Huston 314; 6. Michael McCulloch 308
Platinum Glass 125cc Rotax Max Heavy/Masters
1. Ryan Urban 21:17.278; 2. Zach Zaloum +00.563; 3. Aaron Cunningham +21.625; 4. Matthew Grant +23.751; 5. Niki Urwin +24.544; 6. Ryan Bailey +24.718
Points after Rnd 4 of 6
1. Ryan Urban* 364 points; 2. Zach Zaloum 333; 3. Aarron Cunningham* 326; 4. Tiffany Chittenden* 323; 5. Matthew Grant* 317; 6. Ryan Bailey 310;  (*Masters)