Rain Mixes Up Things at TE Puke Pro Kart Series Round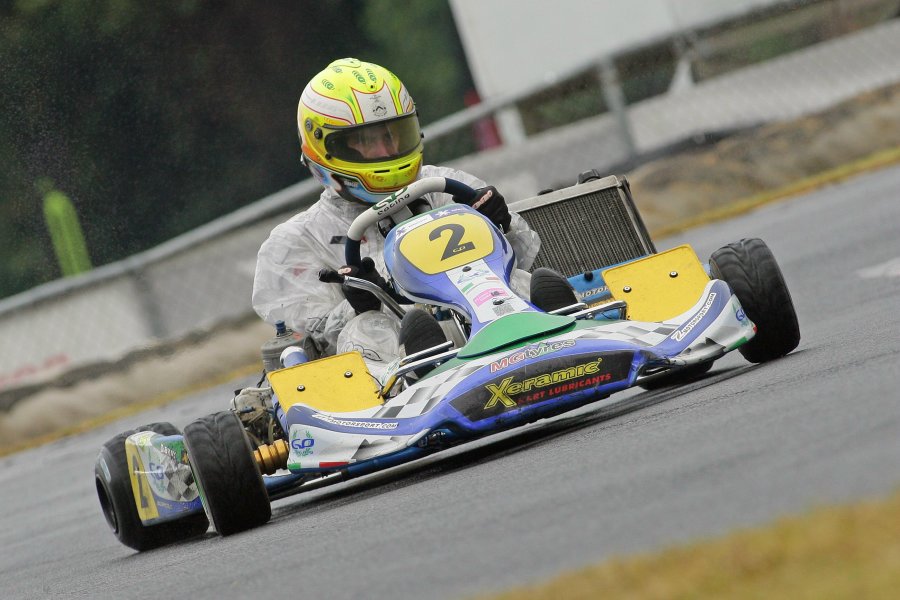 Daniel Bray (Photo: Fast Company/Graham Hughes)
Steady rain on Sunday helped mix things up in all three classes at the fourth round of this year's Pro Kart Series at the KartSport Bay of Plenty club's Fagan's Valley Raceway near Te Puke.
"It was certainly a weekend of two halves," said series promoter Steve Brown. "Saturday was dry but Sunday was wet all day and that, obviously, had a bearing on some of the results."
In the premier KZ2 class, kart and car racer Graeme Smyth again took the battle to runaway series points leader Daniel Bray, winning the first two heats in the dry on Saturday before quickest qualifier Bray reclaimed the advantage on Sunday.
Smyth was quick, but gambled on running older wet tyres in the hope that the track would dry. It didn't and Bray took the third heat, the Pre-Final and the Final to make it four round wins from four starts.
Behind Bray, Smyth led home Jaxon Evans and long-time class supporter Jason Farmilo in the Final, and finished second in the round standings ahead of Gold Coast resident Evans, top South Island driver Chris Cox and another of the class's 'young guns,' Jordan Morris from Auckland.
Also impressing in the difficult conditions over the weekend was another young Auckland driver, Luke Dobbs, who qualified third and claimed two third placings in the heats.
The second of the series-long class points leaders, Aucklander Garry Cullum, retained his spot at the top in the new KZ2 Restricted class but this time he came under intense pressure from class newcomers Jared McKenzie and Mark Elder.
McKenzie, using the new Restricted class as a stepping stone before stepping up to the main KZ2 class next season, qualified quickest and won all three heats plus the Pre-Final, only to spin out on a slick track in the Final leaving Cullum to win that race and take overall class victory for the weekend.
Elder, meanwhile, settled in between Cullum and Gerhard Benadie in the heats then stepped up in McKenzie's absence to take second in the Final with one of the other new faces in the class, Cameron Dance, third.
The other class pace-setter and long-time points leader, Tom Curran from the Hawke's Bay, didn't have it all his own way in KZ2 Masters either, series promoter Steve Brown returning to the Masters ranks after helping to establish the KZ2 Restricted class, claiming pole from Mark Wheeler and Mark Lane before winning the first heat from Lane, Wheeler and Curran.
Curran was back in front in the second heat but Leo Bult won the reverse grid third.
'Normal service' was resumed in the Pre-Final and Final, however, Curran winning both from former Stock Car ace Graeme Lambert from Tokoroa with newcomer Tom Loughran from the Hawke's Bay third in the Pre-Final and Steve Brown – who started the race from the back row of the grid – putting in a storming drive to get to third in the Final.
Despite an up-and-down weekend, Mark Lane remains second in the overall series' class points standings, with Lambert now third, Aucklander Kevin Storr fourth, Nelson veteran Grant Kugener fifth and Leo Bult now sixth.
The weekend's Pro Kart Series round was the fourth of six with a mid-winter break of just over two months now until the fifth round in Hawke's Bay in mid-August.
2014 Pro Kart Series  Rnd 4 Fagan's Valley Raceway Te Puke Sat-Sun June 07-08 2014
KZ2
Round
1. Daniel Bray (Mt W); 2. Graeme Smyth (Ak); 3. Jaxon Evans (Aus); 4. Chris Cox (ChCh); 5. Jordan Morris (Rot); 6. Jason Farmilo (Ak).
Points after Rnd 4 of 6
1. Daniel Bray 327 points; 2. Chris Cox 299; 3. Jaxon Evans 298; 4. Luke Dobbs 288; 5. Mitch Osborne 285; 6. Jordan Morris 280
KZ2 Masters
Round
1. Tom Curran (Hbay); 2. Mark Lane (Ak); 3. Mark Wheeler (Mkau); 4. Graeme Lambert (Tok); 5. Leo Bult (Mkau); 6. Grant Kugener (Nel).
Points after Rnd 4 of 6
1. Tom Curran  327 points; 2. Mark Lane 305; 3. Graeme Lambert  294; 4. Kevan Storr 292; 5. Grant Kugener 291; 6. Leo Bult 288.
KZ2 Restricted
Round
1. Garry Cullum (Ak); 2. Jared MacKenzie (Ak); 3. Mark Elder (Ak); 4. Gerhard Benadie (Ak); 5. Cameron Dance (MtW); 6. Connor Adam (Ak).
Points after Rnd 4 of 6
1. Garry Cullum 324 points; 2. Gerhard Benadie 301; 3. Cameron Dance 292; 4. Tommie Benadie 287; 5. Steve Brown 225; 6. Jared McKenzie 156