F-Series Gearup Challenge Round Three OVRP on June 14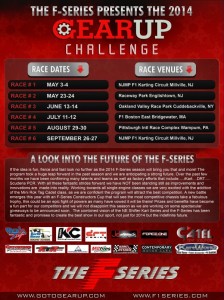 The 2014 season is rolling into the half way point this weekend at OVRP and already we are feeling the championship battles are shaping up to be super exciting. With so much dedication from teams and drivers this could turnout to be one of the most exciting races we have ever had the pleasure to host. OVRP has a history of creating some exceptional talent and no shortage of that this week. As that tracks talent will be represented by Sage Karam, Mike Giessen, McCuskers, Josh Lane, Nolan Ruocco, Giumarra, DaCosta, Pignataro, Tremper, Gelinas and of course Justin White. If you have not purchased your spectator ticket no worries as OVRP makes it free of charge to spectate the best racing in NY.
Cool stuff going on this weekend!! 
Friday Pre Race Party at Victory Lane Pub confirm your entry on facebook https://www.facebook.com/events/492169054247022/?source=1
Indy 500 Driver Sage Karam to accept the challenge of the 355!
We have also included some event details and thoughts to have a great trouble free race weekend!
Detailed race day schedule and entry fees are posted on http://f1series.com/Raceday_Schedule.html
This a night race so one of our competitors has proposed a red light for the rear of your kart for added safety…..we love the idea as safety is priority #1….Bell Pharos was a recommended brand.
Parking at OVRP should be confirmed with the track officials if you have an oversize trailer …..please call so they can plan ahead. Phone: (845) 754-8500
OVRP will not have a large supply of fuel on hand this weekend please call one of our listed shops to reserve your preferred brand and quantity http://f1series.com/Sponsors.html
We look forward to a fabulous night race this weekend for info check www.f1series.com or call 732-850-1893.