Rok Cup USA Hosts Round Two at Homestead Karting
New layout featured over Memorial Weekend event with series promoting many extras for competitors and families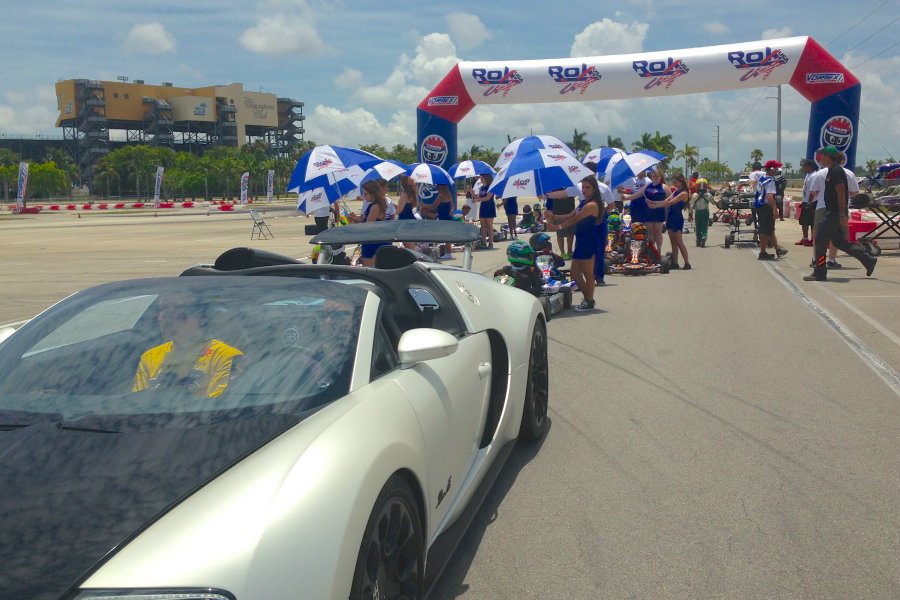 Rok Cup USA hosted round two at the Homestead Karting facility
Once again, Memorial Day weekend was made up of epic races — Monaco, Indy 500, Coca-Cola 600, and ROK CUP USA!  The much-anticipated Race #2 of the 2014 ROK CUP USA series, in Homestead, exceeded all expectations.  Not only was the on-track racing phenomenal, but the off-track amenities and festivities were exceptional.
Drivers endured difficult conditions with 95-degree heat on an incredibly physical track.  However, they were treated as VIPs throughout the event.  While in line for the scales, they were greeted with bottles of cold water, accompanied by umbrella guys and girls for driver introductions on the grid, and treated to food and DJ-spun music at the Saturday afternoon party.  The fun continued at the party with the "ROK World CUP" soccer tournament for kids and adults.
To add to the technicality of the already challenging Homestead Karting track, Andre Martins, Director of ROK CUP USA, modified the original clock-wise configuration to create an exclusive ROK CUP track layout.  The new track design made the racing even more exciting!
The two-day race format offered lots of track time for all the competitors:  Three practice sessions, qualifying, three heat races, pre-final, and final.  Pole-sitters from Saturday's qualifying in each class were: Luis Jose III Forteza in ROK Junior; Ugo Ugochukwu in Micro ROK; Gianluca Petecof in Mini ROK; Ariel Castro in ROK Masters; Dustin Stross in ROK Seniors; and AJ Myers in the combined ROK Senior/Masters class.  Pole-sitters were honored on Sunday with a pace-lap ride in the multi-million-dollar Bugatti Veyron pace car in the Finals!  Live coverage of the racing event was provided online at rokcupusa.com, including video broadcast and timing.
ROK CUP USA Race #3 is June 14-15 in Jacksonville, FL.  ROK engines are still available for purchase and/or rent.
Sunday's Final Podium Results:
ROK Junior
1st – Luis Jose III Forteza
2nd – Ryan Norberg
3rd – Michael Benyahia
Micro ROK
1st – Arturo Alcalde
2nd – Ryan Rackley
3rd – Lucas Rodriguez
Mini ROK
1st – Gianluca Petecof
2nd – Jeremy Fairbairn
3rd – Alessandro Famularo
ROK Masters
1st – Ariel Castro
2nd – Raul Costa
3rd – Miguel Gransaull
ROK Senior
1st – Dustin Stross
2nd – Franco Carabetta
3rd – Joffrey Amaya
ROK Senior Shifter
1st – AJ Myers
2nd – Jesus Rios Jr.
3rd – Fabrizzio Fabularo
ROK Shifter Masters
1st – Gonzalo Aponte
2nd – Jim Machul
3rd – Kurt Mathewson