European CIK-FIA Championship KF/KFJ Arrives in Spain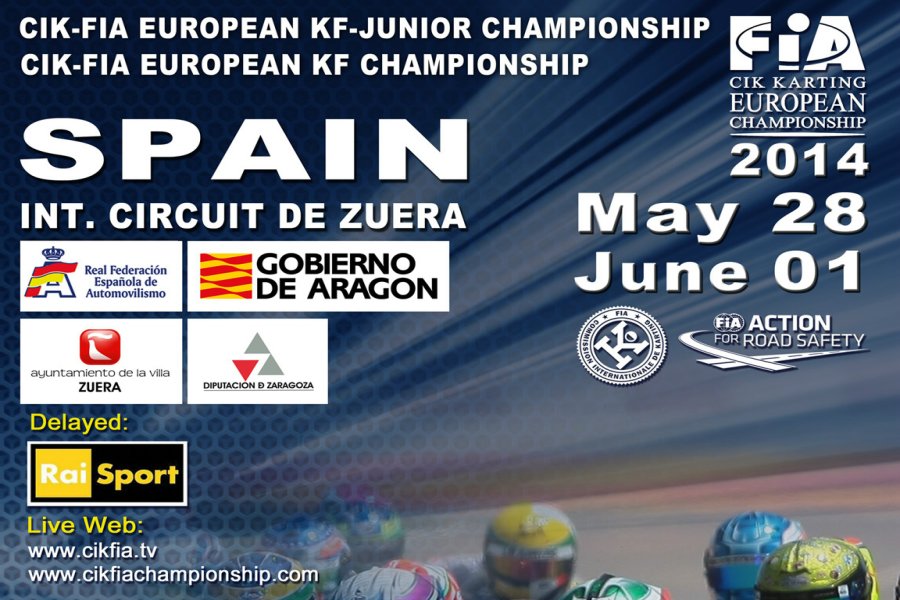 International karting is going to arrive in Zuera (E) for the second round of the European CIK-FIA KF and KFJ Championships. Not even a month ago, the season opener took place in Muro Leccese (Lecce – Italy); this time there are 145 drivers eager to challenge each other. The number of entrants confirms the huge success that the event had already achieved in Italy. The race will be hosted by the 1,700 metre long track in the heart of Aragon, near the town of Zuera in the province of Zaragoza. The Spanish facility hosts, once again, a CIK-FIA event after the KF2 and KF3 World Cup which took place there two seasons ago. Engines willl be started next Thursday 29th May for the first out of two days of free practice, followed by qualifying on Friday afternoon. On Saturday 31st, the qualifying heats and on Sunday 1st June the Finals. The results achieved by drivers on these last two racing days will award the points of the Championships.
Images live from Aragon
The Spanish appointment will be covered by the live streaming on www.cikfiachampionship.com and on www.cikfia.tv. From Zuera too, the two websites will broadcast the media coverage of WSK Promotion on Sunday: the live will start with the drivers' parade and will end with the Finals. Moreover, Rai Sport 2 will air the delayed broadcast of the KF and KF Junior Finals on Tuesday 3rd June and the special report with a recap of the whole weekend on Friday 6th.
Ilott and Ahmed the current leaders in KF and KFJ
The British Callum Illot (Zanardi-Parilla-Dunlop) arrives in Zuera as the leader of the KF category, closely followed by his fellow countryman Lando Norris (FA Kart-Vortex). Just behind the leading pair, the Finnish Niko Kari (Tony Kart-Vortex), the Spanish Pedro Hiltbrand (CRG-TM) and the Italian Felice Tiene (CRG-TM). In KFJ the English Enaam Ahmed (FA Kart-Vortex-Vega) is ahead of the American Devlin Defrancesco (Tony Kart-Vortex). Here there are many pretenders to the title: the American Logan Sargeant (FA Kart-Vortex), the German Mick Junior (Tony Kart-Vortex) and the Russian Alexander Vartanyan (Tony Kart-Vortex).