Aaron Snyder Takes Five TaG Wins at WKA Grattan Road Race Nationals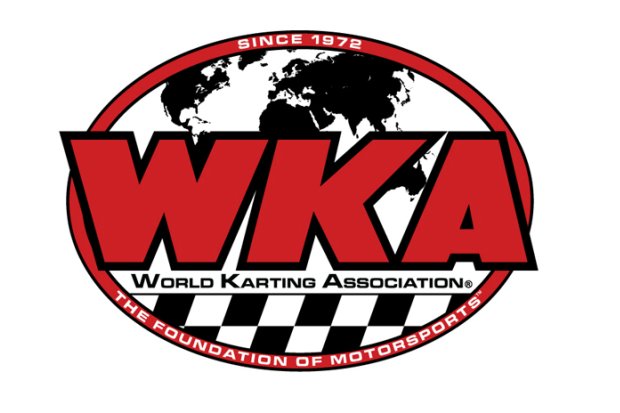 Former WKA Triple Crown champion Aaron Snyder led all racers with five wins May 16-18 at Michigan's Grattan Raceway, the site of the third round of the 2014 WKA VEGA / TS Racing Road Racing Series driven by Mazda, hosted by the Ohio-based Dart Kart Speedway Club.
The Grattan Nationals drew over 220 entries on a cold weekend in Michigan. Temperatures remained in the 30s and lower 40s for most of Saturday, and word was snow was falling within 30 miles of the track. Luckily, besides the cold temperatures, weather never shortened or cancelled any racing action with all 13 groups getting their full distances complete between Saturday and Sunday.
Snyder's five wins came in the popular TaG categories, comprising triumphs in Stock Leopard 1 and 2, TaG Heavy 1 and 2 and Saturday's TaG 1 contest.
Few TaG racers could run with Snyder, who won his Triple Crown on the Road Racing circuit in 2012. Brandon Basela came closest, finishing five seconds back of Snyder in Saturday's Stock Leopard 1 main event. George Argiris crossed the stripe 29 seconds back of Synder in TaG Heavy 1, while Snyder finished a full lap ahead of his competition in TaG 1.
It was more of the same for Snyder on Sunday. While he did not enter TaG 2, he picked up where he left off in Stock Leopard and TaG Heavy. Veteran road racer Glen Critchett finished 18 seconds behind the Energy chassis pilot in TaG Heavy 2. In Stock Leopard's weekend capper, Basela couldn't match up with Snyder like he did on Saturday. Basela still finished second, one lap back of Snyder.
Fast 125cc enduro competitor Brian Wilhelm and his Rev-Clean Racing team made the trip north to Grattan for the second consecutive year, and Wilhelm left the Granite State with three national wins.
Wilhelm drove his OWL chassis to wins in Unlimited 1, Unlimited 2 and Formula 125. The Arkansas racer finished a good distance ahead of his teammate Mitch White for the win in Formula 125. White also finished second to Wilhelm in Unlimited 1 with Allen Hollinger taking third.
Sunday's Unlimited 2 weekend closer saw Wilhelm dominate again, finishing over 40 seconds ahead of a good battle for second including Hollinger, J Michael Long and White. The trio raced nose-to-tail throughout the 30-minute contest with Hollinger edging Long and White for the runner-up spot.
Ohio's Wayne Rumsey swept the Yamaha laydown classes aboard his Richie Warren (RWC) Chassis. Rumsey won Saturday's Yamaha Medium go in a close race over Adam Trumbley. The official margin of victory was just 0.033 seconds for Rumsey over Trumbley.
Rumsey made it a double-win weekend Sunday with his score in Yamaha Heavy. Rumsey finished well ahead of Steve Pasterner, Don Harrod and Nick Cole for the win.
While Trumbley finished second to Rumsey in the laydown class, he wheeled his Margay sprint-enduro to a pair of wins in the WKA Sprint category.
The Massachusetts racer won Saturday's WKA Sprint 1 main over Otto Vollmerhausen and Al Gierz. On Sunday Trumbley found victory in WKA Sprint once again, this time winning over Jeff Langford and Vollmerhausen.
Rick Fulks wheeled his CKI chassis to a pair of competitive wins Saturday. Fulks won 100cc Controlled 1 by a 33-second gap over Johnny Scavuzzo and Steve Scavuzzo. The 100cc Controlled class started 16 karts in arguably the most competitive field of the weekend.
Fulks backed up his Controlled win with a victory in Saturday's final race, 100cc Controlled Spec 1. Fulks won over Adam Myers and Gary Mikusch in another competitive 10-kart field.
Amy Hollowell debuted her new MGM Chassis 2-cycle kart and proceeded to win both Junior Sprint races. Hollowell won over Rod Myers in Jr Sprint Lite and Heavy for a big double-win weekend.
MGM racers, including Hollowell, had a terrific weekend in Michigan. Sam Sheckells won both Pro Gas Animal main events on his MGM, while Georgia's Blake Beattie drove to victory in Animal Sprint 335 and Animal Sprint 360. MGM owner Paul Race wo twice, as well, taking scores in Animal Sprint 385 and Animal Sprint 410.
Shifter-kart classes saw four different winners at Grattan. Eric Chappell and Alex Conlin, both riding Birel mounts, split the CIK 125 Shifter races while Mark Nagy and Byron "Bear" Rothenhoefer, both riding DR Kart chassis, split the Stock Honda features.
Alex Frazer raced his CKI to the win in Saturday's Yamaha Sportsman Sprint final while Ohio's Andy Leighninger won Sunday's Yamaha Sportsman Sprint race on his Coyote chassis.
Four-cycle veterans Charles Wilbur and Dennis Smith each won an Animal Limited Modified main event. Wilbur triumphed in Saturday's Animal Limited Modified 385 race while Smith came back to win Sunday's Animal Limited Modified 360 contest.
Zachary Krause and Joshua Krause each won a Yamaha Sportsman race Saturday. Zachary raced his CKI to the win in Yamaha Sportsman Lite. In the day's final race, Joshua wheeled his Margay to the victory in Yamaha Sportsman Heavy.
Fran Mazzucotelli won 100cc Pipe Heavy aboard his Elite enduro.
Michael Fischer was fast in Saturday's Formula 100 go. Fischer made fast laps only a couple seconds off the fastest Formula 125 racers, and raced to victory in the Formula 100 division.
Adam Myers was shut out of victory lane Saturday but returned Sunday to win 100cc Controlled Spec 2. The Western New York racer drove his CKI to the win.
Joe Brizzoli won TaG 2, while Timothy Koen won 100cc Controlled 2 while racing in his home state.
Go to HERE to view Saturday Grattan unofficial results.
Go to HERE to view Sunday Grattan unofficial results.
Many thanks to all the racers and teams who traveled to Grattan to support the WKA Road Racing Series and the Dart Kart Club. Special thanks to all the officials of the Dart Kart Club for promoting another well-run and successful Grattan Nationals.
Next up for the Road Racing Series is the prestigious Road Race Grand Nationals June 13-15 at the Mid-Ohio Sports Car Course.
Go to HERE to download the Grand Nationals entry form. Pre-registration remains open until June 7.