Go For the Gold This June 27-29 at Michiana Raceway Park for WKA Manufacturers Cup Series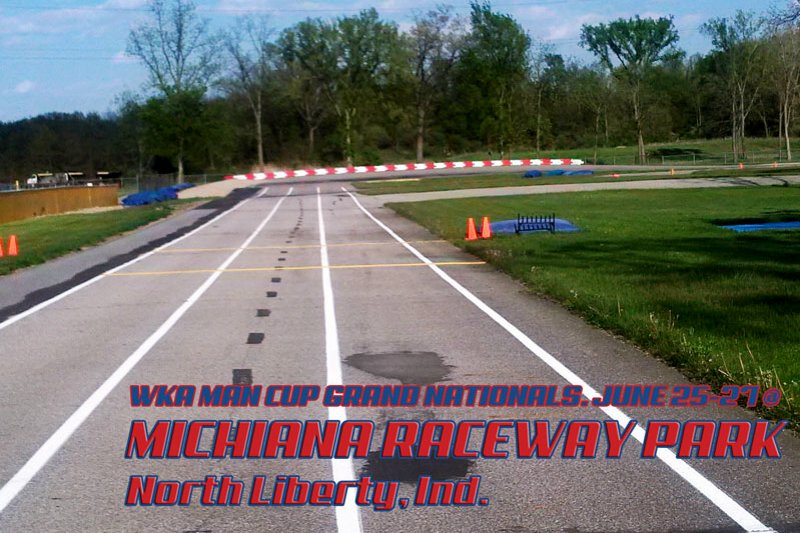 Michiana Raceway Park near South Bend, Indiana, one of the top karting facilities in the country, is pleased to be hosting competitors from across the country to compete for a chance to win a GOLDEN EAGLE, the prize for a class win at the upcoming WKA Mazda / Bridgestone Manufacturers Cup Series Grand Nationals event.
The 2014 Grand National will be held at the North Liberty, Ind., track on June 27-29.
The Michiana Raceway Park staff has been hard at work to prepare the facility, giving it a facelift as well as energizing local staff to provide competitors a safe and challenging environment.
"We have hosted this prestigious event before and we welcome both the challenge of having so many competitors here, but also love to provide a home for such close competition," said Garry Lobaugh, track owner. "We not only want to give the racers a great place to showcase their skills, but also provide family-friendly viewing areas and nice amenities for spectators."
The WKA Grand Nationals are not the only other great events being held at Michiana Raceway Park – there are several other opportunities to prepare for the GOLDEN EAGLE run as in the next six weeks the track will host the Route 66 Sprint Series, USPKS event, the MRP Championship Series and Rotax Challenge as well as several open practice days to help racers prepare.
"We invite racers to come race with us, whether it be a local, regional or national event," continued Lobaugh. "There are lots of practice days scheduled and so many events to participate in!"
In addition to the WKA GOLDEN EAGLE presented to Man Cup feature winners at Michiana, two divisions will be running for the prestigious IAME Cup and prize packages.
The Parilla Junior division – open to IAME Leopard and X30-powered karts and drivers age 12 to 15, will pay $500 to the overall weekend victory compliments of Arai Helmet and Butler Built Seat Systems. The overall winner will take home the cool $500 payout in addition to the special IAME Cup trophy. Florida's Austin Garrison and Illinois' David Malukas were IAME Cup winners at Daytona and Kershaw, S.C. to open the season.
The Parilla Senior classes – open to IAME Leopard and X30 powerplants and drivers age 15 and up – will pay $1,000 to the overall winner at South Bend courtesy of HYTORC of Texas and IAME. The Parilla Senior overall victor will take home the $1,000 in addition to the prestigious IAME Cup trophy. Pennsylvania's Mark Boos scored the IAME Cup win at Daytona while Florida's Dustin Stross dominated the weekend at Kershaw to win the award.
Go to HERE to download the Top Kart USA Grand Nationals entry form. Early registration prices are available through Friday, May 23.