SSM Super One Rotax Series – Round Two Report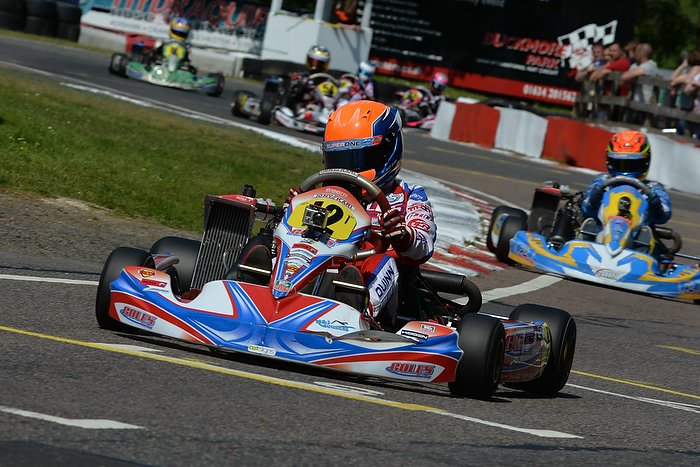 Alex Quinn (Photo: kartpix.net)
From the north of England to the south of England and sunny Kent for the second round of the Rotax/Honda ABkC National Championships.  It was exceptionally hot, hitting 25 degrees C with lots of excellent racing.  First tried at Rowrah, the standing starts continued, completely ruling out first corner accidents and all the attendant crash damage to the karts.  Certainly one or two failed to get off the grid, but so much less than the number who would not have finished lap one otherwise. We saw double winners for MiniMax and Junior Max in Alex Quinn and Sandy Mitchell respectively whilst Harry Thompson and the local driver Myles Apps shared the Honda Cadet win.  And in Senior Max John Stewart took advantage of a mistake in front of him for the first final win, comeback kid Kyle Fowlie taking the second. 143 drivers signed on for the meeting, Cadet Thomas Pegram having to withdraw with a broken thumb after TQ – get well soon!
Mini Max
Alex Quinn was quickly up for a frantic exchange of the lead several times with Dean MacDonald until he fell to third leving MacDonald to continue the fight with Luke Wooder.  MacDonald fell back as Quinn came back to attack Wooder, and despite the latter getting a small cushion Quinn sliced up the inside at turn three and made the move stick.  Adam Smalley did the same to MacDonald but he took second back in time for the flag, Smalley recovering third from Jordan Cane and MacDonald.  "Luke made a mistake and from then on I had a gap," explained Quinn.  Jack Young was excluded for a driving offence then crashed out on the opening lap of the second final along with several others.  For the second final Cane took up the early running whilst Smalley leapfrogged Quinn to challenge him. That put Quinn behind Wooder, but he quickly recovered third and closed on the leaders, taking both in one stupendous move.  Wooder was soon to follow with Smalley strung out behind but Cane had fallen back and along with Axel Charpentier would be excluded for driving offences. MacDonald held off Samuel Pooley for fourth.
Final 1: 1 Alex Quinn (Tonykart)' 2 Luke Wooder (Alonso); 3 Adam Smalley (Tonykart); 4 Jordan Cane (Tonykart); 5 Dean MacDonald (Tonykart); 6 Axel Charpentier (Tonykart).
Final 2: 1 Quinn; 2 Wooder; 3 Smalley; 4 MacDonald; 5 Samuel Pooley (Tonykart); 6 Thomas Turner (Tonykart).
Championship points: Dean MacDonald 303; Alex Quinn 295; Samuel Pooley 266; Luke Wooder 263; Adam Smalley 260; Jonathan Hoggard 255.
Honda Cadet
The first start was soon red-flagged to attend to a driver who had crashed and on the restart Tom Canning forged ahead, only later to be given a five place jump start penalty.  He was soon gobbled up as Myles Apps took first.  A massive fight ensued behind between Canning, Keaton Samra, Harry Thompson and Zak Rogers but the latter came off in the closing stages.  Thompson took Apps and held on for several laps to the end with Kiern Jewiss making a late charge through the field for second.  He had been taken off in a heat. Canning got stuck on the outside letting Samra through then Lulham and the rest would move up after the penalty.  Apps stormed back up to the front in Final 2, and after a quick look behind to check no-one was going to slip inside, he picked off Thompson for the lead. With Jenson Butterfield and Samra in tow, they pulled clear of the fourth place battle and Apps defended the last few laps to take the win. "We changed engines after the first final," he said.  Lots of shuffling behind eventually had Canning ahead of Jewiss and Mark Kimber with Thompson put back to seventh.
Final 1: 1 Harry Thompson (Zip); 2 Kiern Jewiss (Tonykart); 3 Keaton Samra (Zip); 4 Chris Lulham (Project One); 5 Myles Apps (Zip).
Final 2: 1 Apps; 2 Jenson Butterfield (Project One); 3 Samra; 4 Tom Canning (BRK); 5 Jewiss; 6 Mark Kimber (BRK).
Championship points: Myles Apps 302; 2 Harry Thompson 297; Kiern Jewiss 289; Mark Kimber 277; Tom Canning 261
Junior Max
Unfortunately Dave Wooder was left stranded with a broken starter and Will Shaw stalled, causing slight mayhem.   That broke up the pack somewhat with Sandy Mitchell drawing away from Omar Ismail and Tom Gamble leapfrogging Hugo Bentley Ellis.  After much trying Zak Fulk pipped Ellis for fourth. Mitchell was nearly three seconds ahead, quipping: "I've been fast all weekend, another win will put me in a good position."  To begin with for the second final it looked in doubt as Ismail had grabbed the initiative at the start with Mitchell some way back. Finlay Hutchison stormed to second but Mitchell soon put him back in his place and set about closing the gap to Ismail.  A dart on the inside of turn four did the job and Mitchell achieved his desired second win.  Gamble and Darren Keane were strung out behind Ismail whilst Wooder made it up to eighth from theback. Will Shaw and the Estonian Juri Vips were excluded, the former for not obeying an official.
Final 1: 1 Sandy Mitchell (Tonykart); 2 Omar Ismail (Tonykart); 3 Tom Gamble (Tonykart); 4 Zak Fulk (Tonykart); 5 Hugo Bentley Ellis (Tonykart); 6 Darren Keane (Tonykart).
Final 2: 1 Mitchell; 2 Ismail; 3 Gamble; 4 Keane; 5 Fulk; 6 Jack McCarthy (Tonykart).
Championship points: Sandy Mitchell 300; Hugo Bentley Ellis 280; Jack McCarthy 258; Dave Wooder 252; Tom Gamble 251; Connor Hall 250.
Senior Max
Poleman Joseph Reilly – now back in karting again – faltered at the start allowing the Australian Pierce Lehane to take the hole shot.  But he was put back to fifth after a collision together with Jack Bartholomew, later given a five place penalty.  That allowed John Stewart to inherit the lead, Kyle Fowlie chasing.  The Scotsman had earlier vowed to have a year off, but clearly has changed his mind.  Jack Saffrey was storming through the pack, and from further back so was Reilly. Saffrey relieved Bartholomew of third until Reilly made that his final position and Lehane inherited fifth. "It came on well towards the end," observed Stewart. Fowlie made no mistakes in his getaway for the second final, with Lehane shuffled back to fourth on the opening lap by Stewart and Reilly.  As the latter closed ominously on Fowlie it looked like a matter of time but Fowlie rose to the occasion and held him at a couple of kart lengths bay with Stewart close.  Lehane also joined in the lead battle at the end, Fowlie saying: "I'm really chuffed, a fantastic start to my season."
Final 1: 1 John Stewart (Gillard); 2 Kyle Fowlie (Tonykart); 3 Joseph Reilly (Tonykart); 4 Jack Saffery (Tonykart); 5 Pierce Lehane (Alonso); 6 Lars Lomborelli (Tonykart).
Final 2: 1 Fowlie; 2 Reilly; 3 Stewart; 4 Lehane; 5 Jack Bartholomew (Tonykart); 6 Adam Glear (Kosmic).
Championship Points: Joseph Reilly 313; Pierce Lehane 284; Jack Bartholomew 276; Adam Glear 264; Jack Saffery 250; Sam Marsh  248