Record Tumbles as Urban Extends His Winning Streak During Round Two of Rotax Max Challenge New Zealand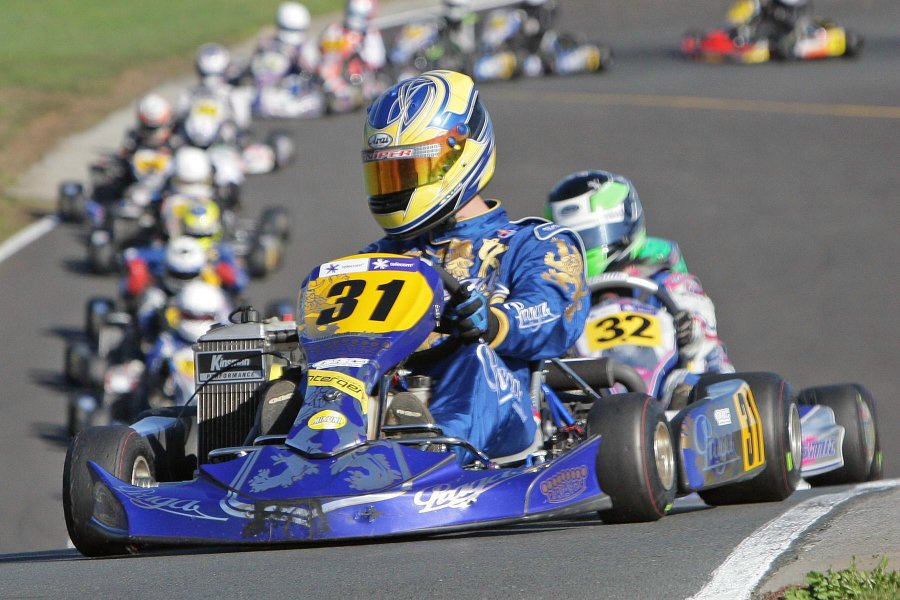 Daniel Kinsman in Logitech 125cc Rotax Max Light (Photo: Fast Company/Graham Hughes)
Newly-crowned New Zealand 125 cc Rotax Max Heavy sprint champion Ryan Urban twice lowered the track lap record as he continued on his winning way at the third round of this year's Rotax Max Challenge New Zealand at the KartSport Hamilton club's Agrisea Raceway over the weekend.
Though now aged 32 his primary focus is on the Masters age group sub-category, Aucklander Urban continues to set the pace in the (open age group) Platinum Glass 125cc Rotax Max Heavy class in this year's Challenge series, qualifying quickest and winning the heats, Pre-Final and Final in fine, crisp Autumn conditions at Hamilton.
Along the way he set a new Heavy class lap record – 39.926 – in the first heat before lowering it again – to 39.790 – in the Pre-Final. And by winning the Final he extended his tally this year to 11 race wins out of 12, with Hawke's Bay young gun Zach Zaloum so far the only driver to have beaten him to the flag at a Rotax Max Challenge of New Zealand round this season.
Former Heavy class winner Aarron Cunningham – another now eligible for Masters class points – ended up second overall for the Hamilton round after qualifying fifth and coming back from a dnf in the first heat to finish runner-up in the second, cross the line third behind Urban and fellow Aucklander Matthew Grant in the Pre-Final then finish second again to Urban in the Final.
Top UK female driver Tiffany Chittenden, now living in Christchurch, was third, Heavy class points leader Zach Zaloum fourth and Matthew Grant fifth.
While the status quo was maintained in the Heavy/Masters class there were changes in the order in both the Logitech 125cc Rotax Max Light and Arai Rotax Junior classes.
This time the Lights class was dominated not by first and second round winner Mathew Kinsman, but by his younger brother Daniel, the latter qualifying quickest and going on not only to win all four class races, but also to take over the lead in the class series' points standings.
Heading into the meeting Mathew had 180 points to Daniel's 172 but leaving it the positions were reversed, Daniel in the lead with 263 and Mathew in second place with 257.
Mathew was never far behind his brother, setting the third quickest lap time in qualifying before finishing second in both heats then fourth in the Pre-Final
But in the Final he tangled with fellow class front-runner Daniel Connor and after crossing the finish line in fifth place was relegated by officials to a position one place behind Connor – ninth.
Second in both the Pre-Final and Final to cement third place in the class series points standings was Cambridge driver Andy Schofield with another local driver, Mitchell Beach, third.
Finally, there was a third different winner in as many rounds in the Arai Rotax Junior class, Palmerston North driver Dylan Drysdale qualifying third quickest but winning both heats as well as the Pre-Final and Final very much as he liked.
After being in a class of his own at the rain-lashed second Rotax series round in Rotorua last month, defending class title holder Marcus Armstrong from Christchurch found himself under attack from all sides this time.
But he kept a cool head and with seconds in the heats, a third  – behind Drysdale and Rotorua's Ethan Anderson – in the Pre-Final and another second to Drysdale in the Final, he is now second in the points standings, equal with Trey Nairn and just three points behind new class points leader Taylor Harte, who finished third in the Junior Final at Hamilton.
The weekend's Rotax Max Challenge New Zealand round was the third of six with KartSport Bay of Plenty set to host the fourth at Fagan's Valley Raceway near Te Puke over the June 07-08 weekend.
2014 New Zealand Rotax Max Challenge supported by Schwarzkopf Professional
Logitech 125cc Rotax Max Light
Final
1. Daniel Kinsman 15:41.981; 2. Andy Schofield +01.330; 3. Mitchell Beach 01.641; 4. Campbell Joyes 06.688; 5. Fraser Hart 07.333; 6. Jonathon Buxeda 39.262; 8. Daniel Connor 14.649; 9. Mathew Kinsman +1 lap
Points after Rnd 3 of 6
1. Daniel Kinsman 263 points; 2. Mathew Kinsman 257; 3. Andy Schofield 240; 4. Daniel Connor 237; 5. Reid Harker 229; 6. Andrew Hoare 223
Platinum Glass Rotax Max Heavy/Masters
Final
1. Ryan Urban 17:01.789; 2. Aaron Cunningham 02.608; 3. Tiffany Chittenden 06.175; 4. Zach Zaloum 06.244; 5. Matthew Grant 08.938; 6. Niki Urwin 15.926; 9. Ryan Bailey 21.540
Points after Rnd 3 of 6
1. Ryan Urban* 273 points; 2. Tiffany Chittenden* 248; 3. Zach Zaloum 247; 4. Aarron Cunningham* 245; 5. Matthew Grant * 235; 6. Ryan Bailey 228
Arai Rotax Junior
Final
1. Dylan Drysdale  16:51.473; 2. Marcus Armstrong +02.335; 3. Taylor Harte  +14.923; 4. Michael McCulloch 05.018; 5. Caleb Huston 06.350; 6. Zach Thompson 06.592
Points after Rnd 3 of 6
1. Taylor Harte 246 points; 2. Marcus Armstrong 243; 3. Trey Nairn 243; 4. Michael McCulloch 239; 5. Dylan Drysdale 235; 6. Caleb Huston 230