WKA Road Racing Series Resumes Season with Grattan This Weekend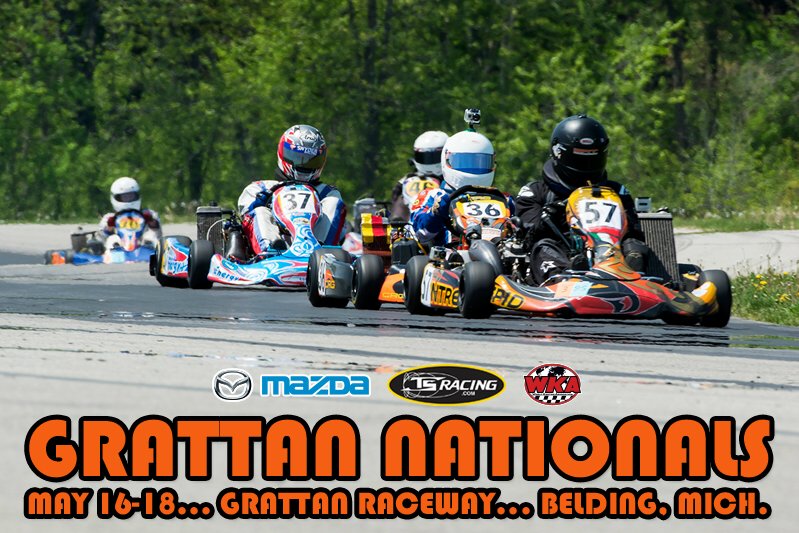 The WKA VEGA / TS Racing National Road Racing Series is back in action this weekend with the first WKA national event of the 2014 season north of the Mason-Dixon Line.
The third round of this year's Road Racing tour has the series visiting the scenic land of west-central Michigan and Grattan Raceway, located in the small town of Belding, about 25 miles north of Grand Rapids.
This weekend's event marks the third consecutive year the Road Racing Series has traveled to Grattan for a Dart Kart Club-hosted national event. The 2012 and 2013 versions of the event provided strong competition in a host of divisions, and drivers have promoted rave reviews of the 10-turn, two-mile course. A number of racers have called Grattan their favorite track on the circuit, and the event has seen support from all areas of the eastern half of the country.
Last year one class category that did not see a large turnout at Grattan was the 4-cycle divisions. While most other tracks on the Road Racing circuit boast solid numbers in the Briggs Animal divisions, many of these racers – many located on the East Coast – did not make the trek to Michigan.
However, this year we know of several Briggs and Clone teams heading to Grattan which should increase numbers in the 4-cycle classes, including Paul Rice's North Carolina-based MGM Chassis team, Sam Sheckells from Maryland and Blake Beattie and Ben Thomason from Georgia.
In 2013 the Formula 125 division saw one its best turnouts ever with a double-digit entry count of fast 125cc laydown enduros. We're looking for another good showing for the Formula 125 and Unlimited-style karts. The Arkansas-based Rev-Clean Racing team of Brian Wilhelm and Mitch White, who field a couple of the fastest 125cc karts in the country, have committed to returning to Grattan this weekend.
Other divisions that normally pull strong numbers at Grattan and the Midwest road races include Yamaha Medium and Heavy, sprint shifters, TaGs and Controlled laydowns.
Grattan gates will open Thursday at 6 p.m. and pre-entry pickup and registration will be available Thursday evening until 9 p.m.
Friday will mark a full day of group practice before seven race groups take the green flag Saturday and another six race groups to close out the weekend Sunday.
Go to HERE for the Grattan Nationals entry form, which includes directions, lodging, the weekend schedule and other important information.