Race Report: Gearup Challenge/Northeast Shifter Kart Series – Round 1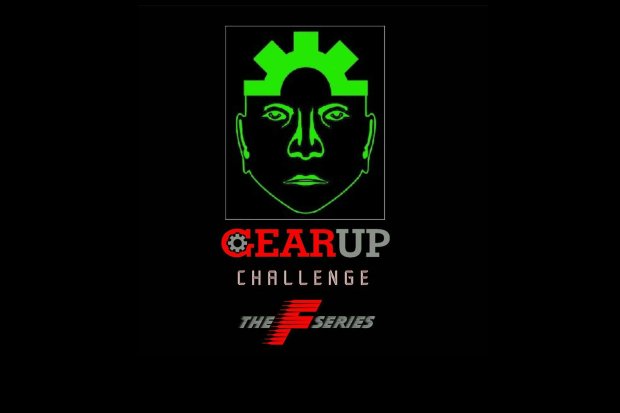 Round One of the Gearup Challenge & Nesks is now in the books and what a turnout it was!! A record number of entries with the top talents in karting in attendance at the Liberator configuration at NJMP on May 4th 2014. We are flattered that the drivers and teams that have chosen the F-Series and look forward to a fabulous year of competition. Of course no racing event can ever go as smooth as planned but we are happy to report all competitors involved are on a good road to recovery. As for our individual class race reports, their was some awesome battles making for an interesting read.
DRT Racing Formula 355 is always and exciting class to watch and to know surprise as it was the real deal. Alesandro Bressan and J3 put a stamp of authority on the race with three dominant race wins. Starting the day off on a real positive was Andrew Budjoso of Checkered Motorsport taking the pole position. Having some difficulty with turn one, of race one seen Andrew having to battle his way forward most of the day ending the race day fifth overall. Mark Boos's Ikart battled with Austin Mccusker's Hasse most of the day and they were so equally matched at the end of the day the points had to be decided by the better result in qualifying. Austin McCusker took Boos by one spot in qualifying to take the second spot on the podium over Boos's third on the step. John McCusker looming ready to pounce missed second spot by only two points after a real solid consistent day of racing. We are very certain his consistent driving will be felt by the rest of the field over the season. 2013 Champion Carter Fartuch had a tough day looking for those few tenth to break into the front pack. We are confident with the resolve and determination the team posses he should be there for round two in a few weeks.
Contemporary Mercedes-Benz Formula 125 presenting the largest field of the weekend. The race belonged to PCR pilot Chris Giumara and his new team Checkered Motorsport. Joining the team just this season it seems it is a flawless transition as the consistency and reliability were on point. J3 brought some tough customers as Tyler Schramm had a good race finishing the day in 2nd overall. Of course our 2013 F125 Champion DaCosta was not going to make it easy for anyone as he fought hard bringing his #78 IKart into third place.  Unfortunately our day was not as smooth as we anticipated as Mike Kovalosky had a substantial accident in race one. As a competitor seized his engine directly in front of Michael leaving the Swiss Hutless pilot no place to go except over his left wheel. Taking flight was not what Kovalosky had in mind but what was in store with a very abrupt landing. However we are happy to report Mike is feeling better and making a recovery with a return planned as soon as possible. In our pre season release we had Mike pinned to be our biggest mover in the championship, we hope he can make his return soon so he can prove us right. MMK racer Phil Pignataro showed some awesome speed having some very intense battles with DaCosta coming home with a very solid 4th overall. As always Maestri showed consistency and even though he had a tough day we are confident to see him molding the championship to his liking. We look forward to a fabulous championship chase as it has become a real important to win this title!!
Compressed Air Equipment Formula R was such a pleasant surprise for us as the class being new to the series. We had our doubts that it would take off right from the start but we are super excited to report it was a fantastic turnout with top talent. Billy Ogle last years Formula Tag Champion started his year off right with a win on his new DRT racing chassis. It was very apparent Chris McGinley, Adam Pettit and Carson Kapica did not make it easy for each other as they were fighting like cats and dogs over the podium positions. Jeff Clyde had a very solid run finishing out with a top five finish. The solid start and top notch racing for round one should see the class become one of our biggest in no time. We would like to thank all of our Rotax racers for their support to getting this program of the ground so promising!
KartingConnect.com Formula Tag was not the biggest field of the day but the racing was exciting to watch as Brad Nyman drove his #4 Ikart like a man on a mission. Taking two of the three races Nyman fell just short of the overall victory as Jimmy Fatum consistent as usual worked the points to maximum. Michael Terkildsen debuting his Rok TT in his trusty Biesse grabbed a very strong finish on the third step of the podium.
RTR Racing Formula J was not short on competition or action as the field gave it their all to put on a fantastic show. Starting the day on a really high note was Dario Cangialosi grabbing pole position over Julia Boos. The first turn of race one seen things get a little to close for comfort and Cangialosi's day went from good to bad in a split second having to play catch up for most of the day. 2x time Formula J Champion had no such trouble taking his Checkered Motorsport PCR to two out of three race wins for the day claiming victory for round one. Devin Wojcik came out this year like bullet equaling Ruocco's day finishes and only loosing the top step due to a tie breaker of qualifying. Very impressive, consistent runs by racers such as Dan Nyman, Theo Chick, Julia Boos and John Paul Southern saw the points very close for 3rd overall. Very impressed with some competitors making the transition from a Formula S are Conrad Krawiec and Julian Peacock we are certain these two are the ones to watch as they had no troubles adapting. Of course the racing could not just stay exciting but instead turn scary as the third and final race of the day seen Wyatt Schwab and Craig Pellegrini get into each other with an injury to both drivers that caused a red flag situation. We are happy to report that both drivers are recovering and are anxious to make a return as soon as possible.
Vortex Formula Rok is off to a great start with the racing being very tight and all its competitors smiling at the end of the days event. Justin White from Kartworkz had a fantastic start to his season and claimed all three wins of the day. As Syfyan Waryah and Rocco Tedd battled it out for second and third while Pierce Tetlow claims fourth overall fighting throttle cable issues most of the day. Christian Oldhafer had a miscommunication with his team and suffered a disqualification for a tire infraction. After speaking with him he is very determined to learn from his mistake and continue to push for the championship.
Sufyan Waryah Formula S was a close battle as Brian Tremper and Amelia Cangialosi were only a second apart for majority of the days three finals. It looks like the two Haase pilots had it decided in qualifying as the lap times were so close to make a pass would have been risky. Jack Manzari and Sufyan Waryah were dialing in their race engines and promise to close the gap for round two at Etown. Surprise of the weekend was Rocco Tedd as he had multiple engine issues not being able to contest round one in Formula S.
NESKS Stock Moto gained huge popularity within the series as stated in our pre season press release. The Checkered Express of Kyle Smith and Robert Budjoso with Stark Industry prepared Honda's were tough customer for the rest of the field claiming pole position, prefinal and then the final! Josh Lane had something for the PCR duo but had a mechanical failure early on in the final. Paul Mackarucha set a very steady fast pace first time out in his Stock Honda shifter and will surely be a threat for the top step of the podium. Positions four to eleven were covered by very little and should produce some really exciting battles as the Stock moto aces hone their equipment to perfection in the coming races.
NESKS ICC/KZ is one tough group as these guys have their top tier equipment honed to perfection. Max DiBella sets fast time with a 35.860 with Brandon Jarsocrak only 2 tenth off. Starting the pre final in third Bernard Muminovic less than a tenth behind is ready to attack the start. Rounding out the top five in the pre final was Alex Manglass and Michael Rivera. Manglass the 2013 KZ Champion closed the gap working his way up to a third starting spot for the final. The standing start of the final sees a number of competitors jump the start including the pole man Brandon Jarsocrak as well as Muminovic and Abrahams. The finish order of the final will see a number of penalties and the final result will see Max DiBella as the winner for round one and Jarsocrak and Rivera completing the podium.
Round two at Oldbridge Township Raceway Park on May 23rd & 24th should be just as exciting as the drivers and constructors championship take shape. Make sure to check www.f1series.com for all event details.