European CIK-FIA KF and KF Junior Championships Ready to Begin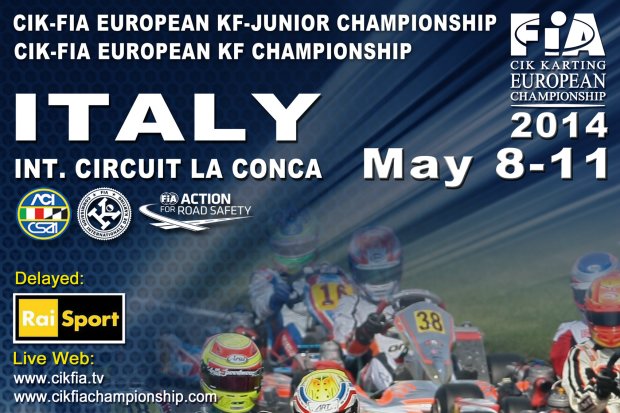 The European CIK-FIA KF and KF Junior Championship starts next week with the first round out of five of the 2014 season. The season opener, from 8th to 11th May, is hosted by the International Circuit La Conca in Muro Leccese (Italy). This is the first event of the whole CIK-FIA season: the season begins with the European titles and, then, continues with the World titles. The cooperation between CIK-FIA and WSK Promotion continues. WSK, this year too, organizes the CIK-FIA events. The KF categories drivers have five appointments on their schedule: on three occasions KF and KFJ will race on the same days; in the other two rounds, each category is paired alternatively with one of the two rounds of the CIK-FIA European KZ and KZ2 Championship. Moreover, in Genk will take place the 1st of 3 rounds of the CIK-FIA Academy Trophy, together with the 3rd KF's European round.
World Wide TV promotion
WSK Promotion's media coverage of the events is always very accurate. The live streaming on the Internet channels www.cikfiachampionship.com and www.cikfia.tv has been confirmed: on Sunday 11th it will be possible to watch the final phase of the racing schedule of both the categories. The TV delayed broadcast of the event will be aired by Rai Sport in the week following the race. Always on the same channel, the usual special TV report with the highlights and the interviews of the protagonists from Muro Leccese.
The protagonists in Muro Leccese
There are 141 entrants to both the categories. All of them are going to challenge each other for a prestigious title in a rather demanding race. Free practice starts on Thursday 8th. On Friday 9th the race  begins officially with qualifying. Saturday 10th will be entirely dedicated to the heats and, then, on Sunday 11th, the Finals. All the big names of KF are taking part in the event, with the exception of Max Verstappen, the reigning European champion, who is now a F.3 driver. There will be the British Tom Joyner, the reigning World Champion, his fellow countryman Lando Norris, reigning KFJ European Champion and the Italian Alessio Lorandi, the reigning KFJ World Champion. Among the younger KFJ drivers, there will be also lots of talented young drivers, eager to prove their skills.