Rotax Max Challenge United States Grand Nationals Information Released
Event schedule, hotels and other pertinent information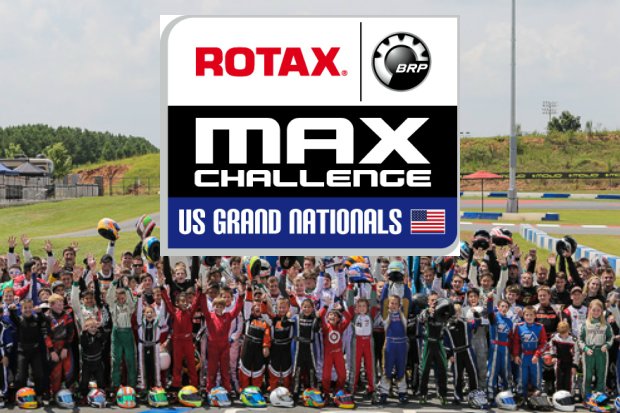 With the 2014 Rotax MAX Challenge United States Grand Nationals set for mid-July, event information is beginning to take shape and be finalized. With a tentative event schedule, hotel partners and information on pit spaces, garage spaces and parking complete, online registration will open in the very near future for what is sure to be another incredible MAXSpeed promoted event.
"The Rotax Grand Nationals are coming along nicely with information and details being finalized on a weekly basis," expressed Josh Smith, Director of the United States Rotax MAX Challenge. "We have secured a solid event sponsor and a great list of hotel partners that are ready and waiting for your hotel bookings. The tentative event schedule is complete along with other information posted on the GoRotax.com website."
Smith added, "We are also urging all teams and drivers to get their pit request and garage request emails in early. We are expecting a very large turnout and want to ensure we have a proper pit location for each and every entrant."
Pit parking and garage parking requests should be submitted to Josh Smith via email at josh@gorotax.com. Please visit HERE for more information on sizing and pricing. Powered and non-powered R/V spots are also available and can be reserved by emailing Josh Smith. Teams and drivers looking to rent a tent need to do so through Miller Motorsports Park by calling 435-277-7223. Be advised that staking into the asphalt will not be allowed, and concrete or water barrels will have to be used and are available through the track.
The tentative schedule of the Rotax MAX Challenge United States Grand Nationals can be found HERE. Please note that the event format has changed from year's prior, and the MAXSpeed Group urges everyone to review the schedule in advance to be aware of the changes and plan for the event.
A list of hotels offering discounts for the Rotax MAX Challenge United States Grand Nationals is available HERE. To make lodging arrangements please contact the hotels directly and be reminded that space is limited at each location.
Also, the current punch list for drivers is available to view HERE.  All drivers wishing to attend the Grand Nationals should refer to the list to check punches and ensure they have four punches attained, or planned, before the National event.  Any issues with the punch list can be directed to Christine Rodriguez via email at christine@gorotax.com.
Please refer to the GoRotax.com website under the U.S. Rotax MAX Grand Nationals page for complete information as it is released.
For more information on the MAXSpeed Group, promoted events including the Rotax Summer Shootout, Rotax MAX Challenge United States Grand Nationals, Rotax Pan American Championships, Rotax MAX Challenge Grand Finals, Team USA and the entire Rotax program, please visit www.GoRotax.com. Be sure to like GoRotax on Facebook (www.Facebook.com/GoRotax) and follow on Twitter (www.Twitter.com/GoRotax).