Mick Gabriel Wins at Kershaw, Sets Sights on Great Lakes and Manufacturers Cup in 2014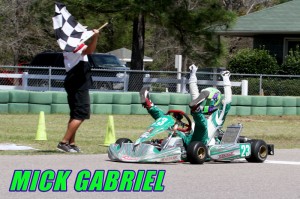 Mick Gabriel opened his 2014 season on a strong note earlier this month at round two of the WKA Manufacturers Cup Series at Carolina Motorsports Park.
Mick and his father, Michael, traveled from their Crown Point, Indiana, home to the South Carolina sprint course to compete in the TaG Senior divisions. Gabriel was fast throughout the weekend, wheeling his No. 23 Tony Kart to a big win in Saturday's TaG Senior 1 main event before finishing a close second to Dustin Stross in Sunday's TaG Senior weekend capper.
Gabriel opened each day's TaG Senior program, which consists of qualifying, a pre-final and main event, with lackluster qualifying efforts aboard his Tony Kart. In Saturday's program, Mick timed at a 49.155 around Kershaw's 0.7-mile course, good enough for a sixth-place starting spot in the pre-final.
Gabriel advanced one spot in the final to finish fifth and start in that position for the 14-lap final. But once the final started, Gabriel came to life, quickly advancing to the third spot on the start and riding in that position until he passed Stross for second on lap 7. The Hoosier spent the second half of the race hunting down leader Garrett Johnston, and making the pass on the New Jersey driver on the final lap to score the popular victory.
Mick's Sunday TaG Senior program was very much like Saturday's. He would qualify sixth for the second consecutive day and advance to finish fourth in the pre-final. Gabriel rode third for most of the final before making another lap 7 overtaking move, this time on Cal Stewart. But on this day Gabriel wouldn't have quite enough to make it past Stross for the win in an attempt to sweep the TaG Senior finals on the weekend. Mick settled for second, giving him a win and runner-up finish on the weekend.
"The weekend didn't start out great but we found the speed when it counted and turned it into a very good weekend," the 18-year-old Gabriel commented. "Walking away with a win and a second was a great way to kick off our season and I'm also really proud that we set the fast lap time in both finals. I couldn't be happier about our speed, as well.
"I'd like to thank my dad for of course giving me a great kart all weekend, Brian Seward for the excellent power and support and Franklin Motorsports."
The Gabriel team will now look compete in the Great Lakes Sprint Series opener next weekend, May 1-3, at MichianaRacewayPark near South Bend, Indiana. Gabriel plans to compete in the entire Great Lakes program in 2014.
The next Man Cup race will have Gabriel back at MRP June 27-29 for round three of the national series. Mick says he and his dad plan to run the remainder of WKA's Man Cup Series in 2014 and may hit a USPKS event or two, as well.
Mick Gabriel is an 18-year-old two-cycle sprint kart racer hailing from Crown Point, Indiana. Gabriel is a WKA Manufacturers Cup feature winner and finished second in the TaG Senior 1 feature in 2013 at the Michiana Raceway Park Man Cup Grand Nationals. Gabriel rides No. 23 Tony Karts prepared by his father, Michael, and is supported by BBS Karting Technology and Franklin Motorsports.
To learn more or contact Mick, visit the Mick Gabriel Racing Facebook page.
Press written by New Concept Race Media. For more information, visit http://newconceptracemedia.com