David Malukas Nets Three Wins Between WKA, USPKS Rounds in Carolinas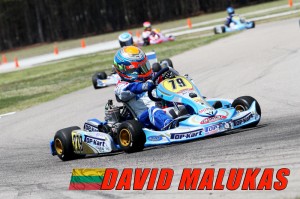 David Malukas made his case as one of, if not the hottest Junior 2-cycle kart racer in the country this month with impressive weekends at the World Karting Association's second round of the Manufacturers Cup Series and the season-opening event for the United States Pro Kart Series' four-race national tour.
Malukas, 12, raced his Top Kart USA No. 79 to three wins between WKA's April 4-6 Man Cup show at Carolina Motorsports Park in Kershaw, S.C., and the USPKS's April 11-13 opener at GoPro Motorplex in Mooresville, N.C.
The HMD Trucking team kicked off the month with a strong weekend at Kershaw. Malukas, who won twice at Kershaw in 2013, added another triumph to his resume at the South Carolina venue with a win in Saturday's Parilla Junior 1 main event.
Malukas made a daring last-lap pass on Top Kart teammate Zach Holden to score the victory. He returned Sunday to run a strong second to Tazio Torregiani in the Parilla Junior weekend capper. The first- and second-place finishes netted David the overall weekend win in Parilla Junior, earning the team a $500 bonus posted by Arai Helmet and Butler Built Seat Technologies.
David also competed in the Yamaha Junior class at Kershaw and posted a fifth-place finish Saturday and a close runner-up finish to Brandon Lemke on Sunday.
"We always like going to Kershaw for WKA," David commented. "I like the track and we've won some races there. We left with one win and would have liked to get more, but we're still very happy with the results. Wes (Phillips) and the Top Kart team had our karts working well and it was fun to race again with the (IAME) X30 engine."
A strong weekend for David at Kershaw led to an even stronger weekend just a few days later at the popular GoPro Motorplex.
The USPKS opened its four-race 2014 campaign the second weekend of April with Yamaha Junior and Leopard Junior offered for David's age group.
Malukas, who earned a Komet Junior WKA Man Cup win in September at GoPro, started where he left off at the Mooresville venue, scoring the pole and winning Saturday's Leopard Junior main event over Ryan Norberg. With Leopard Junior a new class in USPKS, David will go in the history books as the first-ever winner in the new division.
David also posted the pole time in Saturday's Yamaha Junior main and was the only driver to time under the 52-second mark around GoPro's 0.7-mile course.
Malukas nearly made it two-for-two on the day when he attempted to pass Holden on the final corner for the win. The teammates made contact and Holden pushed wide into the grass as David looked for traction on the pavement. Holden raced through the race and back onto the track just before the finish line, edging out David in a wild finish.
Sunday marked a new day and another pair of top-five finishes for the Chicago wheelman. On this day David would win Yamaha Junior and run to a fourth-place result in Leopard Junior.
In Leopard Junior Malukas led for a time and battled for the win but would have to settle for fourth. However, his win Saturday coupled with the fourth-place result Sunday were enough to garner David a $500 bonus as top overall finisher on the weekend with Holden.
The Yamaha Junior weekend capper saw David make another last-lap pass for a victory. This time the overtaking move was on local racer Max McLaughlin, who was also riding a Top Kart. David's win and second-place run Saturday gave him the overall weekend win and another $500 check.
"GoPro is a great track and a lot of fun to race at," David said. "We've made a lot of laps at Mooresville the last couple years and to come home with two wins at USPKS is a really good accomplishment. I have to thank my dad, Wes, Top Kart, Comet Engines and of course HMD Trucking for making it all possible."
Between the two weekends of national racing in the Carolinas, astoundingly David never finished outside the top five, netting three wins, three seconds, a fourth and a fifth. He brought in $1,500 in awards for his top runs.
Next up for the HMD Trucking team is the SKUSA! Spring Nationals May 2-4 at Dallas Karting Complex. The team will head to Texas this weekend to race at Dallas Karting Complex to prepare for the upcoming SKUSA! Pro Tour national event.
The next USPKS event is June 20-22 at MichianaRacewayPark in South Bend, Indiana.
The next WKA Man Cup race is June 27-29, also at MichianaRacewayPark.
David Malukas is an 12-year-old national sprint go-kart racer from Chicago, Illinois. Malukas is a multi-time feature winner in Junior divisions in national World Karting Association Manufacturers Cup competition, USPKS, WKA Great Lakes and Route 66 sprint regional series.
Malukas is the 2013 MAXSpeed Rotax Mini MAX Invitational champion at NOLAMotorsportsPark and the 2014 Florida Winter Tour Formula Kart TaG Junior champion.
Malukas rides No. 79 Top Karts for Top Kart USA and is proud to be sponsored by HMD Trucking. For more information, visit DavidMalukas.com.
Press written by New Concept Race Media. For more information, visit http://newconceptracemedia.com