eKartingNews.com Driver of the Month – March 2014 – Josh Lane
DRT Racing driver bags headline victory at Lone Star Grand Prix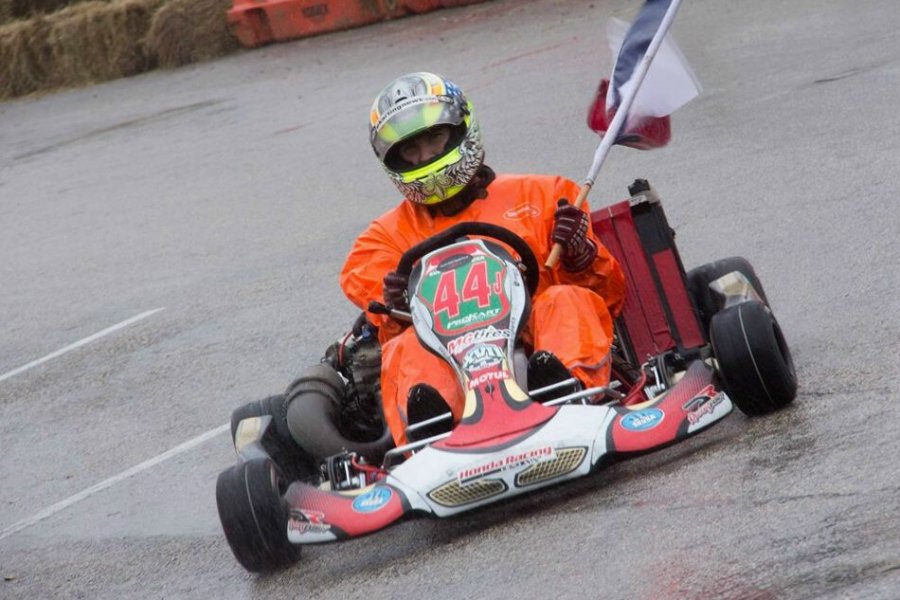 Lane won the headline Stock Honda Light division at the Lone Star Grand Prix (Photo: lonestargrandprix.us)
In a continued effort to highlight the many outstanding performances by drivers around the country, eKartingNews.com is proud to introduce the 'Driver of the Month' program. Each month, the staff at EKN will determine the one driver who stood out above the rest and give the viewers a chance to know exactly what they accomplished and who they are.
Street racing takes a certain inner drive and personality. As many drivers have put it, you need some big 'cojones'. A street course is often a blind race, as you make your way around corners, not knowing what is on the other side of the apex. Rather than racing a circuit with plenty of runoff room and grass, it's a line of barriers and hay bales that form a tunnel and leave no room for error. A nickname of 'Wild Thing' fits street racing just perfect, as does DRT Racing's Josh Lane. The Illinois driver loves speed, no matter if its snowmobiles, stock cars, or karts. Lane and street racing just have that perfect match, with Lane becoming a two-time winner at last month's Lone Star Grand Prix in Lonestar, Texas.
Lane was a winner at the first Lone Star Grand Prix held in the Dallas area around the famous Cotton Bowl. It was a combination of street racing and road racing, with a long circuit that utilized portions of the Formula One Grand Prix in 1984. As a longtime road racer, Lane adapted to the course right away and scored the Stock Honda Light. Fast forward to 2014, Lane was among the favorites entering the event in downtown Lockhart.
The weekend began with the Open Shifter division, as Lane contested the class with his Stock Moto entry. Lane was third in qualifying, second to SuperNationals S2 winner Connor Wagner and defending LSGP champ Jake French. Josh was the quickest driver in the Prefinal, however, was unable to work past Wagner piloting a KZ package.
With the focus on the headline Stock Honda Light division, Lane was primed for the pole position. The DRT Racing driver was among the quickest in the 35 driver field, but settled for a third place result in the timed session. He held the position through the Prefinal, unable to work past Ryan Kinnear of race winner French.
Sunday brought on tough wet conditions, with temperatures dropping 30 degrees to near freezing and a steady rain just as opening ceremonies ended. Starting outside row one in the Open category, Lane stalled before the lights went out to begin the 10-lap event. He stood up in the seat and waved his hands to alert the drivers behind him, and once the field left, he jumped out to restart his kart. Lane took to the wet track like it was dry, knifing his way into the sixth position on the opening circuit, passing five drivers after starting dead last with a stalled kart. Posting lap times 1.5 seconds quicker than leader Wagner, Lane was up to the second spot quickly and reeling him in. The pressure mounted and Wagner went off in turn one, handing the lead the Lane. The race would be red-flagged however as Wagner plowed into the barriers and injured a corner worker who thankfully returned later in the day with minor injuries. Lane was given the provisional win, but was removed from the results for a leaving the seat of his kart. LSGP rule 8.11 states that 'Drivers are not allowed to restart after exiting their kart'. Though the win was taken away, it could not demote his performance on the soaked race track that had the brave fans along the fence line cheering.
The Stock Honda Light feature lined up for the eight-lap main event on a wet circuit, with all focus on Lane to see if he could match the previous run. Lane went from the P3 grid position, starting directly behind defending champion French. They ran 1-2 through the opening corners, until Josh dove inside at the turn six hairpin to take over the lead. French settled in behind Lane, but the DR Kart was quick, just as he was in the previous race. Josh pulled out to a 1.4-second advantage, pacing roughly two tenths of a second quicker, for his second class win in three years.
Speaking with Lane during the podium ceremonies, he spent time at the OaklandValleyRacePark during some rainy days last summer, learning how to adjust his rain driving style and setup from what he was used to doing. During the ceremony, a trip to compete at the Granja Viana 500 in Brazil was presented by MG Tires. Lane was the lucky random drawing recipient, and will travel to famous endurance karting event later this year.
March 2014 EKN Driver of the Month – Josh Lane
Bio
Born: May 4, 1988
Hometown: Algonquin, Illinois
Marital Status: Married to my lovely wife, Ariana Lane
Children: Ava Arai and Gage Carter
Height/Weight: 6'1" / 185lbs.
Education: N/A
Occupation: General Forman at CJ Drilling
Racing Resume
Chassis: DR Kart s97, DR Kart M92 Evo
Engine/Engine Builder: 2001 Stock Honda/Lane Honda with shared efforts of Fisher Racing Engines
Sponsors: DRT Racing, MG Tires
Series You Compete In: Superkarts! USA Pro Tour, North East Shifter Kart Series, Championship Enduro Series, WKA
Years Karting: 19
How did you get started in karting? Christmas 1995, I received a kart and my first time racing was May 3, 1996 at Norway
What has been the high point in your racing career? It's hard to say with some of the car stuff we did inter mixed through the years. Honestly, for me the biggest achievement was simply winning a heat race in Vegas (SuperNationals), because it was against some of the best drivers in North America. I personally felt a huge sense of accomplishment.
What are your goals in racing? To keep proving to people and young kids that a big heart and desire can go a long way in life.
In a few words, how would you describe your driving style? Well I guess you guys call me "wild thing", but I don't really know exactly the meaning behind it. I'm definitely aggressive and on a fine line of hanging it all out there. My goal is to always drive a hard race and stay in one piece.
Funniest moment at the race track? I'm all about fun. I don't think there's a weekend that I couldn't tell you something funny about something at the track. Nothing in particular comes to mind that I deem appropriate.
Likes
Favorite Track: LSGP 2012! Anything temporary is what I enjoy the most.
Favorite form of professional motorsports: I would have to say dirt sprint car racing catches my attention the most and it says professional. I don't have cable so I don't follow anything.
Favorite karting driver: I'd have to say my dad because he's old and still has it. I love it when he kicks the young kid's asses.
Favorite professional driver: Either Kyle Busch or Jimmie Johnson, they both have a ton of natural talent.
Favorite website: eKartingNews.com duh
Favorite movie: N/A
Favorite actor/actress: N/A
Favorite music/group: I can't even remember the last time I listened to anything more then five minutes, without my phone ringing. If I had to choose, I would say XM Station 44 Hip Hop.
Favorite vacation/activity spot: What's vacation?
Favorite food: Lobster tails
The Real Deal
What do you do when not at the track? Work and that's all
What are your goals outside of karting? To not get too fat, be a better dad to my kids and better husband to my patient wife.
What type of street car do you drive? 2013 F350
What type of street car would you like to drive? 2014 CTS V
What are your pet peeves or things that irritate you? Laziness, people who have no care in the world, people who don't own up to their mistakes and people that call in sick.
What do you think could be done to improve the sport of karting? Less classes and more temporary circuits involving the local community!
What are your favorite aspects about the sport of karting? It's a family sport, the competitiveness and that so many people would go out of their way to help the guy next to them.
March 2014 Driver of the Month – Honorable Mention:
– Oliver Askew: Florida Winter Tour – Senior Max Champion (Team USA third straight year)
– Trey Brown: California ProKart Challenge – 2 Wins (TaG Cadet)
– Pedro Cardoso: Florida Winter Tour Junior Max Champion
– Scott Falcone: Lone Star Grand Prix/Florida Winter Tour – 2 Wins (TaG Senior and TaG Masters)/Team USA ticket (second straight year)
– Reece Gold: Florida Winter Tour Micro Max Champion
– Nick Neri: Florida Winter Tour – DD2 Champion (Team USA – fourth time)
– Gianluca Petecof: Florida Winter Tour Mini Max Champion
– Luis Schiavo: Florida Winter Tour – Masters Max/DD2 Masters Champion