WKA Gold Cup Series Champions Recognized at 103rd Street in March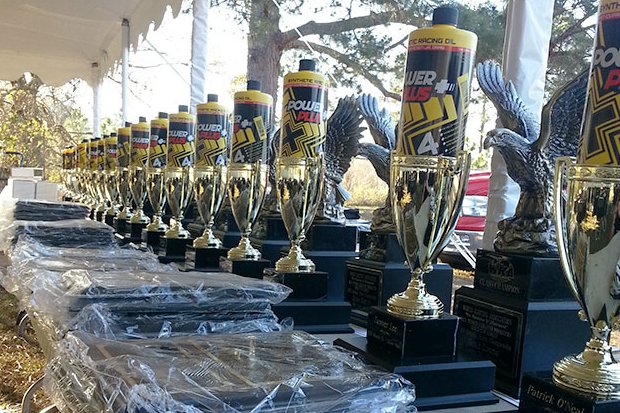 Thousands of dollars in awards and merchandise was awarded at the 2013 Gold Cup awards ceremony in Jacksonville (Photo: NCRM)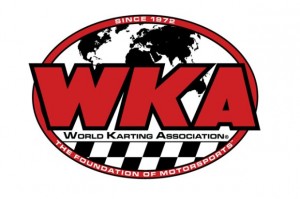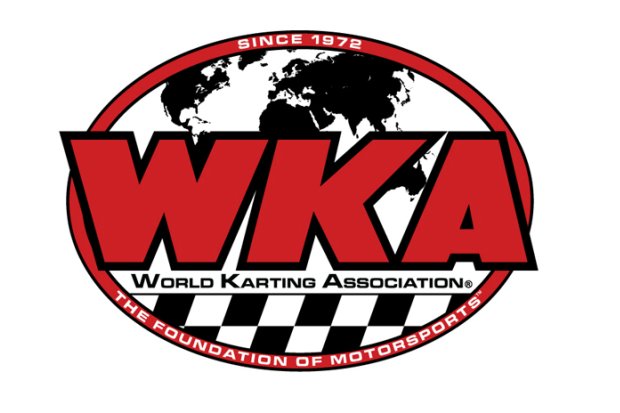 The 2013 World Karting Association RLV Tuned Exhaust Products Gold Cup Series top award winners were recognized at the year-end awards ceremony Saturday night, March 8 in conjunction with the 4-cycle sprint series' 2014 opener at the 103rd Street Sports Complex in Jacksonville, Florida.
Gold Cup national champions were met with an impressive awards package that saw class champions awarded a WKA Eagle trophy, set of Bridgestone tires, set of Van-K wheels, an RLV kart stand, WKA champion jacket, drivers suit and other contingencies and prizes.
The McDonough, Georgia-based Razor Chassis, owned and operated by Steve and Stacy Roberts of Roberts Kart Shop, opened the ceremony by accepting the 2013 Manufacturer championship as the series' top chassis winner. Last year marked the second consecutive year Razor had won the Gold Cup Manufacturer championship, and they accomplished the title in a very close race with 10-time WKA Manufacturer champion Coyote Motorsports.
Coyote actually went into the fifth and final round at CarolinaMotorsportsPark in October leading the chassis points by several wins over Razor. But Razor drivers, most racing relatively close to their Georgia base, reeled off a number of wins at Kershaw to overtake Coyote by just two wins in the final standings.
Roberts accepted his company's second championship trophy at the ceremony and revisited what was another terrific Gold Cup season for himself and Razor's loyal customers.
In addition to Razor and Coyote; Bandit, MGM, Margay, Arrow and JKM chassis all won Gold Cup main events in 2013. Of all the chassis winners, only Arrow (Australia) is not made in America.
LEE, MANNING CLAIM THREE CLASS CHAMPIONSHIPS
Georgia's Tanner Lee and Maryland Travis Manning led all Gold Cup racers in 2013 with three championships each on the 4-cycle national sprint series.
Lee claimed his three championships in the Junior divisions. The Razor driver wheeled his GT Machine-powered karts to national championships in Junior Medium, Junior Pro Gas Animal and Junior Clone.
Lee's biggest triumph came in Junior Pro Gas Animal, which won him a brand-new, race-ready Razor chassis for his efforts. Lee debuted the new mount at Jacksonville this past March and ran well with it in his Senior debut in the series.
In addition to his three national championships, Lee also finished second to Sarah Luoma in the Junior Heavy division.
Manning did his work in the Senior alcohol classes, claiming titles in Animal Lite, Animal Medium and Animal Amateur. After skipping the Jacksonville opener, the MGM Chassis racer wheeled his sleek red No. 28 to seven feature wins in 12 starts among rounds two through five at MRP South Bend, Camden, Pittsburgh and Kershaw.
Manning closed the year strong at Kershaw, winning all three classes he entered and the $300 prize for winning Animal Medium, posted by GT Machine.
A hearty congratulations goes out to Tanner Lee and Travis Manning on their three national championships and superb 2013 Gold Cup seasons.
LEE, MURRY & ZOBKIW WIN NEW RACE-READY CHASSIS AS INAUGURAL PRO GAS ANIMAL CHAMPS
Tanner Lee, Dylan Murry and Dylan Zobkiw all captured WKA Pro Gas Animal national championships in 2013 which included each driver winning a brand-new, race-ready go-kart for their accomplishments.
As noted, Lee won Junior Pro Gas Animal and left CarolinaMotorsportsPark in October with a new full-size Razor chassis.
Georgia racer Dylan Murry won the hotly contested Sportsman Pro Gas Animal national championship in a down-to-the-wire points battle with Maryland's Matthew Miller and Zach Wells and Ohio's David Kalb Jr.
Murry's national title, coming by only 38 points over Miller, earned the Razor wheelman a new Margay Racing Products chassis and Kart City Performance Pro Gas Animal engine.
Murry also won the Sportsman 2 Clone national championship.
In one of the closest points battles in WKA Gold Cup history, Zobkiw and Michigan's Jeff Beatty entered the final round of the series in a near dead-heat for the championship. Beatty, a rookie Gold Cup racer who had led the Senior Pro Gas Animal points for most of the season, stepped up his game at Kershaw and ran extremely well throughout the weekend, highlighted by a second-place run (his best of the season) to Gary Lawson in the Saturday main.
But Zobkiw also came to race for the championship, driving his Coyote Wide Track chassis to a third-place run Saturday to Lawson and Beatty and becoming a mainstay near the front of the pack in Sunday's pre-final and main event.
In a very tense afternoon for the top championship challengers, Zobkiw made a couple key late-race passes in the Senior Pro Gas feature to bring his Coyote to the third position behind Lawson and Chris Wells.
Meanwhile, after being involved in an incident in the pre-final, Beatty had to start deep in the main event field and was mired in traffic for most of the race. The Michigan racer drove the wheels off his Coyote and made some daring late-race overtaking moves, as well. He ended up sixth in the main, but he needed one more position to overtake Zobkiw in the final standings.
Dylan would win the championship by a mere three points over Beatty to earn the new Coyote XP chassis mounted with a new Baker Racing Engines Pro Gas Animal.
In an interesting statistic, neither Zobkiw nor Beatty won a feature in 2013. Both drivers accomplished their best results of the season at Kershaw, a second in Saturday's main for Beatty and a pair of third-place runs for Zobkiw.
Many thanks to Steve Baker of Baker Racing Engines, along with Margay, Coyote, Razor, Roberts Kart Shop and Kart City Performance, for sponsoring the new kart giveaways to Pro Gas Animal national champions in 2013.
HORST, SANDMEYER & TIM STIEFEL NET SENIOR CHAMPIONSHIPS
Matthew Horst, Tyler Sandmeyer and Tim Stiefel each won a Gold Cup national championship in the senior ranks in 2013.
Horst opened the year with a sweep of the Senior Clone main events at Jacksonville and never looked back. The class, which struggled for entry counts at all the nationals after Jacksonville, saw Horst claim the title by nearly 200 points over Florida's Patrick O'Neal.
Horst rode his Razor to his first-ever national championship and continues to follow the series in 2014, racing in the Senior Pro Gas Animal division.
Tyler Sandmeyer rode his GT Machine-powered MGM Chassis to the Animal Heavy national title. Sandmeyer, who's been racing the Gold Cup since he was a Junior 1 racer (he's now 23), nearly swept the season in Animal Heavy. Sandmeyer won four out of the five mains in the class with his only loss a second-place result to Anthony Wimmer at Pittsburgh.
After another national championship in 2013, Sandmeyer and his father, John, show no signs of slowing down. The duo and crew chief Mike Tucker entered six classes at the 2014 Jacksonville opener and came away with one win in Saturday's Senior Pro Gas Animal feature.
Tim Stiefel, another longtime runner in the Gold Cup, earned his second consecutive Animal Masters national title. Stiefel, from Rochester, N.Y., wheeled his Coyote to a dominating championship in the over-35 Animal class.
With the Masters class going away in 2014, Stiefel has turned his attention to the Animal Heavy Mix class, which is open to Pro Gas and traditional alcohol-powered Briggs Animal engines.
CARTER, CORNELL, FAUCI, LUOMA, KALB, TYLER STIEFEL & TORRES CLAIM TITLES
Tanner Carter, Adam Cornell, Nick Fauci (x2), Sarah Luoma (x2), David Kalb Jr., Tyler Stiefel and Nick Torres all raced their karts to national-championship seasons in the 2013 RLV Gold Cup Series.
Carter, a Georgia racer, won the LO206 Kid Kart division in 2013. Tanner claimed five wins in five starts in the five- to seven-year-old class. Tanner actually entered and won the LO206 Kid Kart class at Kershaw in October, which gave him the minimum five races in order to win the points, and moved up to the Sportsman Pro Gas Animal class for Sunday. The youngster looks to continue to run the Sportsman Pro Gas divisions in 2014.
Pennsylvania's Adam Cornell wheeled his Bandit chassis to five Sportsman 2 feature wins last year and his two wins in Sportsman 2 Lite were good enough to propel the GT Machine racer to the championship.
The title marked Cornell's first WKA national championship and it came by just 25 points over Zach Wells. Cornell advanced to the Junior classes in 2014 and raced the opener at Jacksonville but said he wasn't sure if his family team would be able to run the full Gold Cup Series. We all hope Cornell and his team will be back with the Gold Cup for the remainder of 2014.
New York's Nick Fauci swept the Sportsman 1 class championships. Fauci wheeled his Coyote six feature wins in the alcohol Sportsman 1 categories and went on to win title in the Lite and Heavy versions of the class.
In Sportsman 1 Lite, Fauci captured two feature wins but in an awesome statistic he never finished worse than second in five starts. The Baker Racing Engines driver won the championship by just 20 markers over Jason Alder.
Sportsman 1 Heavy, the Sunday version of the category, saw Fauci nearly sweep the season. He won each of the first four rounds of the series until not finishing round five at Kershaw. The Kershaw DNF didn't matter, however, as Fauci's four wins were easily good enough for him to net the class national championship by a big gap over Matthew Miller.
Ohio's Sarah Luoma joined Fauci and Dylan Murry as a double national champion in the Gold Cup in 2013. Luoma wheeled her Coyote to championships in Junior Lite and Junior Heavy in some hard-fought battles with the likes of Tyler Stiefel, Dustin Demattia and Tanner Lee.
Luoma won each of the last three Junior Lite races to capture the championship by 150 points over Stiefel.
In Junior Heavy, Luoma only won once (at Pittsburgh round four), but that win along with four runner-up finishes were good enough to earn her the title by a mere 18-point advantage over Lee.
Luoma did not run the Jacksonville 2014 opener but we look for her and her family team at the remainder of the Gold Cup national events this season.
Ohio's David Kalb Jr. raced his Baker Racing Engines-powered Margay to his first national championship. Kalb won the Sportsman 2 Heavy class in a very tight points battle over Zach Wells. Kalb wound up winning the championship by only six points over Wells in what was the second-closest final standing of the season.
After struggling at the Jacksonville opener last year, Kalb went on a tear, claiming five feature wins in 10 starts in the Sportsman 2 Lite and Heavy divisions. He also went into the final round at Kershaw with a legitimate shot at the Sportsman Pro Gas Animal championship, but had to settle for a close fourth-place finish in that class's final standings.
The Kalb family is running the WKA Gold Cup and Manufacturers Cup series in 2014 as David continues to improve behind the wheels of his karts.
New York's Tyler Stiefel joined his father, Tim, as a Gold Cup champ in 2013. Tyler won the Restricted Junior final standings in what was the last year on the circuit for the class. Tyler won one race on the circuit, coming in the final round at Kershaw, and that win along with three runner-up finishes were enough for him to win the points by a 98-point margin over Tyler Woods.
Georgia's Nick Torres wheeled his Razor to the Sportsman 1 Clone championship. Torres won the championship over Cale Hall to claim his first-ever WKA national title.
The talented youngster won seven of the 10 mains on his way to the championship and also dabbled in the Sportsman Pro Gas Animal division throughout the year. Torres is back in the Gold Cup in 2014 racing full time in the Sportsman Pro Gas Animal classes.
The World Karting Association appreciates and thanks the numerous sponsors and supporters that made the 2013 Gold Cup Series a success. Thanks to series sponsor RLV Tuned Exhaust Products and Bridgestone; event sponsors Coyote Motorsports, Baker Racing Engines, Michigan Kart Supply, GT Machine, Performance North and Jammer Clutches; class sponsors Baker Racing Engines, Kart City Performance, Coyote, Razor Chassis, Roberts Kart Shop, MGM Chassis Co. Miller Welders, Margay, Thor Oil, Van-K Wheels, Performance North and Target Distributing.