WKA Manufacturers Cup Series Champions Honored at Carolina Motorsports Park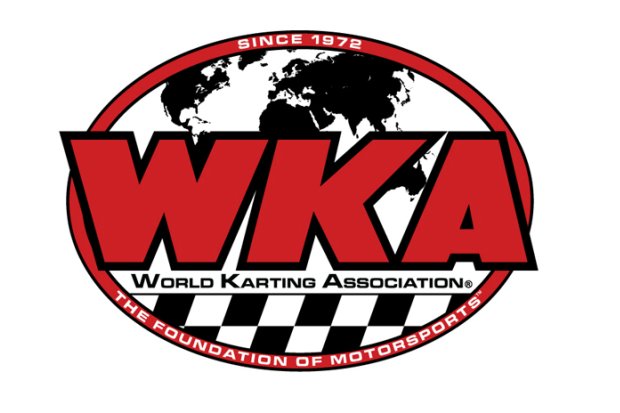 National champions from the 2013 World Karting Association Mazda / Bridgestone Manufacturers Cup Series were honored Friday, April 4 at the Carolina Motorsports Park's Palmetto Club building, where national champions and special award recipients from last year's WKA national 2-cycle sprint series accepted their year-end laurels.
LEMKE BECOMES FIRST TRIPLE CROWN WINNER SINCE 2011
Brandon Lemke and Top Kart USA were the leading award recipients of the evening. Lemke was honored for his 2013 WKA Triple Crown championship, the most prestigious driver award in WKA, while Top Kart accepted its second consecutive Man Cup Manufacturer championship trophy for winning the most main events of any chassis make on the 2013 circuit.
Lemke, from Eagle, Wisconsin, had a stellar year. The Merlin driver wheeled his No. 01 Franklin Motorsports-backed mounts to 12 national feature wins in the Sportsman categories and a sweep of the four Junior Sportsman class championships.
Lemke won the Cadet Sportsman, Yamaha Sportsman and both Komet Sportsman divisions to take home the Triple Crown. He became the first driver to win the top honor in Man Cup since 2011, when Sam Beasley, Joel Jens and Grant Quinlan all won a Triple Crown championship in WKA's premier national program.
After one of the best Junior Sportsman seasons for any driver in recent memory, Lemke advanced to the full-size Junior ranks in 2014 and kicked off his year with a Parilla Junior win at WKA KartWeek at the Daytona International Speedway Margay Sprint Championships, followed by a sweep of Yamaha Junior at CarolinaMotorsportsPark in April. It will be intriguing to see where Lemke's motorsports career leads, and just how many national championships this young Wisconsin racer wins before he closes the book on his karting career.
TOP KART WINS MANUFACTURER TITLE FOR 2ND STRAIGHT YEAR
Top Kart won the Man Cup's Manufacturer championship for the second consecutive year. In all, a Top Kart won a Man Cup main event 38 times in 2013, besting both Tony Kart and Birel by 15 victories in a runaway championship.
Top Kart, led by the former Indianapolis-based Motorama Kart Parts now known as Top Kart USA, has become the largest team in WKA Manufacturers Cup and routinely hosts a tent full of racers of all ages and experience levels.
Manufacturers like Birel, which won the Manufacturer championship four consecutive years before Top Kart bested Arrow in 2013, Tony Kart, PCR, Praga, Arrow, Merlin and the host of other makes that support the Man Cup Series will have their work cut out for them in future years to best the Italian-made blue Top Kart teams in the race for the prestigious Man Cup Manufacturer title.
JARSOCRAK, McCUSKER SPLIT JUNIOR CHAMPIONSHIPS
A couple of Northeast racers split the highly contested Man Cup Junior divisions in 2013. Pennsylvania's Brandon Jarsocrak and New York's Austin McCusker both rode their Mike Doty Racing Haase chassis to national championships on the tour last year.
Jarsocrak kicked off the season strong with a Yamaha Junior win at Daytona and never looked back. The 15-year-old racer proceeded to post wins at round two Kershaw and round three New Castle and completed the second half of the season with a slew of top-three runs to win the Yamaha Junior points by a wide margin over Quinlan.
In all, Jarsocrak won three mains in 2013 and netted nine top-five finishes in 12 starts. He did this in arguably the most competitive division on the circuit, the 12- to 15-year-old Yamaha category.
McCusker had a similar season in the Komet Junior category. The Glen Head, N.Y., native posted three wins in 2013, including a sweep of Komet Junior at the Daytona opener, and only finished outside the top five twice in 12 starts.
McCusker ended up claiming the Komet Junior title by over 300 markers over Quinlan. He also had a solid year in Yamaha Junior, finishing fifth in the final points with a best finish of second to Jarsocrak at New Castle round three.
FERRIS, JOHNSTON, KOTYK, OLSEN & PESEKWIN SENIOR NATIONAL TITLES
Five different drivers raced to national championships in the series' five senior categories.
Scott Ferris wheeled his Top Kart to his second consecutive WKA title in the TaG Masters class. After finishing second and third at Daytona, Ferris would go on a tear, winning seven consecutive main events among the Kershaw, New Castle, South Bend and Pittsburgh rounds. The Saturday main at Pittsburgh round five would mark Ferris' last victory of 2013, but the seven consecutive victories were more than enough for Ferris to clinch the TaG Masters national championship. Steve Schiewer was second and Kim Carapellatti third.
Garrett Johnston posted one of the most impressive seasons in the Manufacturers Cup Series. The New Jersey native advanced to the senior TaG ranks in 2013 after a mostly successful career in the Junior ranks. But the move to Senior seemed to be just what the doctor ordered for Johnston, who raced his Top Kart to three Man Cup national wins in '13 and the Parilla Senior national championship.
Only one of Johnston's wins came in Parilla Senior (two in TaG Senior), but consistent top-five finishes throughout the year were good enough for Garrett to win the title over Jacob Knueven and Derek Dignan. Johnston's last five finals in Parilla Senior made the difference. He won the Saturday main at Pittsburgh round five and finished second in each of the other four year-ending main events.
Florida's Jonathan Kotyk won his first WKA national championship by claiming the top laurels in the TaG Senior class. Kotyk rode his Tony Kart to two wins in TaG Senior, both coming at MRP South Bend round four.
While Kotyk's pair of wins at MRP certainly helped, it was his consistency that ultimately separated him from the rest of the field. Kotyk finished top five in TaG Senior at least once per weekend at every Man Cup round in 2013. His closest challengers weren't able to match this, allowing the OTK racer to win the championship by 91 markers over Jake Johnston and Dignan.
Wisconsin's Patrick Olsen barely edged Kotyk for the national championship in Komet Pro. Olsen opened the season with a win and runner-up finish at Daytona before winning the Saturday main at Kershaw round two. He also won at New Castle and closed the year by sweeping the mains at Mooresville, which allowed Olsen to overtake Kotyk in the final point standings (Kotyk led going into Mooresville).
The title marked another WKA national championship for Olsen, who once rode MRP Birels to wins and championships and now pits under the Top Kart USA tent. Olsen continues as a regular in the Man Cup Series in 2014; he's currently working toward a championship in the SeniorPistonPort division.
Olsen won a new KPV engine kit and $2,000 posted by HYTORC of Texas for the Komet Pro title. Kotyk won $1,500 for second while Darren Brubaker walked away with $1,000 for third.
Ohio's Dakota Pesek was an interesting story in 2013. After riding an Arrow chassis to two straight Yamaha Senior championships, Pesek jumped to a Top Kart last year and didn't miss a beat. Pesek wheeled his No. 79 to four Yamaha Senior wins and a slew of other top-three results to win the title by a 70-point margin over Olsen.
Pesek's dominance over the Man Cup's Yamaha Senior category will end in 2014. The Ohio talent has moved to the Parilla Senior ranks and has already ran fast in the water-cooled TaG application at Daytona and Kershaw.
MARK J. FINEIS WINS ROOKIE
Indiana's Mark J. Fineis capped a fine 2013 campaign with the Manufacturers Cup Yamaha Rookie Sportsman class championship. The Rookie class, which began in Man Cup in 2012 with Alex Verhagen claiming the championship, became one of the series' most competitive divisions in 2013 with over 20 talented youngsters regularly starting Rookie main events throughout the year.
Fineis out-did all of his competitors, wheeling his Birel mount to only one victory (Saturday final at MRP round four), but finishing second on four different occasions and posting a total of nine podium (top-five) finishes in 12 starts.
Fineis would claim the title by 122 points over Tyler Ferris. Jeremy Fairbairn was third.
The Fineis family has put karting on the back burner for now. Mark and his brother, Luke, are racing some motocross in 2014 but father Ken Fineis says the family may return to karting later this season.
The World Karting Association thanks and appreciates the sponsors and supporters that made the Manufacturers Cup Series a success in 2013. Series sponsors Mazda and Bridgestone; event sponsors Margay Racing Products, Top Kart USA, Mazda, Checkered Motorsports, Zero Error Racing, McLaughlin Motorsports and RACERSITES.com; class sponsors HYTORC, DRT Racing, Grand Products, MRP / Birel, Margay Racing Products, GT7 Motorsports, KoeneUSA.com, Woltjer Racing Engines, Verde Speed Resources, Orlando Kart Center, OTK, Franklinkart.com, Comet Kart Sales, New Jersey Sprint Series and Mike Doty Racing; and special award sponsors Streeter Super Stands, Zero Error Racing, Franklinkart.com, Racing Electronics, Intercomp and AIM Sports.