SSM Super One MSA/TKM Series Championships – Round 1 Report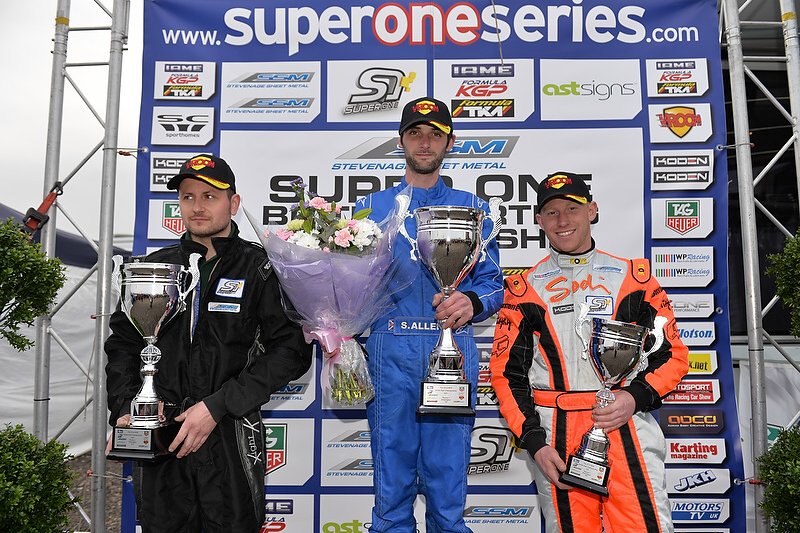 KZ1 Podium (Photo: kartpix.net)
The eagerly awaited first round of the 2014 British and National kart championships kicked off at the north Oxfordshire circuit of Shenington.  Sadly the Junior series for KF3 was missing, reflecting the general worldwide decline in KF participation.  KZ1 is proving to be a successful and challenging replacement for the senior MSA British Championship, short-circuit's most prestigious title. With a new title sponsor in Stevenage Sheet Metal and other partners banners in evidence the paddock was a colourful place.   The weather gods were kind, warm and sunny the predominant factor.
MSA British Cadet Kart Championship for IAME
Two sessions of timed qualifying were required with Zak Robertson and Owen Byatt topping their respective groups, the former faster but not faring so well in the heats.  These were won by Teddy Wilson and twice for Jonny Edgar. After a close fight for the repechage win Joseph Taylor prevailed over Harry Platten with Cadet McQueen and Harry Thompson joining them at the back of the main first final.  But Owen Johnson was excluded for a slipping clutch.   Kiern Jewiss punched ahead of polesitter Jonny Edgar at the start of the first final, the two putting space on their rivals for a few laps.  Unfortunately several drivers crashed at the start, Zak Robertson unable to restart.  Lewis Thompson set about towing his third place battling group up to the leaders, thence shuffling Jewiss back to third.  Jewiss recovered to second then on the last lap sliced underneath Thompson whilst Edgar was elbowed wide at the first hairpin, dropping to fifth as Joe Turney and Alex McDade took advantage of Thompson running wide.  Jewiss was initially blamed but after an appeal to the stewards was re-instated to the win.
A red flag stopped the second final on the first lap to attend to Harry Thompson who crashed at the second turn.  He was ok but not allowed to restart where Jewiss and Edgar traded the lead until Tom Wood stormed up from tenth to displace both.  Turney and McDade followed but on the last lap a re-shuffle at the first hairpin saw Edgar back to second with Wood hanging on for the win despite lots of pressure. They pulled clear of Turney, McDade and Dexter Patterson with Robertson making good his recovery drive. Jewiss was the big loser on the last lap and had to settle for a disappointing ninth. "We had a bit of power trouble in the first one, so I knew I had to try my best in the second," said Wood.
Final 1
1 Kiern Jewiss (Next Generation/Zip) 19 laps in 16m 14.54s
2 Joe Turney (Next Generation/Zip) +0.11s
3 Alex McDade (Zip) +0.23s
4 Lewis Thompson (Zip) +0.46s
5 Jonny Edgar (Fusion Motorsport/Synergy) +0.57
Final 2
1 Tom Wood (AIM Motorsport/Zip) 19 laps in 16m 14.35s
2 Jonny Edgar (Fusion Motorsport/Synergy) +0.05s
3 Joe Turney (Next Generation/Zip) +1.56s
4 Alex McDade (Zip) +1.66s
5 Dexter Pastterson (AIM Motorsport/Zip) +1.70s
Provisional championship standings
1 Jonny Edgar 151
2 Joe Turney 149
3 Kiern Jewiss 146
4 Alex McDade 145
5 Teddy Wilson 136
MSA British Kart Championship
Scott Allen was rewarded with a fastest timed qualifying lap and a dominant meeting after all his hard work developing and manufacturing a new Jade chassis for the series. Richard Palmer was on his tail throughout, sometimes ahead as happened in the second heat.  Jamie Garvie was excluded from that heat for having a spark plug not to the regulations. An excellent start for Allen had him fending off Palmer throughout the race.  The 2012 Under 18 World Champion Henry Easthope was hanging on for much of the way, dropping back a little at the end, whilst Ryan Sharp leapfrogged Dan Kelly for fourth. The multi-talented former GP2, WTCC and FIA GT racer Scotsman Ryan Sharp and now a director of Hitech is back in karts.  "The kart was easier to drive in the final after I made some adjustments, but the race seemed to go on forever," said Allen.  Palmer added: "I'd just got onto Scott's bumper when I made a mistake and lost two kart lengths." Unfortunately the KGP convert Denis Gorman's kart was found to be underweight. Palmer had the jump on Allen at the start of the second final, and it took a few laps before Allen found a gap.  Braking from 90mph into the first hairpin, Palmer locked up his brakes just slightly which was all Allen needed to arrow into the lead.  When Jamie Garvie put pressure on Palmer, Allen could cruise home with Easthope in fourth.
Final 1
1 Scott Allen (Jade/Vortex) 21 laps in 16m 7.56s
2 Richard Palmer (MK Racing Tonykart/Vortex) +0.37s
3 Henry Easthope (Taylor Motorsport Sodi/TM) +2.14s
4 Ryan Sharp (Tonykart/TM) +6.67s
5 Dan Kelly (AFM Energy/TM) +7.07s
Final 2
1 Scott Allen 21 laps in 16m 8.15s
2 Richard Palmer +0.38s
3 Jamie Garvie (Taylor Motorsport Sodi/TM) +0.65s
4 Henry Easthope +1.19s
5 Dan Kelly +5.16s
Provisional championship standings
1 Scott Allen 159
2 Richard Palmer 155
3 Henry Easthope 145
4 Dan Kelly 137
5 Ryan Sharp 132
ABkC National Championship for Junior TKM
Despite only making sixth place in timed qualifying Kyle Hornby dialled in his kart for a dominant performance in the finals.  It was Arran Mills taking heat pole from Dino Lee and Cameron Fisher, Hornby and Lee sharing the heat wins. Alex Forward was tapped going into turn two putting him wide and gifting Matthew Round-Garrido a bit of a gap.  Dino Lee was quickly on his bumper to nip past at the chicane, then shuffled back in favour of Hornby leading over Mills.  As Mills fell to fourth, then hammered back to lead, Hornby displaced him once more.  A gap appeared between Hornby and the huge second place battle, led alternately by Matthew Graham and finally Mills. Round- Garrido defended strongly over the last couple of laps forming a massive queue, Fisher and Graham unable to see an opening. "Aaran was catching me on the last lap but I didn't have too much trouble," opined Hornby. In the second final Hornby was elbowed aside at the first hairpin and he fell to fourth as first Mills then Round-Garrido went ahead. Fisher also lost places as the top trio of Round-Garrido, Hornby and Mills traded the lead. Mills started defending early, allowing the next group to catch up and eventually Hornby found a gap with Round-Garrido second, Anderson Chilcott up to third and Mills fourth.
Final 1
1 Kyle Hornby (DSG Motorsport) 21 laps in 15m 47.01s
2 Arran Mills (Lichfield Motorsport Tonykart) +0.14s
3 Matthew Round-Garrido (Tonykart) +3.01s
4 Cameron Fisher (Lichfield Motorsport Tonykart) +3.16s
5 Matthew Graham (Jade) +3.27s
Final 2
1 Kyle Hornby 21 laps in 15m 49.70s
2 Matthew Round-Garrido +0.07s
3 Anderson Chilcott (Jade) +0.22s
4 Arran Mills +0.43s
5 Cameron Fisher
Provisional Championship Standings
1 Kyle Hornby 158
2 Matthew Round-Garrido 152
3 Arran Mills 142
4 Cameron Fisher 136
5 Dino Lee 136
ABKC National Championship for TKM Extreme
The newly revamped TAG version of the TKM engine proved to be the dominant motor of choice in the hands of Simon Vercoe, as he was fastest in qualifying over Tom Owen. James Ogden, also on a TAG version, won the second heat otherwise the day was all about Vercoe's wins. TKM Scholarship driver Matt England was excluded from the second heat for driving standards.  Although Vercoe had led the pack away in the first final, Owen put him down to third and traded the lead with Ogden. Gradually Vercoe narrowed the gap, as Ogden re-took the lead and Vercoe took Owen. As Vercoe eventually prevailed over Ogden, Owen recovered to second and Ogden was left defending his third place over Joe Forsdyke. "I thought I had screwed up at the start with an engines problem that messed me up for a few laps, then it took ages to get back to the front," explained Vercoe.  Yet again Vercoe fell from his initial first in the second final, but quickly recovered past Owen for second only to fall back once more as an attempt on Ogden was rebuffed. Forsdyke's lead was short lived, usurped by Paul Monks but Vercoe was clawing back the lost time. Monks had forged into the lead, Vercoe leapfrogged Forsdyke then took the lead at the chicane.  Defending for the last two laps he earned a warning but survived for his second win over Owen, Monks and Forsdyke.
Final 1
1 Simon Vercoe (Tal-Ko Racing) 22 laps in 16m 29.74s
2 Tom Owen (Jade) _0.07s
3 James Ogden (Klaassen Motorsport Tonykart) +1.08s
4 Joe Forsdyke (Tal-Ko Racing) +1.12s
5 Josh Waring (ARC) +3.86s
Final 2
1 Simon Vercoe 22 laps in 16m 31.47s
2 Tom Owen +0.06s
3 Paul Monks (Tonykart) +0.37s
4 Joe Forsdyke +0.43s
5 James Ogden +0.64s
Provisional Championship Standings
1 Simon Vercoe 159
2 Tom Owen 153
3 James Ogden 147
4 Joe Forsdyke 138
5 Paul Monks 137
Formula KGP National Championship
A highly talented but disappointingly smaller grid than last year had the new PF International star and Rotax Grand Finals champion Oliver Hodgson on the heat pole after timed qualifying, over his team mate Mark Litchfield. And that was how they finished both heats.  For the first final as Hodgson opened a massive lead the opportunist Bobby Game sliced down inside Litchfield at the last hairpin for second.  It was short-lived as Litchfield took the place back which let Daniel Baybutt follow.  Game struck back, Baybutt falling to sixth eventually clawing back to fourth.  "It's all about how much tyre life we have left for the second final, we'll just have to see," said Hodgson.  An untroubled lights to chequer race was Hodgson's answer, this time Game pipped Litchfield at the start, but only until the end of the second lap. Baybutt was unlucky to have a blown engine when running fifth.  Re-grouping, Game attacked again, re-taking second until the last lap when Litchfield again found a small gap at the last hairpin for what would turn out to be the winning move. Hodgson's engine port heights were found to be out of tolerance so he was excluded from the meeting. That elevated Dan Stocks and Matt Davies to third and fourth.
Final 1
1 Mark Litchfield (PFI Kosmic) 23 laps in 16m 2.4s
2 Bobby Game (Team O'Neil Alonso) +1.43s
3 Daniel Baybutt (Jade Karts) +2.7s
4 Matt Davies (Tonykart) +3.55s
5 Stephen Letts (SL Racing Tonykart) +6.65s
Final 2
1 Mark Litchfield 23 laps in 16m 4.5s
2 Bobby Game +0.13s
3 Dan Stocks (Litchfield Motorsport Tonykart) +7.66s
4 Matt Davies +7.85s
5 Matt Gilliland (Alonso) +11.16s
Provisional Championship Standings
1 Mark Litchfield 160
2 Bobby Game 150
3 Matt Davies 141
4 Daniel Baybutt 139
5 Stephen Letts 134