2014 Formula K Chassis Arrives at The RaceLab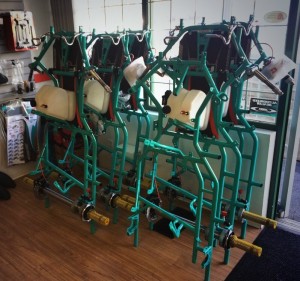 While Formula K has come out of the gate swinging this year in Europe, a main market of interest for the Maranello based company is North America where they feel their equipment will perform on the top level in all categories from their ultra competitive mini kart right up to the FK01 which has been a top frame worldwide in Rotax Max, DD2 and the KZ classes. Company owner and Ferrari Four time world GT Champion Andrea Bertolini is very encouraged by the work done on chassis over the winter and where they are at at the moment, as stated in a recent interview.
These karts have arrived in Canada at the RaceLab, The RaceLab is the Exclusive Canadian Importer and is also working on sales in the American market. Since 2013 FK have made a few major changes on the chassis including of course the bodyworks and graphics as well as a newer thicker steering wheel which is intended to reduce fatigue in the hands and arms. The brake system has been revised as well and is now their very own FK system which offers a very slick lightweight system that performs at the top of its class.
All this has lent to completing a perfect chassis that has recently set Europe on fire with Bas Lammers claiming victory at the WSK Super Masters in the KZ class while moving from 11th on the pre-final grid to 2nd in less than a lap. Lammers has already posted a 2nd at the South Garda Karting Winter Cup as well as a Rotax victoriy in the UAE Rotax Championships.
For more information on Formula K and the RaceLab be sure to visit www.theracelab.com where you can find more information as well as view Lammers recent race win video from Sarno.