GoPro Motorplex Joins 600 Festival Association's May Event Lineup with Little 600 Kart Race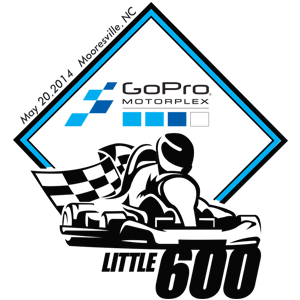 GoPro Motorplex is excited to finally announce the addition of the Little 600 kart race to our event calendar on May 20. The Little 600 featuring a full field of NASCAR drivers will be part of the 600 Festival Association's May event lineup. The 600 Festival Association is the nonprofit association that has been commemorating the May races at Charlotte Motor Speedway with spectacular, family-oriented events, including Speed Street presented by Coca-Cola, the well-known festival in downtown Charlotte with a 20-year running.
However, in May 2014, the 600 Festival Association will return to their roots to celebrate their 30th Anniversary by adding three more new, FREE events to the 600 Festival, reaching outside the Charlotte city limits. One of those additional new events will be the Little 600 at GoPro Motorplex as the Mooresville segment of the festival.
The Little 600, May 20
A full-field of NASCAR drivers, including Kyle Larson, Michael McDowell, Justin Allgaier and many more will take to the 0.7-mile, asphalt sprint karting track in GoPro Motorplex's fleet of Arrive-and-Drive Rental Karts to battle not for 1 million dollars or a NASCAR Sprint Cup Series trophy, but for bragging rights and bragging rights alone.
The Little 600 will include a fan-friendly race format, giving fans the opportunity to watch several heat races that will set the starting grid for the final 15-lap event under the lights.
The event night will also include the Lady 600, a 10-lap rental kart race among some of the most well-known females in the racing industry, including NASCAR drivers' wives and girlfriends.
The entire GoPro Motorplex facility is family-friendly offering unprecedented access to driver garages, up-close areas to view karting firsthand, delicious food, driver autograph opportunities and much more! For fans, it will feel like being in the infield at any major NASCAR event, without the fuss!
The event is FREE for all ages, with just a $10 parking fee per car, so bring your friends and ride together.
For more information on the Little 600, including the event schedule, race format and the most up-to-date driver entry list, CLICK HERE.
The other new events on the 600 Festival's May event lineup include Movies on the Campus in conjunction with the Village Jiggy Jam in Kannapolis and a hauler parade in conjunction with Union Street Live in downtown Concord. In addition, the 600 Festival will continue to produce its spotlight event, Speed Street presented by Coca-Cola, which will celebrate its 20th anniversary this year. All events are free! For more information on the 2014 600 Festival, CLICK HERE.