Championships Decided at Florida Winter Tour
Five drivers earn tickets to 2014 Rotax Grand Finals following final round in Orlando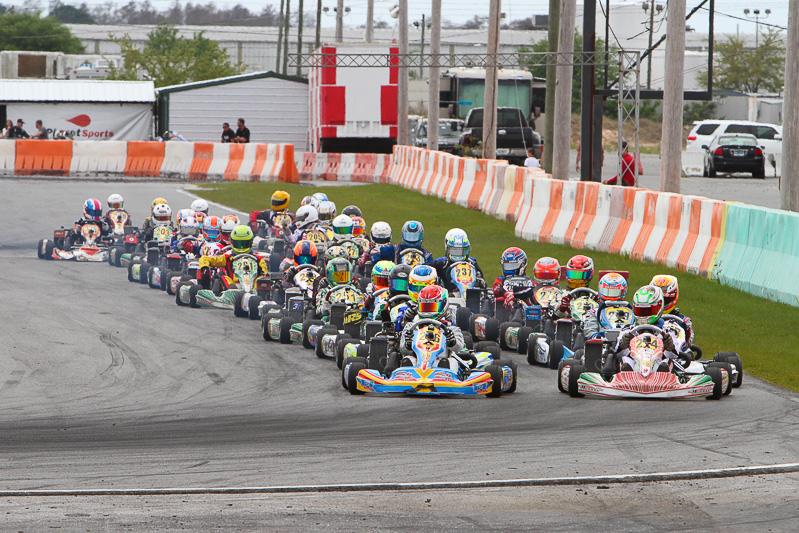 (Photo: Studio52.us)
It was Championship Sunday as the competitors in Formula Kart Production's Florida Winter Tour, presented by Ocala Gran Prix, took to the track to determine a multitude of FWT International Rotax Max Challenge Championships. The morning started out with only one cloud in the sky. Unfortunately that one cloud covered the entire sky. But, the temperature was pleasant and by the lunch break the cloud was gone leaving the bright blue skies we're accustomed to at The FWT.
As has been the case in recent years, on Championship Sunday the pits seem a little quieter as everyone's focus ratchets up another notch or two. For those locked in championship battles today was do or die. For the rest, the day was about finding the best result possible as a springboard for the rest of the season.
Dan Wheldon / FWT Karting Ambassador Award
2014 marks the third year that Formula Kart Productions has awarded the Dan Wheldon / FWT Karting Ambassador Award to one very special FWT participant. This award is meant to honor Dan's life and legacy in racing, and to recognize an FWT participant who embodies the same qualities that Dan brought to our sport and to life. These qualities include a fiercely competitive spirit, a helpful and positive attitude and a professional image.
This year's Wheldon Award winner was none other than Ocala Gran Prix's Jorge Arellano. To those that know Jorge well it was inevitable that his name would end up on this trophy. Jorge is easily one of the most generous people the sport has ever known. He has often extended his resources to people he barely knew, with no other expectations than they make the most of their opportunity. His OGP facility is among the best in North America, and serves as a model for other karting establishments.
As far as his competitive spirit, Jorge has many accolades and awards from his days in offshore powerboat racing. He is also a constant cheerleader for his world-class OGP team as he wears his heart on his sleeve pulling for their success. We would like to congratulate Jorge Arellano, the 2014 Dan Wheldon / FWT Karting Ambassador Award winner.
Featured Driver
Canadian Micro MAX driver Thomas Nepveu is running his second season in the Florida Winter Tour and hails from Oka, near Montreal. He has been racing for three of his nine years and says his ultimate goal is to race Formula One, like his hero Sebastian Vettel. He is so focused on F1, he says there is "No Plan B."
Before racing karts Thomas raced motocross, but had an accident and his mother Isabelle decided that motorcycle racing was too dangerous, so they got him a kart. He says his favorite track is Mont Tremblant because he has won there twice, from both the front and back of the field. Another highlight of his brief racing career was competing in the Micro & Mini Invitational at NOLAMotorsportsPark last October during the Grand Finals.
When not racing karts Thomas says he likes riding his Tundra 300 Ski Doo and still rides his motocross bike from time to time. As he puts it, "I just like to go fast!" he says he also embodies the spirit of the late Canadian racing legend Gilles Villenuve because he has no fear. As a fourth grader in his local school, Thomas says his favorite subject is math because he likes the challenge in solving equations.
After the Winter Tour Thomas says he'll spend his time racing in Canada in the ECKC, the WUCC and the ASN Canada National championship. We look forward to seeing Thomas race with us next year at the Florida Winter Tour, and we're sure he's a name to watch in the future.
SH Racing sponsored Rotax DD2
In the first race of the day, Nick Neri (USA) led the group of DD2 drivers from the grid to start the Pre-final. Going into the day Nick had a bit of a cushion in the points over second place Daniel Formal (USA). However, he would still have to give a good performance to take home the title. In the pre-final he did just that to take a 3.377 second victory over reigning DD2 World Champion Simas Juodvirsis (Lithuania).
Although Neri would start the final alongside the current World Champion, by lap two it was another World Champion, Mr. three-time Grand Finals Champion Ben Cooper (UK/Canada) that was shadowing Nick around the 0.700 mile Orlando Kart Center circuit. Just past halfway Cooper made a bold move in one of the hairpins to assume the lead.
Shortly after Ben took the lead a ferocious battle between Neri and Cooper slowed them up enough to allow Juodvirsis, Jonathan Kotyk (USA) and Jeffrey Kingsley (Canada) into the race at the front. The next few laps were crazy-good as the fight for second was one of those epic battles that race fans live for.
The four-way battle for second allowed Ben Cooper to get away to a bit of a lead. However, Nick Neri was eventually able to secure second and set after the "United Kingdanadian". At the finish it was Cooper by 0.809 of a second over Neri while World Champ Simas Juodvirsis rounded out the podium in third.
Nick's podium finish was all he needed to wrap up his first DD2 championship and send him back to the Grand Finals this fall. Joining Neri on the Championship podium was championship runner-up Daniel Formal. Third place would go to Alessandro Bressan (Italy) who was absent this weekend, which, in itself, shows how strong his early season finishes were in this, the fastest of all Rotax classes.
Decal Zone sponsored DD2 Masters
Andreas Fonseca (Costa Rica) was fastest n Friday's qualification sessions for today's races, but Luis Schiavo has usually had the upper hand on everybody come race day this season, so all eyes were on him to see if this would hold true in the DD2 Masters pre-final. As it turned out Fonseca made his statement early that he would not be denied as he took the pre-final win over Schiavo by just over two seconds.
In the final Schiavo did make his move to the front. However, unlike the bulk of his races this year Luis did not make a clean break. In fact, this time he had two challengers breathing down his neck as Fonseca and Derek Wang (USA) gave chase. In what was to be the most competitive DD2 masters race all year Schiavo would eventually prevail for his fifth win of the season over Wang by just 0.450 of a second. Fonseca was just a few kart lengths adrift of Wang at the flag to take the final podium spot in third.
With his dominating performances in DD2 Masters this year it was a foregone conclusion that Luis Schiavo would take the championship title and be one of the drivers to represent The Florida Winter Tour at this year's Grand Finals. Second place in DD2 Masters points was Derek Wang, the only other driver to win an FWT DD2 Masters final this season. Andreas Fonseca would come in third in the championship standings after a solid FWT season of racing.
PSL Karting sponsored Rotax Junior MAX
Gianfranco Mazzaferro (Canada) would start the Junior MAX pre-final from the pole position but would only be able to muster second place at the finish as Mexican formula car driver Patricio O'Ward would take the win in his brief return to karting. With these two running well through the practice sessions and races, the final was set up to be a great battle.
In the Junior MAX final O'Ward grabbed the early lead followed closely by Luis Forteza (Puerto Rico), who had a great start from the second row. Behind the lead two there was intense action all over the track. Most notably was a five-way battle for third that included David Malukas (USA), Trenton Estep (USA), Gianfranco Mazzaferro, Austin Versteeg (USA) and Anthony Gangi jr. (USA).
Lap after lap these young racers gave their all, straining to shave every possible moment from their lap times. When it was all said and done it was Patricio O'Ward that would stand atop the podium after a great battle with Luis Forteza. David Malukas would prevail in the hard fought battle for third by 0.024 over Trenton Estep, with three more drivers right behind them.
Conspicuously absent from the race with a DNS was Pedro Cardoso (Brazil) who had been the points leader going into the race. Be that as it may, his point's position after the pre-final was enough to secure the 2014 FWT Junior MAX title and earn him his second trip to the Grand Finals. Second in the championship went to Forteza and third to Austin Garrison (USA).
Rolison Performance Group sponsored MAX Masters
MAX Masters was the second class in which Luis Schiavo (Venezuela) competed in the 2014 FWT, and the second class he dominated. It's truly hard to put into words how impressive his performance has been in the Masters classes this year. After setting pole position with a time a half-second faster than fellow front row starter Brian McHattie, a win in the pre-final was all but expected.
True to form, Schiavo did win the pre-final but not without a challenge early on from Scott Roberts (USA) and Brian McHattie. After a number of laps, Schiavo began to pull out a lead but by the closing stages of the race, McHattie and Roberts were back on his tail. Whether either of those two had enough to get around Schiavo will never be known as Luis held a 0.186 second lead over McHattie when the checkers waved at the end of the allotted 16 laps.
It was a historic win for Schiavo as he had accomplished a season likely never to be repeated again. On the championship podium it was announced that since he had won two titles his Grand Finals tickets would come from the higher ranking class, in this case DD2 Masters, and thus his ticket from the MAX Masters class would go to championship runner up Scott Falcone. This year's Grand Finals will be the second appearance in the sports premier race for both Luis and Scott, and we're sure they'll represent the Florida Winter Tour well. Third in MAX Masters points was Raul P. Costa (USA).
AM Engines sponsored Rotax Mini MAX
Thirty six karts started the Mini MAX pre-final, led by a front row consisting of Mathias Soler (Colombia) and Emiliano Richards (Mexico). The race would wind up being a frantic battle between Devin Boutot (USA) and Caio Collet (Brazil) with Collet taking the win.
In the final Collet would grab the early lead ahead of Richards and Harry Coulton (USA), while Boutot struggled to make up for a slightly tardy start. As the race entered its middle stage Coulton had gotten around Richards and was hounding Collet for the lead. Not long after Coulton faded enough for Richards to reassume second, before Michael d'Orlando came on strong and passed both drivers as if he was going straight to the front.
While the battle for second was brewing, Collet was able to break free and assume a lead that would not be challenged again. On the last lap, Coulton, Richards and d'Orlando fought for second like it was the championship lead. Coming out of the last hairpin corner Coulton and Richard were side-by-side. They raced together towards the finish just inches apart with the position ultimately going to Emiliano Richards by just 0.023 of a second.
During the championship podium celebrations, the spotlight was on Mini MAX class champion Gianluca Petecof, who had sat out the days racing having sewed up the championship the day before. Caio Collet's win on the last day was just enough to move him into second in the championship, demoting Harry Coulton to third.
GT7 Motorsports sponsored Micro MAX
Jak Crawford (USA) set the pace in the Micro MAX pre-final after earning his first FWT pole position during Friday's qualifying sessions. "Jetpak" Jak would run a speedy race. But it was Saturday's pole qualifier Jeremy Fairbairn (USA) that would take the win with point's leader Reece Gold (USA) in second.
The Micro MAX final drama began even before the race-start, as on the formation lap the kart of point's leader Reece Gold slowed on the back straight and would not restart. As the race began Fairbairn led into turn one, but Crawford got around him a few corners later. The early laps featured a three-kart battle as Sebastian Montoya joined the fight. Halfway into the race Fairbairn started to fade, leaving Montoya and Crawford to fight for the lead.
Over the closing laps Crawford and Montoya swapped the lead multiple times. As the two took the white flag Montoya led, but Crawford would retake the lead at the end of the backstretch. Montoya set him up perfectly to take the lead coming off the last corner with an inside move. But Crawford wasn't done, and drafted alongside Montoya as they came to the line. The win would go to Jak Crawford by just 0.025 of a second, or roughly the length of a D cell battery, after 14 laps of hard racing. Third went to Thomas Nepveu, who ran a smart and speedy race to work his way up to a podium position.
Although Reece Gold broke down before the start of the race, his previous point lead would hold up for the championship. Matheus Morgatto, (Brazil) was the only driver within striking distance and when he failed to have the result he was looking for in the last race he had to settle for second in the championship. Third in the championship went to Jeremy Fairbairn, who capped off the season strong after starting with a DQ.
MRP Motorsports sponsored Rotax Senior MAX
The Senior MAX pre-final would be paced to the start by fast qualifier and current point's leader Oliver Askew (USA). After Saturday's final Oliver's points lead seemed unassailable. However, the competitive racer was determined to go out on top with another win. It wouldn't come in the pre-final, though, as Oliver's OGP teammate Kyle Kirkwood would take the win.
In the Senior MAX final, the last race for the 2014 Florida Winter Tour, Oliver and Kyle would share the front row. But it was 2009 Senior MAX World Champion Luke Varley (UK) who would make the most of the situation and take the early lead. For his part, Oliver would hold second while Thomas Issa (Jamaica) and Dan Roeper (USA) waged a war over third and fourth.
After five laps Askew started reeling Varley back in, and was able to snatch the top spot away from the former World Champion. His lead was never more than a second or so and it wasn't long before the fight for the lead was back on. The last few laps were especially memorable as each driver took their turns at the point. In a few instances they bounced off each other, but since it was sidepod-to-sidepod they were able to continue their battle unabated. Going into the last corner Varley held the lead but Askew was able to move him out of the line enough to get underneath him and make it stick all the way to the finish.
With the leaders battle slowing them down Issa and Roeper were able to get back in contention for the win.  At the line it was Askew with the win, but Varley just barely beat out Issa for the second spot by 0.018 of a second.
When all the points were counted, Oliver Askew had earned his second FWT championship, and would collect his fourth career ticket to the Grand Finals. Second in the championship would go to his teammate Kyle Kirkwood, while Zachary Claman DeMelo (Canada) would claim third.
Nations Cup / Manufacturers Cup
After the podiums were completed, and the champagne had been sprayed, the results of the FWT Manufacturers and Nations Cups Championships were announced. As expected, the United States of America successfully defended their Nations Cup title over second place Canada. In third was Venezuela, but Brazil and Columbia were close behind and look to make a real run at the top three in 2015. The Manufacturers Cup title again went to Tony Kart, as the green karts beat out their Italian rivals CRG for the top spot. Birel finished the season in third, with the tiny AM Racing Chassis marque threatening the top names just off the podium in fourth.
GoRotax Hard Charger / Presented by MAXSpeed Group
In addition to the standard podium proceedings we had an extra presentation as Richard Boisclair of the MAXSpeed Group / GoRotax presented every "Hard Charger" award winner with a new set of Mojo tires. The GoRotax Hard Charger Award, presented by MAXSpeed Group, is presented to the driver in each race group who passed the most competitors during the finals. It is a very generous award and over the course of the weekend Richard will be giving away 13 sets of Mojo tires.
Sunday's Hard Charger award winners were Jonathan Kotyk (USA) in DD2/DD2 Masters, Aidan Keel (USA) in Junior MAX, Derek Woodbridge (USA) in MAX Masters, Matheus Morgatto (Brazil) in Micro MAX, and AJ Myers (USA) in Senior MAX. In Mini MAX, there was a tie for the Hard Charger award as both Kai Palomino and Toranosuke Hamada (Japan) bettered their starting positions by 15 places. Richard Boisclair decided the best option in this case was to award each driver a set of Mojo tires.
As always it's a bittersweet moment when the last podium is complete in the Florida Winter Tour season. We want to thank all the competitors, sponsors and supporters for a fantastic year. For those that joined us on FWT LIVE!, we hope you enjoyed the broadcast, and want to remind those that may have missed some coverage that the archived races will be posted soon on the Florida Winter Tour YouTube page.
From all of us at Formula kart Productions, we hope you have a safe and successful 2014 racing season. We look forward to seeing you all again in 2015 at "FWT, THE Winter Place to Be".