Familiar Faces at Top of Time Sheets During Florida Winter Tour Final Qualifying Day
Grids set for final two days of action at Orlando Kart Center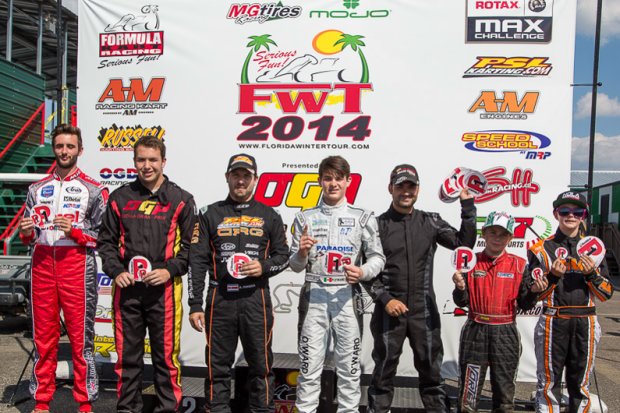 Sunday top qualifiers (Photo: Studio52.us)
Story by Florida Winter Tour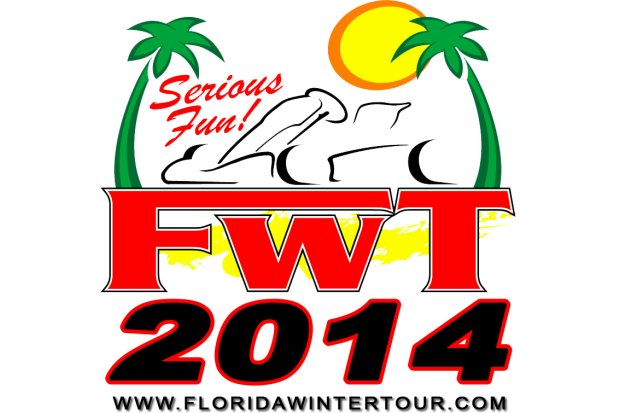 The competitors of the Rotax MAX Challenge portion of Formula Kart Productions' Florida Winter Tour, presented by Ocala Gran Prix, were back in action today to set their qualifying times for this, the last weekend of racing in the 2014 Tour. To say, yet again, that the weather was spectacular and the conditions were perfect may actually be a bit of an understatement. To put it another way; today was further proof of why the Florida Winter Tour is known as "THE Winter Place to Be!"
F-TEAM FEATURE
Over the years, Formula Kart Productions has pioneered many advancements in how races are run and how they are seen. One such innovation is FWT LIVE!, the sport's original live streaming broadcast with audience interactivity. One of the people responsible for making that happen is Michael Scott Wright, the producer of FWT LIVE!. Although Michael has been working with FWT LIVE! since its introduction in 2009, he has actually been with Formula Kart productions doing odd jobs for longer than he can remember.
As the nephew of Formula Kart Production's owner Bill Wright, Michael says his memories of working kart racing go back to the first kart race Bill ever promoted which was held on the Driver's Ed course at a local high school. As such, Michael has a great perspective on where the FWT has grown and evolved over the years. "Everything has grown," he says of the Tour. "Not just the number of competitors, which is obvious. But, the number of people hired to put on these events."
When not at the race track Michael works in office building maintenance back home in Tallahassee, FLA. For fun, he says he loves watching sports, especially if the Florida State University Seminoles are competing. "I love all types of sports," he says, "but, if FSU is competing, I'm in. I don't care if it's basket weaving. If FSU is in it, I'll cheer them on." Loyalty like that is just one of Michael's admirable qualities. As a popular member of the Formula Kart Production's "Fun-Team", Michael Scott Wright is an invaluable asset in keeping the Florida Winter Tour events running strong.
FEATURED DRIVERS
Those who have been watching the results for the Formula TaG Cadet and Mini MAX classes this year have seen the name d'Orlando a lot this year. Brothers Michael and Nicholas d'Orlando have had a great season by all accounts and are looking to build on their performances for the future. Last week Michael (12) wrapped up the Formula TaG Cadet championship of the FWT Formula Kart Racing Championship while younger brother Nicholas (10) was third.
The brothers, who hail from Westchester, New York, said they were attracted to racing from a young age and that their earliest memories were watching NASCAR on TV with their mom and dad. Around that time their father suped-up and electric car for them to drive around the yard and it wasn't long until there was a path worn in the grass around their house. "They'd drive that until it broke, then I'd fix it and they'd drive it until it broke again," he said. Knowing this couldn't go on forever and wanting to find vehicles more suitable to the punishment these two youngsters could dish out, their mom did an internet search for karting and found nearby OaklandValleyRacePark. As a late birthday present they got their sons into a five-hour race school when they were five and six years old. One thing led to another and soon they had taken second and fourth in their very first race against some stiff competition.
For Michael, he says his favorite thing about racing is the competition and that he is really driven to win. Although he also enjoys basketball and cross country running, racing is a sport that fits him. Although, he did add that a lot of his friends back home just don't understand racing and how tough it is. Perhaps someday he'll get the opportunity to teach them.
Nicholas, the younger son who turns 11 next month, says his favorite part about karting is going fast and competing against other talented drivers. He was also sincere in adding that he really likes the friends he's made in the sport through the last few years, and feels that is one of the best things karting has to offer. When time allows, Nicholas also likes playing basketball and football as well as lacrosse. Both brothers say they ultimately would like to race Formula One.
SH Racing sponsored Rotax DD2
The first group to set their qualifying times in each queue was the combined entrants in DD2 and DD2 Masters. The drivers of the fast DD2 machines hit the track for Sunday qualifying precisely on time and it would be perennial FWT frontrunner Nick Neri (USA) setting the pace with a lap of 51.385 seconds to set the fastest official lap of the day of any competitor. Second quickest for Sunday's grid would be three-time Rotax World Champion Ben Cooper (UK/Canada) who was back in a DD2 after racing in Homestead and Ocala in Senior MAX.
In the afternoon session to set the grid in Saturday's DD2 pre-final Nick Neri once again beat the best the field could offer with a lap of 51.641. Second fastest time would go to Nick's Ocala Gran Prix teammate Jonathan Kotyk (USA) with a lap just 0.019 of a second adrift of Neri but 0.191 faster than Cooper in third.
Decal Zone sponsored DD2 Masters
The DD2 Masters were also hard at work setting their fast laps to qualify for this weekend's races. In the morning session to set the grid for Sunday's races Andreas Fonseca (Costa Rica) beat out Luis Schiavo (Venezuela) to claim top honors. However, Schiavo would come back in the afternoon's session to claim Sunday's Koene USA P1 Pole Award with a lap of 52.488 seconds. Joining Schiavo on the front row in Sunday's DD2 Masters pre-final will be Derek Wang (USA) who timed in second quick just over a tenth of a second off Schiavo's time.
PSL Karting sponsored Rotax Junior
In Junior MAX, Patricio O'Ward will be starting Saturday's pre-final from the P1 pole position with point's leader Pedro Cardoso (Brazil) alongside. This is good news for Pedro; however his main rival for the championship, Austin Garrison (USA), will be right behind him in third.
For Sunday's pre-final, the P1 Pole Position award went to Canadian Gianfranco Mazzaferro who turned in a fast time of 54.075 to beat O'Ward by just 0.045 of a second. Starting third on Sunday's Junior MAX grid is Austin Versteeg (USA), just ahead of Nick Brueckner (USA) who is starting fourth both days.
Rolison Performance Group sponsored MAX Masters
Luis Schiavo has been the top dog in MAX Masters all season long and today was no different. In the morning session to set Sunday's grid Luis was 0.515 of a second faster than second quick Brian McHattie. In the afternoon session for Saturday's pre-final grid Schiavo was again fastest with McHattie second. This time, the gap was 0.628 of a second.
With his amazing qualifying performances this season in both Masters classes, Luis Schiavo wrapped up the top honors for an adult driver in Koene USA's P1 Pole Position Award contest for the 2014 Florida Winter Tour. In addition to the $200 cash award, Luis picked up enough P1 Pole Position stickers this year to cover just about anything he wants to, including himself.
AM Engines Rotax Mini MAX
As the 38-strong Mini MAX competitors took to the 0.700 mile Orlando Kart Center circuit for their qualifying sessions, no one could say with any certainty who would come out on top.  The Florida Winter Tour has been known for years to have the world's strongest and deepest fields in both Micro and Mini MAX, and this year is no exception.
In the end, Matthew Latifi (Canada) would come out on top for Saturday's pre-final grid with a lap of 57.029 seconds while Sunday's pre-final will be paced by Mathias Soler (Colombia). Emiliano Richards (Mexico) will start both days' pre-finals from the outside of the front row as he looks to take home an FWT Palm.
GT7 Motorsport sponsored Micro MAX
Jeremy Fairbairn (USA) has been working very hard on his qualifying this year and it paid off as he set the fastest time for Saturday's Micro MAX pre-final. Fairbairn's fast lap of 1:00.564 led the way over Micro MAX point's leader Reece Gold (USA) in second and Matheus Morgatto (Brazil) in third. With Gold and Morgatto one-two in points, this will be an interesting battle to watch onsite or on FWT LIVE!
Jak Crawford put everything together in the morning session to take Sunday's Micro MAX pole position with a lap of 1:00.357 seconds. Behind Crawford in second and third are Sebastian Montoya (Colombia) and Reece Gold who are separated in the time standings by just 0.001 of a second.
MRP Motorsports sponsored Rotax Senior
The Florida Winter Tour Senior MAX field is stacked with talent from top to bottom. Leading the way for Saturday's Senior MAX races will be 2009 Senior MAX World Champion Luke Varley (UK), who scorched the warm afternoon tarmac with a lap of 53.296 to take pole by just 0.004 over Jamaican Thomas Issa in second.
In the morning session to set Sunday's Senior MAX pre-final grid, class point's leader Oliver Askew (USA) took care of business by setting the Koene USA P1 Pole Position with a lap of 53.227. Second on Sunday's grid will be Luke Varley with second-in-points Kyle Kirkwood (USA) just behind in third.
All indications are this is going to be a weekend nobody will want to miss. With plenty of sunshine to fill the days and magnificent viewing areas provided by the OrlandoKartCenter facility, this could be the best weekend all year to come out to the races. For those that can't be here in person, you can simulate being here by setting up a tanning light and a small fan next to your computer and watching all the action as it happens on FWT LIVE!, the sports original interactive karting broadcast. And be sure to send shout outs to your favorite drivers and teams by emailing the FWT LIVE! announcers at live@FloridaWinterTour.com.