GoRotax.com Driver of the Month Presented by eKartingNews.com – February 2014 – Jak Crawford
Young Texas pilot overcomes adversity to claim four straight Rotax Challenge of the Americas victories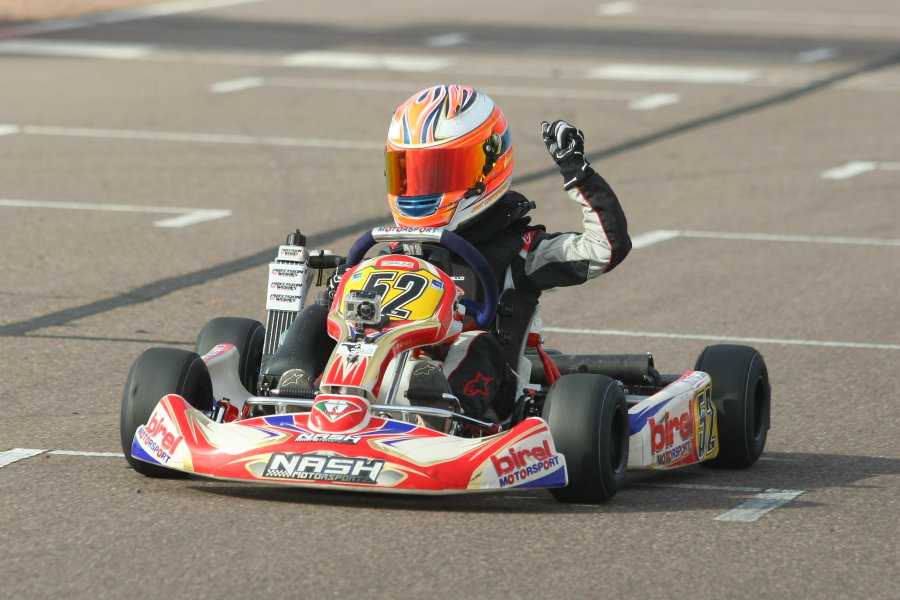 Crawford drove to another two-win weekend at the Rotax Challenge of the Americas round in Phoenix (Photo: SeanBuur.com)
Thanks to the partnership between MAXSpeed Group and eKartingNews.com, a monthly program has been devised to promote outstanding drivers in the Rotax Max Challenge. The new program – GoRotax.com Driver of the Month presented by eKartingNews.com – is based off a similar program the leading karting website offers each month, focused on the United States 'Rotaxians'. Each month, the staff at MAXSpeed and EKN will determine one driver to profile who promotes Rotax and karting in general in a positive fashion, along with standing out on-track. Each driver's accomplishments will be highlighted, in addition to getting to know the Driver of the Month.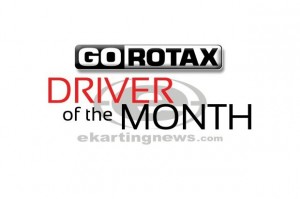 The Micro Max category always seems to put terrific racing on display as the youngest racers competing at any United States Rotax Max Challenge program. Micro Max racing at the Rotax Challenge of the Americas has been no different when it comes to the high quality of racing shown at each round of competition. One driver has stood atop the podium for each and every of the four main events completed at the Challenge. Jak Crawford doubled up in the win column during the February weekend in Phoenix after scoring both main event victories at the Challenge's opening weekend in Tucson.
Crawford's weekend at the Phoenix Kart Racing Association in Glendale, AZ got off to an inconspicuous start as the young Texan was plagued by mechanical woes in Saturday morning's qualifying session. Crawford put on an absolute clinic in race craft and passing in the Prefinal as he drove a beautiful race from the 19th starting spot due to his mechanical issues in qualifying, up to a very impressive fourth place finish with fast lap honors. The strong run to in the heat race set Crawford up very well for the main event with a second row starting spot. Jak claimed the lead before the halfway distance of the race was reached before he put his head down and drove away to over a three-second advantage to claim his third straight feature win in as many races.
Sunday began on a much better note for Crawford as he and his Nash Motorsportz team chased out any and all mechanical gremlins that were hidden inside his Birel from Saturday's qualifying session. Crawford edged out the competition in Sunday qualifying as he won the pole position for the Prefinal by a slim two hundredths of a second. Making the most of his front row starting spot, Jak led a four-kart pack early in the Prefinal before taking the win heading into the main event. The feature race saw Crawford fight off challenges from his Micro Max competition to win his second main event of the weekend, and the fourth straight in 2014 to keep a perfect score going at the Challenge.
The Rotax Challenge of the Americas heads to its final weekend April 4-6 where the series will race on the SimracewayPerformanceKartingCenter in Sonoma, California. Crawford will pull into NorCal, sitting comfortably atop the championship fight in Micro Max holding a 48 point advantage. A free entry to the United States Rotax Grand Nationals in Tooele, Utah at the MillerMotorsportsPark in July is on the line for the series champion, with Crawford hoping to make his first start at the national championship. 2014 is set to be a busy season, with Jak contesting the Florida Winter Tour program as well, with the Burger King Rotax Max Challenge as part of the Texas ProKart Challenge program on his summer Rotax plans. Crawford is planning to compete at the Rotax Summer Shootout in Utah, as well as a few of the track's Utah Kart Championship in preparation for the national event in July. The end of the year will finish up with the Rotax Pan America Challenge at the GoPro Motorplex in October, along with some Florida races to prepare for 2015.
GoRotax.com Driver of the Month presented by eKartingNews.com
February 2014 – Jak Crawford
Bio
Born: May 2, 2005
Hometown: The Woodlands, Texas
Parents: Tim & Nikki
Siblings: None – lots of cousins and a fun dog named Bear
Height/Weight: 54" / 65lbs.
Education: 3rd Grade – Lamar Elementary School
Job: None
Racing Resume
Chassis: Birel
Engine Service Center: Nash Motorsportz/Precision Works Racing Engines
Sponsors: Palmetto MDR, Burger King/3G Kart Racing
United States Rotax Max Challenge Home Series: Burger King Rotax Max Challenge
Years Karting: 3
How did you get started in karting? When I was a little kid I used to see pictures of my dad in race cars.  So I wanted to drive too.  He bought me a kids kart when I turned 5 and made me drive in parking lots for a year till I turned 6. Then we did more than 25 races my first year all around Texas.  I won about 20 of those races.
What has been the high point in your racing career? Dominating at the Challenge of the Americas and so far reaching all my personal goals at The Florida Winter Tour this year too
What are your goals in racing? Win The Challenge of the Americas Series as a Rookie, win Rotax Grand Nationals in Utah as a Rookie, and win the Florida Winter Tour in my second year.  Then I will make new goals in my Mini Max when I move up.
In a few words, how would you describe your driving style? I race everybody clean and feel I can always come from the back if something goes wrong.
2013 Accomplishments: Starting my first regional cadet race the day I turned 8 in May when I finished in the back-of-the-pack in Dallas, then winning a few months later in the same series against national-level 12-year old drivers in Oklahoma City.  I finished my first season third in the region to two of those 12-year olds.  I also started my first two national races in 2013.  Then getting my first Micro Max win in October changed my racing life a lot because we are racing all the Rotax Max Challenge races in 2014.
Likes
Favorite Track: Oklahoma City, but maybe Tuscon.  I can't wait to race at Sonoma in April.  It looks really fast like those other two tracks.
Favorite form of professional motorsports: NASCAR
Favorite karting driver: Garrett Boone, my Birel driving coach from Houston
Favorite professional driver: Joey Lagano
Favorite website: eKartingNews and matheltics
Favorite movie: Tallegeda Nights
Favorite actor/actress: Sponge Bob
Favorite music/group: Imagine Dragons and Sirrius XM channel 2
Favorite vacation/activity spot: Snowboarding in Park City, Utah
Favorite food: Any pasta with lots and lots of cheese
Real Deal
What do you do when not at the track? I gave up select baseball as a catcher to race so much this spring, but I can still play soccer on my team in the fall
What are your goals outside of karting? To make straights A's and be a good friend
What type of street car would you like to drive? Anything Hennessey makes faster because he is from Houston
What are your pet peeves or things that irritate you? Having to wait in a long scale line after qualifying
What is your favorite aspect about racing in the Rotax Max Challenge program? Making friends with all the great racers all over the globe. I have good friends from California to Texas to Florida and all around the world now.