Florida Winter Tour to Visit Camp Boggy Creek
Join FWT for a visit to Camp Boggy Creek on Tuesday March 18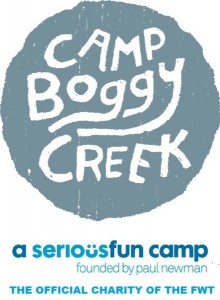 Do you know a child with a serious illness? Sometimes the children and their family just need a break from their daily routine. Camp Boggy Creek is here to help with some Serious, no cost, Fun!
Camp Boggy Creek is the official charity of FWT and is set to visit on Tuesday, March 18
During the March FWT dates in Orlando the Formula Kart Productions "Fun-Team" will make the short drive from OrlandoKartCenter to visit Camp Boggy Creek. There will be no children or families at the facility during the tour. This exclusive, supervised tour of the facility will take place on the morning of Tuesday March 18. It's the perfect chance to see what makes this such a magical place for these brave children and their families.
For those who want some group fun after the tour we'll make a stop for lunch on the return trip at the funky Fresh Off the Hook restaurant about 10 minutes from the camp.
The camp is located approximately 50 miles north of the Orlando kart Center at 30500 Brantley Branch Road, Eustis, Florida32736. The Tour will begin at precisely 10:30am and should be over by noon.  Fresh Off the Hook restaurant is located at 2997 W. Hwy 44 DeLand, Florida32720.
About Camp Boggy Creek
Founded in 1996, Camp Boggy Creek is a year-round medical camp for children with serious illnesses. Co-founded by racer/actor/philanthropist Paul Newman and General H. Norman Schwarzkopf, and part of The Serious Fun Children's Network of camps, Camp Boggy Creek offers week-long summer sessions and family retreat weekends at no charge to the children or families.
Located just north of Orlando in Eustis, Florida, the 232-acre nonprofit serves children ages 7–16 that have been diagnosed with chronic or life-threatening conditions. The camp is entirely funded by generous donations from individuals, corporations, foundations and healthcare partners.
If you know a child whose family could use some "Serious Fun!" please share this information with them. If they live in Florida refer them directly to Camp Boggy Creek. Learn more by visiting www.campboggycreek.org .
If they live outside Florida refer them to any "Serious Fun!" Children's Camp around the world. Learn more by visiting www.seriousfunnetwork.org
It's important that we know if you plan to join us. For more information about the tour, or to notify us that you want to attend, please contact Bill Wright at info@formulakart.com or phone 850-258-0846.