Race Monitor: Two Friends Revolutionize How We Enjoy Racing
Colorado team develops ground-breaking timing and scoring app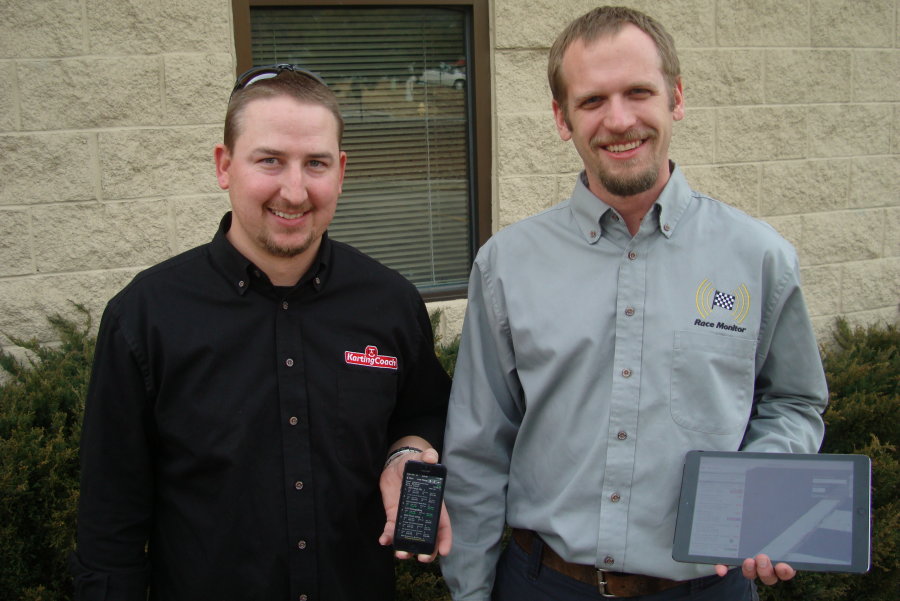 Born of necessity?…Perhaps. The perfect marriage of two skills sets?…Possibly. In reality, it came down to two friends just trying to better the sport that they love and the community inside of it.
Mike Weatherman and Mark Lubischer are the partnership behind what is easily the most iconic smart phone application that has been designed for karting, one that is now reaching all forms of motorsports. The app in question is Race Monitor. The 'magical' timing and scoring application allows users to keep up with everything from morning warm-up lap times to where their driver is running in a large pack of karts in a long main event. Race Monitor has brought the accessibility of crucial timing and scoring data, previously acquirable only by hoards of mechanics, parents and drivers huddling around a print out of the previous on-track session, to every smart phone, tablet, laptop or desktop computer in the country. This is the Race Monitor story.
To understand Race Monitor, you first have to understand two very different people. Mike Weatherman has been involved in some form of racing nearly his whole life. The Colorado native has been part of kart racing scene since before he could legally drive on the street. At 16, Weatherman stumbled upon Action Karting, which is located on the property of the Bandimere drag strip in Morrison, Colorado. Competing in IKAC club events at Bandimere is where Mike's dream of becoming a professional race-car driver was born. Weatherman was competing in some of karting's biggest races as he and his father Greg logged plenty of miles traveling to events on the Superkarts! USA ProMoto Tour, as well as the Stars of Karting series.
After a short stint in SCCA racing, Mike returned to karting in 2004 after purchasing a Shockwave chassis, another karting commodity previously produced by the state of Colorado. It wasn't long until Mike began coaching and instructing some of Colorado's freshest karting rookies. Mike wanted to pass on his skill set and the experience that he gained racing nationally in an effort to help the new generation of karting enthusiast who likely lacked the necessary knowledge to enjoy the sport to its fullest. Mike educated and assisted many Colorado karters in the mid-2000's, under what would become known as 'Karting Coach'. Many of his pupils came and left the sport, but one has stayed and has had quite a significant impact on the direction of Karting Coach, as well as the sport of karting. That student was Mark Lubischer.
Lubischer came to karting the way many of us do, looking to fulfill the need for an adrenaline fix. Lubischer graduated from ColoradoSateUniversity at Pueblo with a degree in Computer Information Sciences. Mark took his computer science knowledge to work, designing and developing applications for major organizations. Thanks to a mutual friend, he met and befriended Weatherman and joined the Karting Coach student list. Mark competed regularly in the Colorado state series in what was a very talented TaG Senior field. Under the Karting Coach banner, the pairing contested races for years, including events at Grand Junction Motor Speedway, IMI Motorsports Complex, Action Karting, and The Track at Centennial as well as street races such as the Greeley Grand Prix and the Littleton Grand Prix.
The duo's foray into making mobile phone applications for karting is not simply a one-hit wonder with the success of Race Monitor. Before the revolutionary timing and scoring app became a paddock-wide favorite, Weatherman and Lubischer created Kart Tuner. Over the years with the Karting Coach program, Weatherman had compiled a catalog of kart chassis adjustments as a reference for him and for his students.
"It was a lot like the tuning books you get when you buy a new chassis from Arrow or Italkart," Mike explained. "But all of those individual chassis books are translated from Italian and are difficult to understand. So we made our own."
It wasn't long until the 30-page catalog became cumbersome and difficult to keep track of, especially while making frantic changes at the track between sessions. Mike and Mark took the book-like chassis guide and crammed it inside an iPhone. Well, not exactly. Paired with Mark's technological wizardry, and Mike's vast knowledge of karting and chassis setup, the pair developed and released Kart Tuner. The app included a gear chart, a safety checklist, the 'Tuner' section to help drivers diagnose what their kart is doing and what changes to make, as well as track data base with over 250 kart tracks.
The idea for the Race Monitor app wouldn't come for another year or so, until Karting Coach was at the 14th annual Superkarts! USA SuperNationals in Las Vegas.
"I was walking around the pits with the eKartingNews.com Live broadcast on my tablet, and looking at the scoring monitor they had alongside the EKN display audio screen. The periodic update of the timing screenshot on EKN's live coverage page actually helped light a bit of a fire under us," Mark explained of Race Monitor's origins. "We realized that we could make something that updates in real time."
Incredibly, in less than a full month after Mark's epiphany at the SuperNats, Karting Coach released its first version of Race Monitor for the iPhone on December 18, 2010. After seeing sales of Race Monitor come in on the very first day it was available, Mike and Mark released the Race Monitor app for Android phones eight days later.
Race Monitor got its big break when Karl Rickert with the Florida Kart Championship Series reached out to Mike and Mark to get Race Monitor available at their races over their Wi-Fi network. After working with the FKCS, it became clear to Mike and Mark that they had created something that there was clearly a market for, and they began to improve the product daily.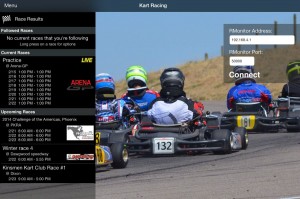 "With lots of feedback – literally thousands of emails – from both racers and users, we started working on building features that were both needed and requested," Mark commented about the early development of Race Monitor. "Thanks to user feedback and often times just scratching our own itch, we've added gap and diff values to the live timing, built the web-based timing, added the heads-up display with historical lap times, and race results."
Race Monitor is a simple system for tracks and series to set up so that their events are viewable on Race Monitor. Series or track managers simply go to Race Monitors website and create an account. Following the set-up procedure, which takes just a few minutes, the race will show up within the directory of races.
The app is easy to use for parties on both ends. From putting a race into the directory for users worldwide to view, to the customers themselves, the app is very user friendly. After opening the particular race you wish to watch within the race directory, the screen automatically opens up to the race currently on-track. The app provides everything from a complete running order that includes kart numbers, driver names, lap count, last lap time, best lap time and other additional information that can be viewed by just the swipe of your finger from right to left.
Race Monitor celebrated its third anniversary in December and has received nothing but the highest praises from teams, drivers and series officials. "Race Monitor does nothing but help the sport and the community," commented Superkarts! USA's head timing and scoring official Megan Williams. "The great thing about Race Monitor is that it provides the basic information that racers need while watching the race, all unofficial, and it does not interfere with the process of running the official scoring system."
The app is very useful to teams and drivers while at the track during the weekend, from knowing the lap times your competitors are running compared to yours, to seeing where your driver is placed in a large pack of karts in a long main event. Jet Davis of Colorado explains that while he enjoys the app for the above-mentioned purposes, and uses Race Monitor at the track for other reasons. "I use it to keep up with my teammates. As a team driver for CRG-USA, I like to use the app to keep an eye on where my younger teammates are running when I can't make it out of the trailer to watch their race."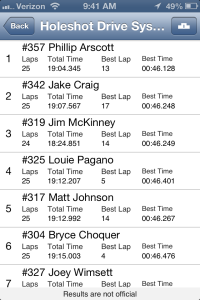 Robert Finley, the co-owner of Pole Position Karting in Frisco, Texas and father of S2 Semi-Pro Stock Moto racer Sky Finley, knows his family is always viewing the Race Monitor app when they are at a race. "Race Monitor is fantastic! My brother Mike can't always make it to all of Sky's races. So when he is stuck in Texas, he can tune into Race Monitor to see how Sky is doing."
Race Monitor is not only for karting, as many major motorsports organizations from around the globe are now utilizing the app to help their racers, families and friends watch live timing from anywhere in the world. The app has been opened over 10 million times on smart phones, tablets and computers around the world. As of February 4, 2014 users of Race Monitor have spent more than 72 years on the app. Race Monitor has been named the official Live Timing app for the Sports Car Club of America (SCCA), and through its involvement in karting, SCCA, dirt bike and motocross racing, as well as NASCAR's lower divisions, Race Monitor provided live timing to over five thousand events in 2013.
Weatherman and Lubischer continue to improve and advance their household name. The future for Race Monitor is getting brighter and brighter every day. The duo just announced the release of Race Monitor v2 for iOS and Android. Race Monitor has performed a visual overhaul to bring it more in line with the style of iOS 7, keeping the layouts and behavior that everyone has become familiar with, along with new features. Included in the upgrade is the ability to have black text on white background, which can be changed in the settings tab under the Menu button.
The major change comes with the move to a subscription platform. Many of Race Monitor users view the app on multiple platforms. Every week, they receive numerous inquiries about transferring purchases between platforms, which is impossible for paid apps. Now with the subscription method, users will have the ability to download the Race Monitor app on five iOS or Android devices, regardless of what platform you purchased the subscription on. Those who have purchased the Race Monitor will receive a complimentary live timing subscription valid until July 31, 2014. The subscription is the same cost as the app used to be, $4.99 annually, or they are now offering a monthly subscription of $0.99.
"With the paid apps, you are forced to repurchase anytime you change phones from iPhone to Android, or if you are looking to put it on any other mobile device you may have," explained Mark when asked more about the subscription method. "There are a lot of people and families who have devices on multiple platforms, and as our various devices age and get upgraded, people often times change their platforms. This will be like a 'family sharing' program, so there will be no need to re-purchase the app as long as the you have a subscription and not download it to more than five devices. Our sole mission is to make it available to everybody, on any device you may have."
For the cost of a coffee, racers can now experience the feeling of watching races from the comfort of their couch, sitting in the airport, driving down the highway, or even at the beach on vacation. Race Monitor has taken karting into the 21st century, and changed completely how drivers, race teams, family and friends experience an event. The limits are uncertain, with the creative minds of Weatherman and Lubischer working away on how to improve the Race Monitor program even further.