Over $5,000 in Cash, Prizes On the Line This Weekend at WKA Gold Cup Opener in Jacksonville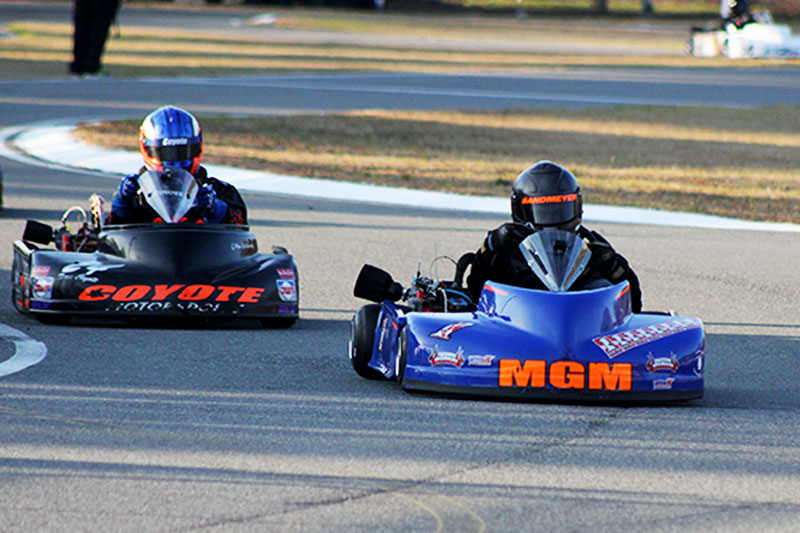 Tyler Sandmeyer (MGM) and Sean Meier will be two of the key players in senior competition this weekend at Jacksonville (KRAPP Photo)
The RLV Tuned Exhaust Products Gold Cup Series is set to kick off its 2014 campaign this weekend with the Ionic Edge Chassis Nationals at the popular 103rd Street Sports Complex in Jacksonville, Florida.
The four-race 4-cycle sprint series – which will also visit Camden, Ohio; Pittsburgh, Pa.; and Kershaw, S.C., this season – opens for the fourth consecutive season at Jacksonville, where kart teams throughout the country travel to battle the high-speed, unique sprint course promoted by the North Florida Kart Club.
The Gold Cup Series, for the third consecutive year title sponsored by the Santa Maria, Calif.-based RLV Tuned Exhaust Products, boasts a strong lineup of 11 national 4-cycle classes. A new and improved class structure for 2014 series comprises all Briggs & Stratton Racing engines with a lineup of WKA Pro Gas Animal, methanol Animal and the growingly popular LO206 package.
For the second consecutive year the Gold Cup's headline division is Senior Pro Gas Animal, sponsored by Baker Racing Engines and Coyote Motorsports.
The Pro Gas engine platform debuted exactly one year ago at the 2013 Gold Cup opener with a modest 10 entrants. Since then, the class has grown in numbers and competition with an impressive cash awards package supporting the new division at Gold Cup nationals throughout last season.
At last year's season closer at CarolinaMotorsportsPark, the Senior Pro Gas main events started 25 karts and produced some of the best Gold Cup competition in recent memory.
Over 25 karts are expected in Senior Pro Gas Animal this weekend at the Ionic Edge Chassis Nationals. Top competitors either entered or expected to run include the likes of Gary Lawson (Mentor, Ohio), Tyler Sandmeyer (Gaithersburg, Md.), Sean Meier (Jacksonville, Fla.), Dylan Zobkiw (Charlotte, N.C.), Jason Birdsell (St. Joseph, Ill.), Scott Kleman (Farmington, Mich.) and Corey Towles (Jacksonville, Fla.).
As is normally the case, Lawson will be the driver to beat. The two-time WKA Triple Crown champion pocketed over $4,000 between last year's Pittsburgh and Kershaw Gold Cup rounds, and was nearly untouchable at the Kershaw season-closer last October.
While the senior competition will be gunning for Lawson they'll also have formidable prize packages dangling in front of them throughout the weekend. Beginning with Friday's Pro Gas Animal Money Race, over $2,000 will be paid out to Pro Gas racers. Friday's Pro Race is $500 to win and pays back five spots, while Saturday and Sunday's Pro Gas Animal main events will pay $500 to the winner each day with $200 going to second and $100 to third place each day.
Sunday's Animal Heavy Mix main event, open to Pro Gas and methanol Animal power plants, will pay a winner-take-all $500, while Sunday's LO206 Heavy race will pay $300 to win with $150 to second and $50 to third.
Junior
Last year Junior classes struggled for entry counts in the Gold Cup but many Sportsman racers have moved up and 10 racers are already entered for Junior Pro Gas Animal. Junior racers have three classes from which to choose each day – Junior Pro Gas, Junior Medium (methanol Animal) and Junior Heavy Mix (Pro Gas and methanol).
It appears the Junior Pro Gas division will be hotly contested with over a dozen talented 12- to 15-year-old racers set to do battle.
An intriguing award for Junior racers is the Lap Leader Bonus. Baker Racing Engines and Gary Lawson have teamed to post a new Samsung Galaxy 3 tablet for the Junior Pro Gas and Sportsman Pro Gas divisions this weekend at Jacksonville.
In Junior, the driver who logs the most laps led among Friday night's Junior Pro Gas Shootout and the two Junior Pro Gas points class main events will win the Samsung tablet.
Sportsman
Junior Sportsman racers have three classes each day from which to choose. The Sportsman Pro Gas Animal Lite and Heavy divisions appear they'll be the most contested with 10 pre-entrants in each class heading into this weekend. Some Sportsman racers will also strap on the traditional methanol-powered Animal for the Sportsman Methanol class.
Sportsman has it's own Lap Leader Bonus. While Junior racers only have three Pro Gas classes to run over the weekend, Sportsman racers will have five main events in front of them after practice concludes Friday. The Sportsman Pro Gas Shootout will close out Friday before Sportsman Pro Gas Animal Lite and Heavy run once each day Saturday and Sunday. At the end of Sunday's Heavy main event, the driver who led the most laps among the five Ionic Edge Chassis Nationals main events will score the new Samsung tablet.
The new "Up and Comer" award will earn one Sportsman driver a new DeWalt 20-volt 3/8 drive impact gun. Open only to racers who did not win a Sportsman Pro Gas Animal feature in 2013, the driver who can post the best finish of weekend of any non-2013 winner will earn the Up and Comer award.
Baker Racing Engines has posted a new Pro Gas Animal engine to any current BRE-powered racer who can qualify on the pole for Friday's Sportsman Shootout and go on to win the 10-lap contest.
Friday Night Awards Ceremony
Last year's RLV Gold Cup Series national champions, top-10 points finishers, special award recipients and Razor Chassis as the Manufacturer champion will be honored Friday evening following the Pro Gas Shootouts and Money Race.
A non-formal Awards Ceremony with burgers, hot dogs, sides and more for food will take place and include a host of fine awards packages with product from WKA, RLV, Bridgestone, Van-K Wheels, Miller Welders, Power Plus Lubricants, R2C Performance Filters and more.
Fourteen racers will be recognized as 2013 Gold Cup Series national champions at the ceremony. All are invited to attend; Tickets are only $10 per person or four tickets for $30. Tickets may be purchased at registration Thursday or Friday.
103rd Street Sports Complex gates open Thursday morning for parking. Pre-tech and registration will be open Thursday afternoon. Friday will feature a full day of practice before the evening's Shootout and Pro races. Saturday and Sunday each feature 11 national classes, comprising one round of practice, qualifying, heats and main events.
Go to HERE to download the Ionic Edge Chassis National entry form, which includes daily schedules, lodging information, directions to the racetrack and more.